Finally... Jose Mourinho has gotten what he's been asking for.
After a tense four-way mini soap opera involving Mourinho, Valdano, Van Nistelrooy and Hamburg, Real Madrid put their drawn-out striker search debacle to bed when they completed the loan signing of Emmanuel Adebayor from Manchester City.
It's a late Christmas present from Madrid to Mourinho, and an even later house-warming gift, but there will be questions raised as to whether Adebayor's arrival really is a gift for the Portuguese tactician, or if it's nothing more than just a toaster that will be tucked away out of sight in the corner on the kitchen bench.
Adebayor may not be the short-term solution Madridistas were hoping to get in the January transfer window, with a majority of the fans holding out hope for a fairytale return of their former hero Ruud van Nistelrooy.
But for Mourinho, he has never really cared who Madrid signed as long as it was a target man. Throughout his plea for a No. 9, Mou has never named any names, never specified any preferences, and even confessed that he would be happy if Madrid could lure Van Nistelrooy back. His only requirement was that the club didn't bring in someone to directly take Karim Benzema's place and hinder the young Frenchman's development.
When 'Operaccion Van Gol' collapsed – well, it never really took flight to begin with – it seemed as though Mourinho's continuous demand for a striker would be ignored again, especially with some reports in Spain suggesting that president Florentino Perez had set an ultimatum: either Van Nistelrooy or young Alvaro Morata.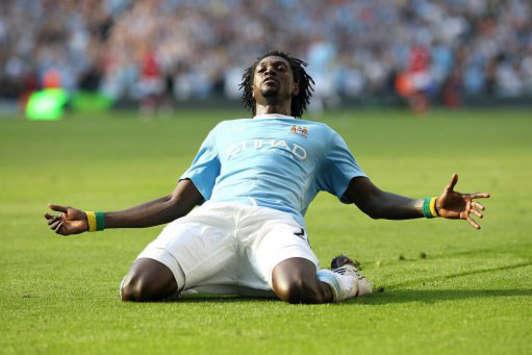 A present for Mourinho: another big ego to contain
Adebayor's arrival will appease Mourinho. The Portuguese has not looked or sounded happy in recent weeks. Unable to get the backing and the affection from the 'White House' bosses that was showered upon him by Massimo Moratti at Inter, Mou was starting to feel like the whole world and his employers were going against him, even more so after the club chose to steer clear of a series of refereeing controversies.
Time and again, he would use the press conferences to highlight to the press that his squad will not be complete until he gets an extra striker. He would use the media to express his discontent in the hope that his bosses take notice of his grumbling and give in to his demands.
But there can be no more excuses now for Mourinho; no more moaning, no more mind games and no more internal politicking. For the players, it will be a welcome relief. You could sense that the transfer rumours and the tension between coach and club were getting to the team. With the distractions out of the way, with the fear of losing their one and only remaining striker alleviated, the 'Men in White' can now get back to the business of scoring goals.
In the long run, the 'Special One' will still require an additional, proven striker for next season, should he remain at the Santiago Bernabeu. It is widely expected that Madrid will spend big in the summer of 2011 to sign a new forward, with Fernando Llorente and more recently Sergio Aguero heading the shopping list.
For now though, it is Mourinho's job to make sure Adebayor does what he was acquired to do... and do it quickly. And it's now Mourinho's job to see to it that he guides the team as best he can to as many trophies as he can, and stop complaining about striker shortages.