Emmanuel Adebayor, the latest casualty of Manchester City's spending frenzy. The acquisition of Edin Dzeko earlier in the month gave the Togolese striker the unwelcome status of 'surplus to requirements'.
It's difficult to imagine that Ade, who has always been known to crave success at the highest level, has yet to win a major trophy in his 13 years as a professional footballer. He has however always held a reputation as a proper No. 9... a conventional target man. During his time in England with Arsenal and Man City, Ade racked up 81 goals and 24 assists in 186 appearances, an admirable return for a man of only 26 years, and that's what Real Madrid so desperately need: a reliable finisher and goalscorer.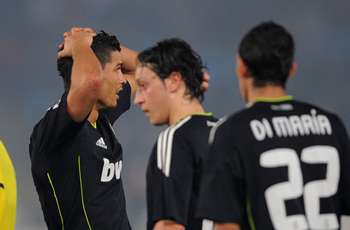 What can Madrid expect from Adebayor?

Steven Saunders, Goal.com UK:
Madrid can expect the good Adebayor, the one that will use his long frame and sure touch to good - at times exceptional - effect.

It has rarely been glimpsed in England, and only when the Togolese forward has had something to prove. Witness his bustling, almost crazed, performance for Manchester City against Arsenal at the start of last season: he was everywhere (both in a good and bad sense). Having been given this opportunity, even Adebayor will realise he really has to seize it, and that is good news for Madridistas.
Since the injury suffered by Gonzalo Higuain in November, which looks to have him sidelined for around four months, Madrid have had to rely heavily on Cristiano Ronaldo for goals, with Karim Benzema their only remaining out-and-out striker struggling to impress, scoring only twice in 19 La Liga appearances this season.
How do you win games without goals? That's a question Mourinho has certainly been asking not only himself, but also Jorge Valdano and Florentino Perez. And there's only one with a simple answer: you don't.
It has taken a lot of wrangling from Mourinho to convince the powers that be to sign a striker, and Adebayor's loan move is undoubtedly the perfect solution to the well documented tension surrounding the issue in the Madrid camp.
In terms of numbers, Adebayor's move to Madrid makes perfect sense. Madrid need goals, Emmanuel wants trophies. A match made in heaven then, it seems. Real Madrid is a name synonymous with success, known the world over as one of the biggest clubs in the history of football. Jose Mourinho possesses the characteristics of a silverware magnet; wherever he goes, trophies soon follow.
In terms of strategy, the move also makes sense. Whilst Benzema is struggling to score consistently, another danger lurked around the situation. Benzema's introduction to his current role was a 'Plan B' but if he suffered an injury, there would be no 'Plan C,' which is where Adebayor comes in.
He will likely step into Benzema's place from day one, pushing the Frenchman back to the bench, and he will almost undoubtedly relish the role, as he will be expected to do very little other than find the back of the net. The system is in place at Madrid for Adebayor to score goals in abundance, receiving assists from the likes of Xabi Alonso, Cristiano Ronaldo, Mesut Oezil and Angel Di Maria. And as a very individual player, that system will suit Adebayor down to the ground.
Yet, a problem remains. Adebayor is a character, to say the very least. An individual both on the pitch and off of it, his ego will be one of many in the Madrid camp. The key difference is that the other egos are born largely of merit... Ade's is born of
delusion.

Is Adebayor the right short-term solution for Real Madrid?

Sergio Aguilera, Goal.com Spain:
It is clear that Real Madrid need a striker. The question of whether Adebayor is the right man for the job is not so clear.

Will he score goals with Madrid? Probably. Will he take the lead in Madrid's attacking system? Highly unlikely (Cristiano Ronaldo will not accept that). Will he cause more problems that solutions? Considering his past squabbles with team mates, it is highly likely (again, Cristiano Ronaldo appears). However, the biggest question that most of the Madrid fans ask is: Why not Morata or other canteranos? In any case, with Jose Mourinho on the bench, anything can happen, anything is possible.
Whilst his goal-scoring record may be reputable, he will be surrounded by true winners, players who have racked up honours on an individual level, as well as for both club and country. Cristiano Ronaldo and Kaka have both won the Ballon d'Or and the now defunct FIFA World Player of the Year awards, Iker Casillas has won numerous individual acclaim and along with Sergio Ramos and Xabi Alonso, they are World Cup winners and European champions. Adebayor can boast nothing to compete with those honours.
If Adebayor tries to masquerade as the most important member of the side, he will fail. Should he alienate his team-mates with consistent troublemaking and shows of arrogance, they will soon lose trust in him - something they seem to hold in abundance for both Higuain and Benzema - and consequently deprive him of service on the pitch.
The key to Adebayor's success lies in his own willingness to stay out of his own way. If he allows his team-mates to accept him into the Madrid circle, he will surely succeed. Should Madrid decide to capitalise on the opportunity to sign him permanently in the summer, he will play second fiddle to Higuain. If he can accept that, he can be expected to do well for himself, and the club.
Madrid's biggest issue is out of their hands, however. They currently trail Barcelona by four points in La Liga, face a difficult semi-final in the Copa Del Rey, with Barca most likely to be their opponents if they reach the final, and are second favourites to win the Champions League, behind Barcelona.
As such, Adebayor could never solve Madrid's problems, and neither could anybody else. Ade does however provide Los Blancos with the opportunity to dilute the issue of Barca's dominance. At this point in the season, Madrid are chasing the Blaugrana, and must be ready to pounce on the first mistake made by the Catalans, and provided Adebayor can gel with his new team-mates, he will be able to contribute not only to Madrid's consistency, but also give them a better chance to take points from their arch enemies.
Success over Barcelona will be regarded as a triumph for the Merengues and for Adebayor. He won't be Madrid's saviour, but his success and his future lies in his own hands.
Follow Goal.com on

. Get the latest football news direct... Check out Goal.com's

page; be part of the best football fan community in the world!