20)
"The players have to look at themselves. They get away with murder. You say that the players are good individuals in the Premier League, but tell me who they are?
......You keep talking about these world class players, and they're not."
Former Manchester United midfielder Roy Keane hits the nail on the head in his analysis of England's World Cup disaster and calls the spade a spade and England's poor team a poor team.
But then again, Keane is Irish.
19)
"Inter are the least bad side in a dreadful league. After all, the big name coaches and stars have moved abroad. The Portuguese is very lucky. He is nothing more than an amateur, a fish out of water on the bench, just like his president [Massimo Moratti]. Mourinho is much better at handling public relations."
Former Juventus director-general Luciano Moggi didn't buy the hype over Jose Mourinho when he was leading Inter to their fourth successive on-pitch Scudetto. But then again Moggi is not an Interista.

18) "When I was president of Como we had Messi on trial. He was 15 and we rejected him. We had been following him when he was 14 and he was already a phenomenon at the time. But we didn't sign him because of certain things that were going on at Como at the time. Sometimes you make certain errors, which is what happens."

Current Genoa president Enrico Preziosi laments about the one big fish that got away. Ouch!
Wait... wasn't Messi already inducted into Barcelona's legendary
La Masia
footballing residence by then?
17) "Five minutes before the end of the first half I started shaking and felt pain in all my body, it was something I had never experienced before. After when I went into the dressing room I passed out and I was very scared. They controlled my blood pressure and heart rate immediately and then I went to Holland for further tests. The conclusions were that I am anaemic and my whole body is very tired. I need plenty of rest."

Inter midfielder Wesley Sneijder explains his collapse during the half-time interval in the match against Brescia this season and surfaces the problem of top footballers being pushed over the edge.

16) "[With] Eleven men [we had] no problem, but the young boy [Rafael] showed a bit of inexperience but they [Bayern] got him sent off, everyone sprinting towards the referee, typical Germans."
Manchester United manager Sir Alex Ferguson fumes at the dismissal of Rafael da Silva during their Champions League tie against Bayern Munich last season. What the Scot didn't realise is that Franck Ribery, Ivica Olic and Mark van Bommel, three of the four involved in the incident, are not Germans.
15) "While I'm a president of the Croatian Football Federation, there will be no homosexuals playing in the national team. Luckily, only normal people play football."
Vlatko Markovic's stance only reinforces the awkward truth that football is "the last bastion of homophobia" as defined by sports writer Simon Barnes back in October 200
6.
Bayern Munich striker Mario Gomez,though, has a more progressive mentality:


"Being gay is no longer a taboo subject in Germany. We have a gay Vice-Chancellor (Deputy Prime Minister) and a gay Mayor of Berlin. Footballers should therefore also come out and express their sexual orientation."
14)
"Well, I still prefer women. I am dating Veronica who is blond and 31-years-old. No, I have not gone limp-wristed [homosexual]."
Argentina legend Diego Maradona reveals a bit too much of his personal life, makes a few middle-aged men jealous and crushes dreams of his gay fans.

13) "Go f*** yourself, you dirty son of a b****."
Nicolas Anelka gives then France coach Raymond Domenech a piece of his mind during the former European and world champions' disastrous World Cup campaign. It is hard to believe that other players in the squad didn't agree with him.
12)
"It was like a husband cheating on his wife, but seeing as he cares for her and doesn't have the courage to admit to it, he climbed out the window."


Inter president Massimo Moratti explains how Jose Mourinho betrayed the Nerazzurri and left for Real Madrid in the summer.
11) "In my book, a great coach solves his problems. A small-time coach runs from them. There was only one person [at Barcelona] who wanted to get rid of me. I have never had problems with any coach before during my career. But suddenly I had a thousand problems and I had no communication with 'the Philosopher'. No communication whatsoever. I don't know what his problem was."

Zlatan Ibrahimovic blasts Barcelona coach Pep Guardiola and claims that he is the only reason why he had to leave Barca for Milan, leaving one to wonder how the "small-time coach" manages big-time personalities like Xavi, Andres Iniesta, Lionel Messi, Carles Puyol et al.
10) "William was fantastic again, particularly when (Werder Bremen's Marco) Marin squared him up around the box and I thought we were in trouble. He shuffled him down the line and kept holding him up, and took the ball off him. It was a bit reminiscent of Bobby [Moore] doing that to [Brazil's] Jairzinho at the World Cup [in 1970]. Bobby stayed on his feet and used his brain and William has done fantastic for us. I made him captain and he responded again
."
Tottenham Hotspur manager Harry Redknapp claims that William Gallas is the new Bobby Moore. But then again, his son Jamie also once claimed that he doesn't know who Alexandre Pato is.
It must run in the family!
9) "I would give myself an 11 out of 10. I won every championship I played in last season and we currently have lost none of our chances to win titles at Real Madrid. The league is very open still. We've qualified for the last 16 both in the Copa del Rey and the Champions League. We also were the best side in the Champions League group stage. This season has been perfect for us so far."
The ever-so-modest Real Madrid coach Jose Mourinho pats himself on the back and underlines his achievement in 2010. He would also go on to claim that he is the best football manager on the planet and deserves the FIFA Ballon d'Or award for the coaches' category:


"Me, I've made my choice. 11 months' work, 57 matches played, three titles including the most important of all, 'THE' tournament - the Champions League. I have won everything, I could not do any more than that, equally so for the players."
8) "I don't know who Jack Wilshere is, to be honest. But the next time I play against Arsenal I will keep a close eye on him."
Manchester City striker Mario Balotelli is back to his disrespectful best. But he does show respect towards Messi and says,
"Well, there is only one player who is a tiny bit better than me: Leo Messi. The rest are behind me!"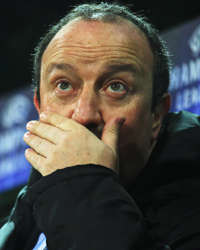 7) "I think that Mr. Hodgson, he doesn't understand. Every single press conference is even worse than the last one. He's talking about things that he doesn't know. And some people cannot see a priest on a mountain of sugar. Maybe he hasn't been in Liverpool too long. We gave the fans their pride - again. We fought for the fans, we fought for the club and we fought for our players. So maybe he cannot understand this."

Former Liverpool manager Rafael Benitez believes that his successor at Anfield, Roy Hodgson, should know what he is talking about. Problem is Hodgson led a modest Premier League side called Fulham to the final of the Europa League in 2010; Benitez was dismissed by two European giants in the space of seven month
s.
6) "It is the first time that I am managing someone who I truly admire, a player of whom you can really say 'he is a true star'. I always point out the obvious, which is going to be the front cover tomorrow. He is a girl with three breasts, that is how unique he is."

Former Boca Juniors coach Claudio Borghi comes up with an unique analogy to describe Juan Roman Riquelme. The anatomical question is: are three breasts on a girl a good sight?

5) "I would be more suited to Inter Milan or Real Madrid. It wouldn't be a problem for me to manage those clubs because I would win the double or the league every time. Give me Manchester United or Chelsea and I would do the same, it wouldn't be a problem. It's not a problem to take me into the higher reaches of the Champions League or Premier League and would make my job a lot easier in winning it."

Former Bolton Wanderers, Newcastle United and Blackburn Rovers manager Sam Allardyce
believes that he is cut out for a major European club. Mourinho, Leonardo and Carlo Ancelotti must be shaking in their boots.
4) "I'm not surprised [by his comments]. He should return to the museum...And Platini, I'm not surprised with him either....We all know how the French are, and Platini is French and believes he is better than the rest,"
Maradona
hits back at Pele and asks him to go back to his abode - "the museum" - and cannot suppress a dig at UEFA president Michel Platini either.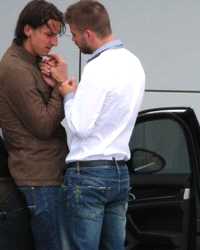 3) "Come to my house and you'll see if I'm gay... And bring your sister."
Ibrahimovic responds to a female reporter on suggestions that he is gay after he was caught in a rather curious position with Barcelona centre-back Gerard Pique (see video here)
2) "Barcelona would struggle in the EPL as they've never played the likes of Stoke.... Lionel Messi would struggle in a cold night at the Britannia Stadium."
Sky Sports football commentator and EPL pundit Andy Gray believes that the Spanish champions will struggle to cope in the English top flight and so will the world's finest player Messi. Ahem...
1)
"Spain won't win the World Cup. Everyone is always talking about Spain, but who they got? They only have Fernando Tourez."
Two weeks before the 2010 World Cup finals in South Africa in the summer, a caller at the UK's talkSport dismissed Spain as potential champions in what is arguably the most ignorant comment made in football in the entire year.