In May 2009, following Barcelona's 2-0 Champions League final win over Manchester United in Rome, I wrote a
feature labelling Xavi as the "best centre midfielder in the world" and the symbol of pure football.
Eighteen months, a World Cup triumph, another Primera Division, and emphatic 6-2 and 5-0 thrashings of Real Madrid later, and I am ready to declare that Xavi is not only the best centre midfielder in the world right now, he is the best of all time.
Xavi's Five Best Qualities


1. Brain
- The Spaniard has incredible awareness and vision.
2. Passing
- Short, medium or long range, Xavi never misses a pass and is a creative God.
3. Positioning
- Tactically perfect, always in the right positions. You can't teach this.
4. Big Game
- When it really matters, Xavi performs. Rises to the big occasion.
5.
Team Player
- Football is a team game, Xavi is a team player. His link-play is immaculate.
In order to justify this claim, it is important to set out the criteria used to reach this conclusion. A 'centre midfielder' is not a defensive anchor man, who merely sits in front of the defence to protect the backline – such as Claude Makelele. Nor is it an attacking midfielder, trequartista or support man – such as Zinedine Zidane.
Naturally, there is often a subtle line to be drawn between such players. For example, would you call Wolfgang Overath a centre midfielder or an attacking midfielder? Or both? There is never going to be a consensus over a player's exact position, but a centre midfielder certainly must be able to play in the centre of a straight 4-4-2, the deep positions of a 4-2-3-1 (or the old 4-2-4), or the non-attacking role of a three-man midfield (4-3-3, 5-3-2, 3-5-2, 4-5-1 etc).
A centre midfielder is a player who occupies the middle-of-the-park, and whose job it is to win and control the play. Xavi has been winning, controlling and dictating the play at the very highest level – capturing every major team honour - for the best part of a decade now, and in the last four years in particular he has been untouchable. Indeed, you can count on one hand the number of times since 2006 when Xavi hasn't made the centre of the pitch exclusively his own.
Xavi's Major Honours List

La Liga (5) - 98-99, 04-05, 05-06, 08-09, 09-10
Copa del Rey (1) - 08-09
Champions League (2) - 05-06, 08-09
World Cup (1) - 2010
European Championships (1) - 2008
Euros Player of The Tournament - 2008
Ballon d'Or Third Place - 2009
When Barcelona and Spain repeatedly monopolise 60-70 per cent possession in matches, the key reason for this is not the other world class stars such as Andres Iniesta, David Villa and Lionel Messi it is the magician that is Xavi who never miscontrols a ball, never concedes possession, and is always directing, dissecting and debasing the opposition. He is technically, tactically and mentally the perfect centre mid, and on a physical level not too shabby either - besides an injury-hit 2005/06 the Catalan legend has missed just a handful of games every season over the past 10 years.
Regular readers of my column know that I am not the biggest fan of modern football, and regard the current era as far inferior in quality to the 1970s, 80s and 90s. But is there a centre midfielder from those superior decades or before who is greater than Xavi?
THE CHALLENGERSWolfgang Overath (West Germany):
Was so good that the great Gunter Netzer only won 37 caps for his country. Overath was a genius on the ball, a masterful creator of chances with a beautiful left foot. The best player at World Cup '70.
Paul Breitner (West Germany):
Started his career as a full back, but transformed into one of the world's best midfielders. Possessed a rocket of a long shot, and scored in two World Cup finals.
Uli Stielike (West Germany):
A beast in both defence and midfield, Stielike was one of the most feared opponents in the late 70s and 80s. Physically bullied his adversaries and was tactically faultless.
Rainer Bonhof (West Germany):
Boasted one of the hardest shots in the history of the game, scoring numerous blasters from distance. Bonhof was a machine for club-and-country in the 1970s.
Lothar Matthäus (Germany):
Legendary midfielder (left) who won a record 150 caps for Germany and was at the top of European football for 20 years. Overpowering both offensively and defensively, he was the star of World Cup Italia 1990.
Johan Neeskens (Netherlands):
Extremely complete midfielder of Johan Cruyff's 'Total Football' Ajax and Holland sides of the early 1970s. A fearsome battler, with a vicious winning mentality.

Frank Rijkaard (Netherlands):
Equally brilliant at centre back, Rijkaard was part of the great Van Basten–Gullit–Rijkaard trio in the late 1980s and early 90s who won trophies galore for Milan and Holland.

Edgar Davids (Netherlands):
'The Pitbull' hunted down adversaries, tore the ball of them with crunching tackles before launching lightning attacks. He was a ferocious member of Marcello Lippi's two successful Juventus spells.
Didi (Brazil):
Voted best player at the 1958 World Cup, the ex-Fluminense, Botafogo and Real Madrid star was the inventor of the 'dry leaf' free kick, so-called because it would dip and swerve in unpredictable directions.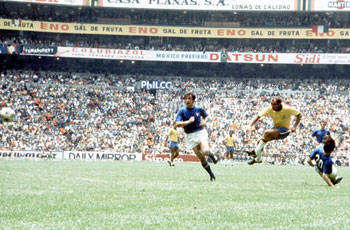 Gerson (Brazil):
The successor to Didi, and arguably just as good. A superstar at World Cup 1970, controlling the midfield in every game and being man-of-the-match in the final victory over Italy (left, pictured scoring).

Falcao (Brazil):
The world's best centre midfielder at the beginning of the 1980s, Samba flair mixed with a European brain he was the lynchpin of the great Brazil '82 and Roma '83 sides.

Marco Tardelli (Italy):
Midfield hardman for Juventus and Italy, who took no prisoners and has the most iconic World Cup celebration after scoring in the 1982 final win.
Andrea Pirlo (Italy):
The best centre midfielder on the planet between 2003 and 2007, Pirlo dictated games for Milan and Italy then like Xavi does for Barcelona and Spain now.
Jean Tigana (France):
The engine of the wonderful 1980s France team also featuring Michel Platini. Indomitable at Euro '84.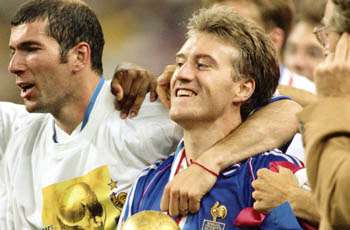 Didier Deschamps (France):
Captain of France's 1998 World Cup and Euro 2000 victories, and a key member of Marcello Lippi's fine Juventus side of the 1990s. Arguably the most tactically intelligent centre midfielder (left) there has ever been, and a superb leader.

Michael Laudrup (Denmark):
Was perhaps at his best as an attacking midfielder in the mid-80s, but was still pure class in a deeper role for Barcelona and Real Madrid.
Jozsef Bozsik (Hungary):
The best player in his position in the early-to-mid 1950s, and part of Ferenc Puskas' record-breaking Hungary team.
Mario Coluna (Portugal):
Brilliant midfield general and captain of the great Benfica and Portugal side, also featuring Eusebio, of the 1960s.

Nils Liedholm (Sweden):
Xavi-like passer of the 1950s, it is famously said he went two seasons at Milan without misplacing a pass and when he finally did he was rewarded with a five minute standing ovation by the San Siro audience.
Every player above is a legend, but the closest challenger to Xavi probably comes in the form of Lothar Matthäus. The German was more complete than the Spaniard, and could perhaps transcend any kind of team playing style, but if I was asked to pick any player from history as my centre midfielder it would without a shadow of a doubt be King Xavi.
Have your say below by leaving a comment. Is Xavi the best centre midfielder of all time? If not, who is?
Follow Carlo Garganese on twitter: twitter.com/carlogarganese
Follow Goal.com International on twitter
:
twitter.com/goal_intl