The pressure is really on Rafa Benitez. Inter have lost two and drawn two of their last four matches in all competitions, and have amassed just 10 points from their previous nine league games. It is also eight fixtures and over two months since the Nerazzurri scored more than one goal during a Serie A clash.
Even more worrying than these alarming statistics has been Inter's level of performance. All over the field there is confusion, and of course Benitez must accept most of the responsibility for this.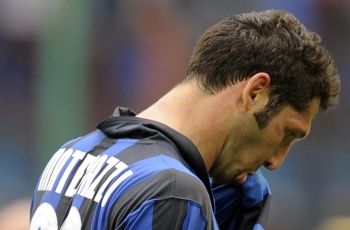 Some of the Spaniard's decisions last night were downright bizarre. Handing the 37-year-old Marco Materazzi – who has played just five of Inter's last 50 matches – his seasonal debut in such a big game was suicidal. On Dutch television, Milan great Marco van Basten joked that "Materazzi stopped playing soccer four years ago, but nobody at Inter knows it", and he isn't too far wrong. Predictably it was 'Matrix' who conceded the match-winning penalty for a typically reckless foul on scorer Zlatan Ibrahimovic.
Benitez continues to play a high defensive line, which doesn't suit this Inter rearguard – even if the table lies that his side have conceded just seven goals in 12 Serie A games. Against Tottenham Hotspur, Gareth Bale in particular ran riot when afforded space in-behind. It was the same yesterday evening in the first half, as one chipped ball penetrated the ageing backline time and again and should have resulted in greater damage.
Inter's defence must sit reasonably deep, like they did under Jose Mourinho. The entire back-four yesterday were over the age of 30. It is common sense that you must play them to their tactical strengths rather than their physical weaknesses.
Inter's Bad Run Of Form

Inter 0-1 Milan
- Serie A - 14/11/10
Lecce 1-1 Inter
- Serie A - 10/11/10
Inter 1-1 Brescia
- Serie A - 06/11/10
Tottenham 3-1 Inter
- CL - 02/11/10
Genoa 0-1 Inter
- Serie A - 29/10/10
Inter 1-1 Sampdoria
- Serie A - 24/10/10
Which brings us on to another Benitez tactical criticism. By the defence sitting deep under Mourinho, it was inevitable that Inter would often employ a counter-attacking strategy. A scheme that worked so devastatingly – just recall the Champions League semi final against Barcelona at San Siro and both Milan derbies. Benitez's Inter are trying to impose themselves more on the opposition by playing possession football, and it clearly isn't working. Last night, Milan easily repelled everything Inter threw at them – even when down to 10 men.
Although, the Nerazzurri's cause wasn't helped by another inexplicable Benitez move. Chasing the game 1-0 down with 22 minutes to go, the ex-Liverpool manager moved Sneijder back from the trequartista role into a deep centre midfield position. A function that was completely redundant as Milan were defending with nine men behind the ball. When you are desperate for an equaliser, you want your best creative player in an area where he can hurt the opposition. Those ahead of him – rookie subs Coutinho and Jonathan Biabiany, and the dreadfully out-of-form Goran Pandev – were never going to unlock Alessandro Nesta and Thiago Silva.
The current situation isn't disastrous. Inter are still only six points off the top of the table, and we are only 12 games into the new season. But, the results and performances must improve immediately or else Inter's four-year Scudetto streak could be over before Christmas.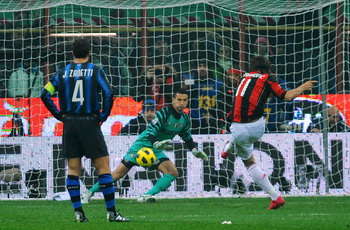 While Benitez's approval-rating among Inter fans plummets with each passing game, his opposite number last night Massimiliano Allegri appears to be slowly winning over his sceptics in the red-and-black half of Milan. There were grave doubts, even as recently as a fortnight ago, whether Allegri was a strong enough personality to succeed at Milanello. Would he be able to handle all the egos in the dressing room? Did he possess the cojones to drop a big name player? Was he tactically flexible enough having been synonymous with 4-3-3 at Cagliari?
Based on the last few games, and especially yesterday evening, Allegri has answered these questions with an A* passing grade. Since the 2-0 defeat to Real Madrid at the Santiago Bernabeu, the 43-year-old has regularly left a host of top stars out of the starting XI including Clarence Seedorf, Robinho, and yesterday's victims Ronaldinho and Andrea Pirlo. He has also recognised the importance of the less-heralded Mathieu Flamini and Kevin-Prince Boateng in transporting a youthful exuberance to the midfield.
Most importantly, his beloved 4-3-3 has been scrapped. This has provided Milan more balance, solidity, and defensive protection. Nesta and Silva have been outstanding recently, as they were last night, and the Brazilian is fast developing into the best centre back in the world. Lightning fast, excellent in the air, rarely beaten in one-on-one situations, and unlike 99 per cent of defenders today – a world class reader of the game, executing numerous interceptions like the one to stop Samuel Eto'o scoring. The problem for Milan, as always, is a lack of suitable backups to Nesta and Silva. Not overlooking the inadequacies at full back, too.
The two-man attack has also brought the very best out of Zlatan Ibrahimovic. Often accused of under-performing in big games, the Swede was unplayable against his former club and gave Marco Materazzi and Lucio nightmares. Aside from winning and scoring his decisive penalty and creating many other positive situations, Ibra was heroic holding the ball up in the second half as the lone frontman when Ignazio Abate was stupidly, if somewhat harshly, sent off.
Ibra's Seasonal Stats

Serie A Games: 11
Serie A Goals: 6
Serie A Assists: 4

CL Games: 4
CL Goals: 3
CL Assists: 1

Things are going really well for Milan. Three successive wins means they are top of Serie A, opening up a lead of six points or more over all of their realistic Scudetto challengers. There can be little doubt, and the bookmakers agree, that Milan are now favourites to win the title.