This time last year Juventus were just about to fall apart. From a position at the top of table, they soon nosedived so rapidly and so dramatically that the confidence of their players pretty much crumbled live on national television. With each passing game their performances became more desperate, more lifeless, more akin to a team whose expectations when entering the field of play were nothing more than to be beaten. As they were. Often.
From the end of November, the Bianconeri won just 11 and lost 17 of 33 games in all competitions, with crushing 4-1 defeats to Bayern Munich and Fulham seeing them eliminated from both the Champions League and Europa League with nothing more than a wimper. And in both games they'd even been given the apparent confidence boost of an early lead.
Things had started so well under Ciro Ferrara, with Scudetto talk being prevalent after four wins in succession, but by the turn of the year he was a sitting duck just waiting for a final bullet to take away the pain. The only surprise was that it was Alberto Zaccheroni – a man with just one title to his name in 12 coaching posts over 27 years – who replaced him at Vinovo. The move went predictably badly as the Old Lady continued to struggle and eventually scraped into the Europa League spots.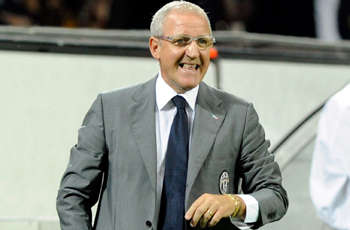 Del Neri ¦ Juve have improved under his watch
One season on, there appeared to be a similar air of foreboding over the camp as Luigi Del Neri's troops struggled to get to grips with the expectation that will always surround the 27-time Scudetto winners. But the Aquileia product has seemingly got his team playing at the kind of level which has not been seen for at least 15 months.
Last night's 1-1 draw with Roma included some of the style of play and fighting spirit – and, dare I say it, haranguing of officials – that would not have been out of place in Juventus sides of years past. Del Neri seems to have been able to address some of the issues which caused them so many problems during 2009-10.
First of all he seems to have plugged some of the gaps defensively which were still evident as recently as six weeks ago. From having conceded three at home to each of Sampdoria, Lech Poznan and Palermo, and two against Cagliari, they haven't shipped more than one goal in any of their last 10 games, including clashes against Manchester City, Inter, Milan and a resurgent Roma. Whereas earlier in the season Leonardo Bonucci and Giorgio Chiellini were allowing bigger gaps than could be seen in the Olimpico stands to form between them in defence, now their sliding defence is working to great effect. It appears that whoever is in the back four at the moment knows what their job is, and even the wide midfielders Simone Pepe and Claudio Marchisio delivered defensively against Roma.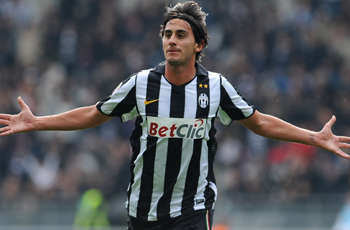 Aquilani ¦ Formed a decent partnership with Felipe Melo
Another partnership which has been notable for its level of improvement is in midfield, where Felipe Melo has had a recent boost in confidence, largely brought about by the inclusion of Alberto Aquilani alongside him. The two seem to complement each other superbly, and they are now arguably the best performing central midfield pairing in Serie A. Aquilani is looking like an Italy international once more, while Melo is now back in the kind of form which encouraged the Bianconeri to pay €25 million for his services from Fiorentina. No longer is he being asked to be a creative playmaker, and instead he is back in fetching and carrying mode. And Juventus look a better team for it.
If Del Neri's side miss one thing it is a natural finisher, but there are very few of these left in the modern game. Amauri is two years past his prolific best, Vincenzo Iaquinta works in fits and starts – though he did hit a cracking opener last night, and Alessandro Del Piero is rightly not a regular starter anymore given his fading powers. There has been, however, an upturn in the performances of Fabio Quagliarella up top. The former Sampdoria and Udinese striker has now added the ability to pick up good positions in the six-yard box to his uncanny knack of being able to strike a ball so cleanly from anywhere within 40 yards of the opponents' goal. With a little more refinement, Del Neri may well make a poacher of Quagliarella until such time as he can be supplied with a natural goalscorer in the transfer market.
So with Inter, Milan and Roma now negotiated without a defeat to show for it, Juve now face a stretch of games running to the halfway point of the season which could make or break them as a contender. Tricky trips to Genoa, Catania, Chievo and Napoli must be negotiated, but these are largely fixtures which challengers should relish, and there are still Milos Krasic, Marco Motta and others to return from injury. Last season's Juve picked up a total of two points from those four matches, but Luigi Del Neri has now steered them into a position from which they're heading into most games as favourites. So far, so good for 'the Guru'.