The last seven days has been the worst week of Rafa Benitez's Inter reign so far. A crushing Champions League defeat at the hands of Gareth-Bale inspired Tottenham Hotspur, a disappointing 1-1 home draw against newly-promoted Brescia that sees the Nerazzurri drop down to third in Serie A, and of course an increasingly horrific injury-list that claimed two more players at the weekend including Walter Samuel – now ruled out for the season.
Inter are still well placed in both major competitions - just three points off the top of the table in Italy, having conceded only five goals in 10 games, and highly likely to qualify for the knockout stages of the Champions League.
But the problems are mounting for Benitez. In attack, Inter have been utterly reliant on Samuel Eto'o. The Cameroonian has scored eight of the club's sub-standard tally of 12 goals in Serie A thus far, and also seven of their 11 strikes in Europe. With 15 from 23 in all competitions, the Beneamata must lose their Eto'o-dependency. Diego Milito (just two goals this season, both in the same game) has been a shadow of his former self from 2009/10, as proven by the sitter he missed with the last kick at San Siro against Brescia. Wesley Sneijder and Goran Pandev have yet to hit top form either, and there is the risk of too much pressure being put on the shoulders of teenager Coutinho.
The midfield has been decimated by injuries, and will improve once the treatment room clears. Nevertheless, Inter should at least be considering whether to bring in another body in the January transfer window.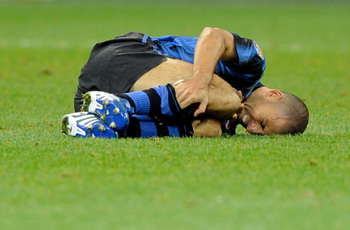 One region that undoubtedly requires reinforcement in the New Year is the backline. With Samuel's season over due to a ruptured cruciate ligament, Inter will be weakened considerably in defence. The current options are
to either replace Samuel with Ivan Cordoba, which could pose problems as the Colombian is now 34 and clearly past his best, or to move Christian Chivu into the middle and Javier Zanetti or Davide Santon to left back, which again is a risk as the Romanian has been extremely error prone in the last couple of seasons.
With Maicon's time at the very top over, and the Brazilian regularly struggling physically with injuries and natural fitness, Inter simply must make some purchases when the window reopens. A defender is an absolute necessity, but if the midfield injuries continue, and Milito's form doesn't improve by Christmas, then acquisitions could be required in midfield and attack too.
The problem every January is that most European clubs are unwilling to sell mid-season, and this will certainly complicate Inter's chances of signing a top-class defender. The early favourite to fill the void is Liverpool's Daniel Agger (although there are concerns over a calf injury), who is out of favour with Roy Hodgson and has endured problems with the club of one form or another for some time now. As a left-sided centre back who can fill in at full back, positionally he ticks the boxes. Another option is Martin Skrtel, who Liverpool will resist selling, and Bayern Munich outcast Martin Demichelis, who would settle in with Inter's Argentine contingent but is even more disaster-prone than Chivu. Other considerations are Ajax's Jan Vertonghen, Sao Paulo's Miranda and Wolfsburg's Andrea Barzagli, the latter two of whom would be eligible for the Champions League.
Inter made a huge mistake not buying anyone in the summer. Failure to act once again in January could be catastrophic if they are to defend their Scudetto, Champions League and Coppa Italia crowns.
Possible Defensive Signings For Inter In January
D.Agger

Club: Liverpool
Age: 25
Position: CB


M.Skrtel

Club: Liverpool
Age: 25
Position: CB


M.Demichelis

Club: Bayern
Age: 29
Position: CB


Miranda

Club Sao Paulo
Age: 26
Position: CB


J.Vertonghen

Club: Ajax
Age: 23
Position: CB


A.Barzagli

Club: W'sburg
Age: 29
Position: CB