The woman in front of me shut her eyes and looked away from the scene of action. Her husband to her right too couldn't bear to watch and turned his face away. The gentleman to my right was screaming and his cousin to my left had his heart in his throat.
No, it was not a penalty but a last-minute Valencia surge towards the Rangers goal that would have seen the Spanish side return home with perhaps an undeserved win. Roberto Soldado would have buried the ball in the net had it not been for Allan McGregor's superb save – an injury time agony that was eventually averted.
Watching the Champions League Group C fixture between Rangers and Valencia at Ibrox from a seat tantalisingly close to the dug-out, it was a bit hard not to sympathise with the Rangers fans who had watched their side score an own goal from a set-piece, had been better over the balance of play and had scored in a first-half that the opposition dominated.
Valencia had been largely below par and although they did display some finesse and passing football, their final ball was hugely disappointing. Indeed, one wonders if los Che would have scored from open play on Wednesday.
The 1-1 draw, of course, favours Valencia more than it does Rangers. A draw away in Europe under any situation is a great result and as things stand, the Spaniards are just a point behind Rangers in third in the group.
But coach Unai Emery shouldn't exactly open the champagne bottle and commence celebrations. Like most Spanish sides both in the Primera Division and in Europe, Valencia are plagued by inconsistency. This is a team that defeated Bursaspor 4-0 in Turkey and then went down 1-0 to Manchester United to a late goal at the Mestalla.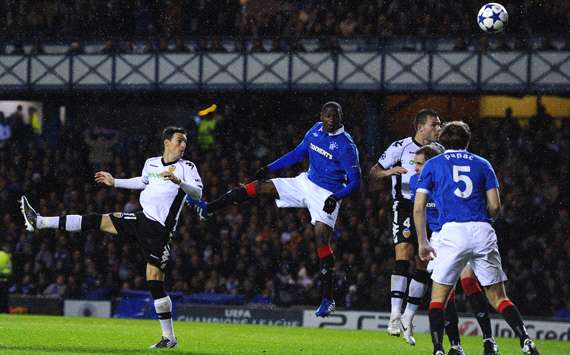 Edu scored two goals, one at each end
On Wednesday los Che collectively and individually exhibited that typical inconsistency. Aritz Aduriz, who has looked so brilliant in league games, was hardly noticeable in the first half; Alejandro Dominguez, who destroyed Bursaspor in Turkey, was so clueless that he was substituted at half-time and the defenders look fallible.
However, there were some positives for Emery. Mehmet Topal looked immense in defensive midfield – even more massive than he appears on TV – and seems to have made that leap that some players often fail after switching leagues. Juan Mata worked hard but lacked the final ball and Pablo Hernandez romped the flanks but failed to deliver the killer pass. Valencia's main problem in attack was lack of penetration, but perhaps that owes much to the absence of Ever Banega, who was an unused substitute.
One is tempted to suggest that Valencia are not Champions League material especially with David Villa and David Silva out. Of course, in La Liga so far, the Mestalla men have compensated for their absence and are just a point off the pace (although they did lose to Barcelona at the weekend) but their defeat to United on home soil and now their not so impressive away performance in Glasgow implies that they need to do more to make it through to the knockout stage of Europe's premier club competition.
While one Spanish side was struggling in Europe on Wednesday, another was marching to yet another imperious win. Barcelona went into their Group D fixture against Copenhagen two points off the pace but were once more dominating right from the start.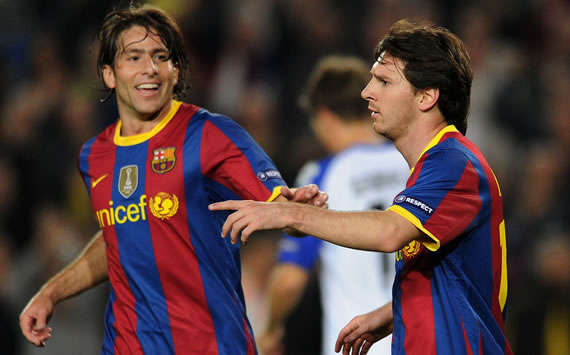 Once again Messi was on target for Barcelona
Just as Real Madrid had beaten Milan black and blue and destroyed them at the Bernabeu on Tuesday evening like a tornado demolishing a little village, Barca appeared to be on course to showing off what the cream of Spanish football can accomplish when Lionel Messi scored as early as the 19th minute.
But Barca once again failed to capitalise on their chances and although David Villa hit the frame of the goal, they left it as late as the 90th minute to kill off the contest when Messi found the net, once again reinforcing the belief that perhaps the Spanish champions are relying on the Argentine ace a little too much for goals.
Yet coach Pep Guardiola can take positives. Javier Mascherano continued to show his improvement in Blaugrana colours and had a decent game, Daniel Alves looked unbeatable once more, Sergio Busquets held his own in anchoring the midfield and also contributed in attack and the defence looked strong.
To be honest, a win against Copenhagen was always going to be easy for the Catalans, who remain the strongest side in Europe as well as the favourites for the Champions League crown. But what is encouraging about this victory is that Xavi, Pedro and Victor Valdes were out and the Catalans didn't seem to miss a beat.
But then again, this is just the beginning of a long quest for European glory. As they say, 'All's well that ends well'.