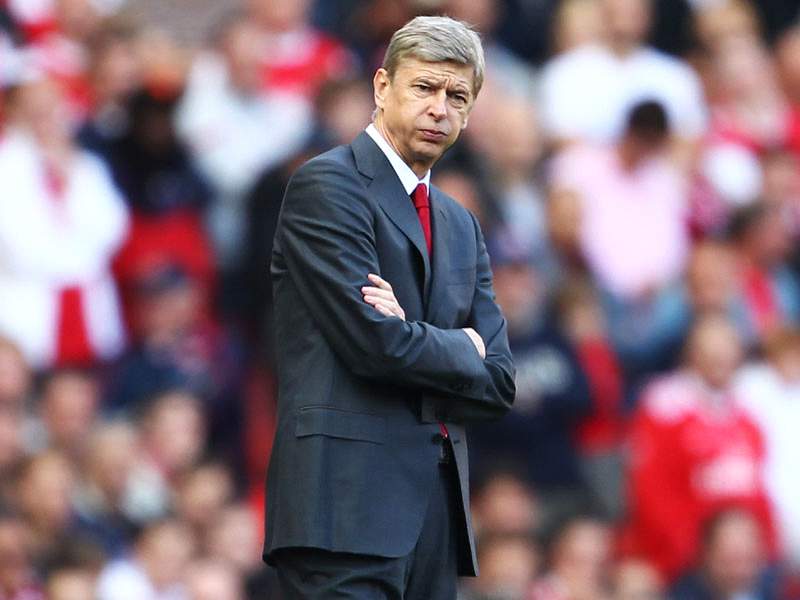 By
Alex Dimond
at the Emirates Stadium
Arsene Wenger
probably suspected it might be like this. The assembled journalists certainly hoped it would be.
After a week in which tough tackling has been (Liverpool's ownership fiasco aside) at the top of the agenda — thanks mostly to Danny Murphy, but Wenger himself has also given it a sizeable nudge — it was only suitably ironic that it would be an Arsenal player guilty of the worst challenge of the weekend.
Jack Wilshere's late lunge on Nikola Zigic was the one major blemish on an otherwise solid victory for the north London side; who ran out 2-1 winners against Birmingham City despite falling behind in the first half to the Serbian striker's looping header.
The Englishman's challenge was a bit high, a bit late, and a lot ugly. In short, it was exactly the sort of tackle Wenger has been lobbying against in recent weeks.
For Birmingham manager Alex McLeish, the tackle should act as a timely reminder to his opposite number that his side are not as persecuted against as he seems to believe.
"If he doesn't get a red card for that [tackle] then I think we might as well pack our bags and go home," the Scot said, before noting Arsenal's continued reaction to the last high-profile bad challenge in a game between the two sides.
"We've had to put up with Eduardo stuff [the former Arsenal forward who broke his leg horrifically in a challenge at St Andrew's in early 2008] for two years now, it's scandalous. In the programme today, it was so-and-so going to talk to Eduardo about Arsenal and '
that tackle
' - it's ridiculous. Martin Taylor is not a dirty player, it was a mistimed tackle that caused Eduardo a terrible injury.
"Zigic could have suffered a similar injury, but we know Wilshere is not a dirty player. It's just time to recognise it can happen in this hurly-burly game."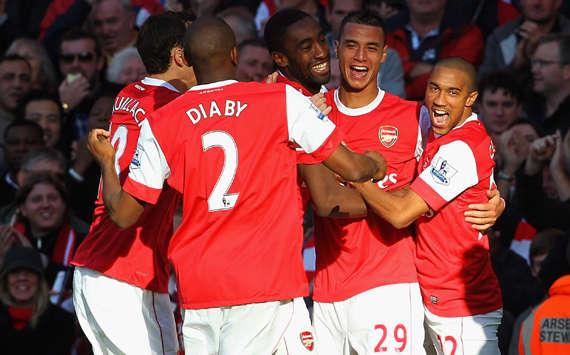 Striking contrast | Chamakh finished well, but his theatrics angered Birmingham
Arsene Wenger, to his credit, was quick to acknowledge that Wilshere's tackle deserved the punishment it received — but then undid that somewhat as he sought to offer some mitigation.
"It was his first tackle in the game... he did not go around the whole game to kick people, he played football," the Frenchman, who was supposed to be celebrating a successful 800th game in charge of the club, was keen to stress. "He was one of the best players on the pitch, but he mistimed that tackle."
Then he got angry ("You write what you want, okay?") when the awkward questions kept coming. But does his offered defence really make the 19-year-old's tackle acceptable?
If Wenger had blamed it on the impetuosity and over-exuberance of youth then perhaps it would have been (as that was almost certainly the root cause), but the 'first tackle' defence is a difficult one to stomach.
If Wilshere can hide behind that, why can't Taylor — or any of the others that have invoked Wenger's ire over the years?
After all, it isn't as if Wenger sides of the past have been criticised for their horrendous disciplinary record. For those who need reminding, Arsenal picked up a staggering 52 dismissals in the first seven years of the Frenchman's reign.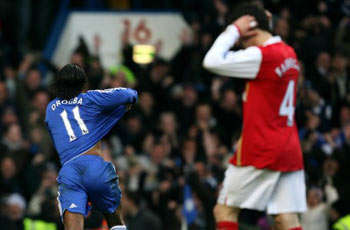 "We live in a league now where the divers are rewarded"


-Arsene Wenger criticises Didier Drogba
May 2009

The negative publicity for Arsenal didn't end there either, as their first-half equaliser from the penalty spot was also shrouded in controversy. Marouane Chamakh was the man who won the spot-kick, going down under contact from Scott Dann that the Englishman protested was never even there.
Replays suggested the two men did go boot to boot for at least a split-second, but the Moroccan certainly made as much as he could of it to persuade referee Martin Atkinson to pointed to the spot. Wenger might spend much of his time attacking opponents' bad tackles, but this was a timely reminder that he, just as regularly, seems to be forced into defending his charges against strong accusations of simulation.
It's a reminder that the team aren't the innocent purveyors of the beautiful game, mercilessly bullied by their less-talented oppressors, that they so regularly claim to be.
And such unwarranted attention is a shame, as it will distract from some otherwise positive points from the game for the club — least of all Chamakh's beautifully taken and ultimately decisive second half goal. With Nicklas Bendtner nearly ready to start,
it was a timely impact
from the former Bordeaux man.
Abou Diaby was arguably the star performer of the game, just dominant on the ball going forward even if Wenger still believes he isn't at the same fitness level he was prior to his ankle injury.
After the tactical disaster in midfield that was the West Brom game, Wenger's decision to release Diaby further forward and leave Alex Song and Wilshere as the deeper of the midfield trio worked wonderfully.
Elsewhere, both Lukasz Fabianski and Johan Djourou put in a performance that will have given them the world of confidence. The Swiss youngster's display in particular will have been welcomed — with Laurent Koscielny underwhelming in recent weeks he could be set for a run of games, and showed across the 90 minutes he could be up for that challenge.
But in general it was far from a memorable team performance, with an end product in particular sorely lacking, and the victory was one earned the hard way — resorting to questionable methods (that will distract from Birmingham's equally dirty play, most notably what looked like a vengeful elbow on Chamakh) to ensure the three points they desperately required were won. Yet now, with Chelsea and Manchester United both dropping points, their title challenge looks in better health than it was before the weekend.
Perhaps that's a sign. Arsenal aren't whiter than white, in fact, if Saturday proved anything, it is that they are just as grey as every other team.
Maybe, just maybe, it is time they embrace that fact, especially if it subsequently helps them gain that edge they still lack against the biggest sides in the biggest games.