Thanks to solid football and convincing results in his first two games, Italian
coach Alberto Zaccheroni has quickly earned a spot in the pantheon of
the Japanese 'Gods of soccer'.
The media admire him, the fans adore him, the players respect him and
are eager to learn from him. His meticulous approach to the job of
coaching the Japanese national team has conquered the supporters, who
see in him the man who can bring the Samurai Blue to the next level in
world football.
And they might well be right.
Since his arrival in Japan, Zac has shown utter dedication to his
job, devotedly studying Japanese soccer and its culture, thus quickly
finding a way to effectively communicate with the players and the
press. His commitment was evident when, for example, he showed up to
watch a J2 (second division) game, on a day the J.League top flight
was resting.
Newspapers and magazines have dedicated long articles describing in
detail how the Italian coach prepares the games, and in particular how
he spends time to explain again and again certain movements to his new
players.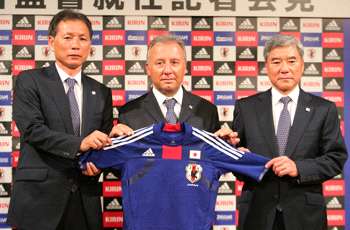 His work was rewarded in the first two games, a 1-0 win over Argentina in Saitama and a 0-0 draw with South Korea in Seoul. Japan played on a level with Argentina, one of the best teams in the world; and
then proceeded to tame their South Korean rivals in their den.
Zaccheroni built on the excellent frame that Takeshi Okada, after a
lot of trial-and-error, had finalised just in time for last summer's
World Cup. The team rotates around a solid midfield that features incredible quality, but also solidity and spirit of sacrifice.
Realising that Japan is yet to produce a top-class striker, Zaccheroni
decided to use a player on top as a 'buoy' (either Takayuki Morimoto
or Ryoichi Maeda), and had him shadowed by three offensive
midfielders (Daisuke Matsui or Shinji Okazaki, Keisuke Honda and
Shinji Kagawa) that continuously switch position and are always ready
to propel themselves towards the penalty area.
The offensive midfielders move throughout the attacking front, but also
move compactly with the two holding midfielders, Yasuhito Endo (who gained his 100th
cap against Argentina) and Makoto Hasebe, both of whom offer a reliable mix
of quantity and quality.
At least three of the five midfielders always play close to each other.
Their constant movement provides options for a quick pass to an
unmarked player that is then ready to either attack centrally or to
distribute the ball on the wings.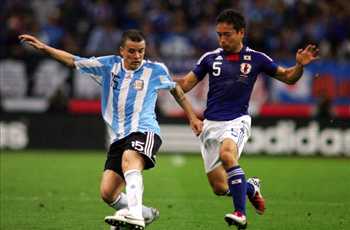 The two full-backs, Atsuto Uchida (or Yuichi Komano) and Yuto Nagatomo
are licensed to attack whenever there is a chance, and they often
contribute to situations such as the one climaxing in Okazaki's goal
against
Argentina. In that instance Japan comfortably occupied the last
third of the field with seven players.
Defensively, Zaccheroni faced the two matches without Marcos Tulio
Tanaka and Yuji Nakazawa, the two starting centre-backs that were
picked by more than a few journalists for their Best XI in South
Africa. The surrogates, Yuzo Kurihara and the minute but metronomic
Yasuyuki Konno (a sort of Japanese Cannavaro), perfectly filled in for
their more famous colleagues, also thanks to the perpetual movement of
the whole team.
Against Argentina, for example, it was not rare to see Kagawa covering
the left flank when Nagatomo pushed up the side. The whole defence
moved in almost perfect synchronicity, covering every available space in
order to contain Lionel Messi and the other South American players.
In Seoul, the defensive phase was even more impressive, conceding to
the very aggressive and motivated South Koreans only two good chances
in 90 minutes, always with Japan playing manly but clean football
that resulted in only a few free-kicks conceded to the opponents.
The end result of the Italo-Japanese alchemy is a dynamic team that is
very difficult to overwhelm. Holland and Paraguay struggled against
Japan in South Africa, and that was the case for Argentina and South
Korea, who met the Samurai Blue under new management.
Proof of Japan toughness comes from the fact that they have conceded
only three goals in their last eight games (among them two in South
Africa: one spoiled by a hand-ball set-up, the other a doubtful
penalty). The limit is clearly the lack of fire-power up front, where
the few chances (such as the one not finished off by Keisuke Honda in
Seoul) need to be cynically seized.
If the growth witnessed in the last four and a half months will
continue under Alberto Zaccheroni, imagine what Japan could do when
they finally produce a striker of the calibre of Fernando Torres or
Edin Dzeko.
But for now supporters are content enough to see Japan playing their best football ever under a coach they quickly learne to
appreciate. Eyes are already set on the Asian Nations Cup that will be
centered in Doha (Qatar), a city where in 1993 Japanese soccer was
traumatised by a last-gasp elimination from the USA 94 World Cup.
Zaccheroni has probably studied that history already, and he and his
team seem ready to rewrite it.