At the turn of the century, English football was treated to the emergence of two of the country's most naturally gifted players in recent times.
Steven Gerrard
and
Joe Cole
, the screamers and the skills, the best of both worlds.
In case you've missed or repressed the last three World Cups and two European Championships, it may or may not be worth reminding you that it has never really worked out for them on the national stage. Apparently, they were never quite playing in the kind of systems or positions that suited them.
MORE...
At club level, Joe's move into the big time with Chelsea came with a setback. The robust formation put in place by Jose Mourinho in 2004 - and loosely mirrored ever since - squashed his chance to play as a continental No.10, in the hole, behind the strikers, at Stamford Bridge, but now he's at Anfield.
Now he has joined Steven Gerrard, who may not have ever moved clubs, but has tried on every position in midfield for size during his 12-year stay at Anfield. He still insists he prefers playing a very much old-fashioned English central midfield role. He began as a more defensive midfielder, but developed his attacking instincts and did damage from right wing but hated every minute of it, then played in the hole, behind Fernando Torres, to initial widespread uncertainty. He went on to have one of his best ever seasons.
And then there was last season. It didn't go too well.
With Rafa Benitez gone as a result and Roy Hodgson at the helm, Gerrard and new signing Cole were given the chance to play in their favoured roles. It lasted a mere 44 minutes into the Premier League season, at which point Cole saw red for a reckless challenge, and it's all gone a little bit downhill from there.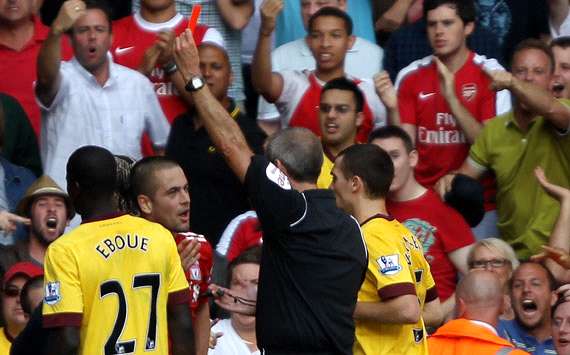 Red-faced | Cole's Pool debut tainted by embarrassment of his first ever dismissal
Javier Mascherano, the man who enabled Gerrard's masterclass from central midfield, has left for Barcelona. Just to demonstate how much the Argentine will be missed, he didn't play against Manchester City and a central midfield pairing of Gerrard and Lucas looked less battling and more blithering as they were steamrolled by a Citizens side which, in truth, is full of players who still don't look like they have a clue what they're doing yet.
It's one thing to be a holding midfielder and it's another to be Javier Mascherano.
Christian Poulsen was pre-emptively signed two weeks ago as Mascherano's replacement. While he is comfortably an improvement on Lucas, the Danish international's best years were from 2006 to 2008 at an indomitable Sevilla, and his chances of winning a midfield battle in any shape or form against the very best midfields in the country are minimal.
| | |
| --- | --- |
| CENTRE MIDFIELD | CENTRE MIDFIELD |
| Steven Gerrard | Christian Poulsen |
| | | |
| --- | --- | --- |
| RIGHT WING | ATTACKING MIDFIELD | LEFT WING |
| Dirk Kuyt | Joe Cole | Milan Jovanovic |
A trick or two in the transfer market might not be beyond Hodgson - who certainly believes he will have the opportunity to spend cash recouped from player sales - but with mere days left in the transfer window and still no buyer to fix all the problems at the very top of the club, it is looking more and more like now, life at Anfield is really all about knowing one's limitations.
In Mascherano, Roy Hodgson has lost the capability, the luxury, to go toe-to-toe with the top sides in the Premier League and will have to (no doubt reluctantly) adopt some of Rafa's pragmatism, unless he wants more nights like Monday at Eastlands.
It will take Poulsen and Lucas holding in midfield to keep the big guns from blasting Liverpool into any further state of oblivion. Neither of them can do Mascherano's job to Mascherano's standard on their own and Gerrard's primary instincts will always be to influence the game going forward.
| | |
| --- | --- |
| CENTRE MIDFIELD | CENTRE MIDFIELD |
| Lucas | Christian Poulsen |
| | | |
| --- | --- | --- |
| RIGHT WING | ATTACKING MIDFIELD | LEFT WING |
| Dirk Kuyt | Steven Gerrard | Joe Cole |
The resulting reshuffle would put Gerrard back in the hole, and Joe Cole cast back out onto the wing, and new signing Milan Jovanovic sharing a bench with a Ryan Babel who would no doubt be basking in the irony. It's not where anyone wants to be, but it's where Liverpool now find themselves as Javier Mascherano begins his "chance of a lifetime" adventure with Barcelona.