In the often cruel world of football, a blessing in disguise in the face of defeat is sometimes the only source of hope that keeps a team, a player or a fan going.
Barcelona's failure to sign Cesc Fabregas from Arsenal this summer has turned out to be just that, as the club have now signed Javier Mascherano instead; a player that Barca undoubtedly need more than Cesc, a player that they would not have approached had they succeeded in re-capturing Cesc.
While it's more captivating to the global audience to pack your team with an endless array of the world's best attacking talent, it's not always the most practical way of winning a football match, as Florentino Perez will happily attest. Having the likes of Mesut Oezil or Cesc Fabregas accompany Dani Alves, Xavi, Andres Iniesta, Lionel Messi and David Villa in the starting XI is a good way to impress your peers in fantasy football game forums, but it makes for a hideously imbalanced team in real life.
Confirmation that Barca have tied Javier Mascherano to a four-year deal with a €90 buy-out clause will be music to the ears for Blaugrana fans, especially having to accept and swallow the news that Fabregas will not be moving back to the Camp Nou this year. Mascherano's arrival at the Camp Nou will also send a few shivers down the spine of Barca's main rivals in Spain and across Europe.
Many a cule would have loved to see their old boy Fabregas wearing the famous blue-and-maroon strip again, but many would also argue that it's a player like Mascherano that will toughen up Pep Guardiola's side and add more mettle to the midfield.
The Argentina captain is a force of nature in the centre of the park, a ferocious, no-nonsense tackler who will run after every ball and chase down every opponent. Some even say that he has the engine of a small car inside his body to power his legs.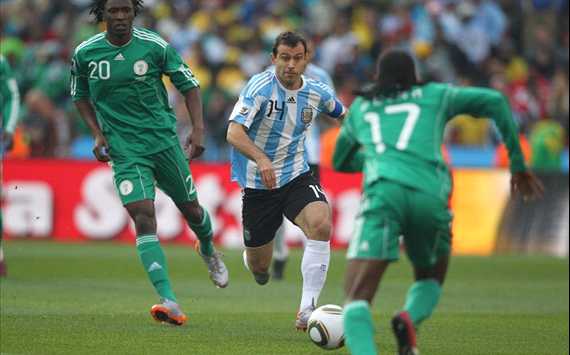 Even though he occupies the same position as Sergio Busquets, who at this point appears to be Barca's only real experienced defensive midfielder, Masch is a very different type of destroyer compared to the La Masia graduate.
Busquets is a more static midfielder, someone who usually stations himself infront of the back four – back two in most cases – and waits for the opposition to advance with the ball before launching himself into a challenge.
But Mascherano will provide the Blaugrana with something more valuable. His solid and secure defending in midfield will give the Barca stylists more freedom and peace of mind to carry on with the duty of attacking and showboating. His ability to close down an opponent quickly or track back at speed will allow him to lend a hand offensively when required, something that Busquets never could do.
And unlike Busquets, Mascherano is also a much better passer of the ball; a hybrid between Xabi Alonso and Yaya Toure if you like. While Busquets' main responsibility after winning possession of the ball is to seek out a short pass to either Xavi or Iniesta, Masch will give Barca more options with his passing range: a long ball forward or a defence-splitting through ball to Villa or Messi, a vertical spraying pass to the overlapping Dani Alves out wide, or a simple touch to Xavi.
Barcelona didn't run into much trouble in La Liga last season en route to retaining their crown, although they did look less secure defensively compared to the previous campaign when Yaya Toure was still anchoring the midfield. But it was in the two matches against Inter in the semi-final of the Champions League which really exposed the Blaugrana's soft spot in the centre of the park... the two matches where Busquets was really found out.
Having a machine like Mascherano cover off that chink in the defensive armour will consequently make Barca stronger in attack. It could even make them just that little bit more unstoppable.