Technical Attributes
Finishing & long shots
At the tender age of just 19, Balotelli possesses incredible finishing ability. His composure in front of goal is up there with the very best and you would always bet on him to score in a one-on-one situation. He often favours rounding the goalkeeper, and is comfortable shooting with either foot, although he is naturally right sided.
The enfant terrible packs a rocket of a right foot, and he has scored a string of long-range screamers over the past couple of years. Balotelli's volleys and half-volleys also should come with a health hazard warning, but he can place and curl the ball equally well. In terms of finishing, you can see Balotelli being as clinical as Ronaldo in a few years time, while he is already almost on the same level as the Real Madrid man from distance.
Skill, flair & dribbling
For a forward well over six foot, Balotelli has superb technique. His control is almost always perfect, and he has frightening dribbling abilities and flair. As he is both footed – like Ronaldo - Mario can go right or left when taking on opponents which makes him very difficult to read.
While Balotelli is not yet on Ronaldo's level in skinning players at top speed, he is far superior at dribbling past defenders in tight spaces and at a slow pace – something the Portuguese has never truly excelled at.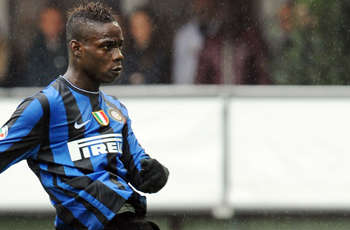 Set pieces
In an era where there are very few set piece specialists due to the difficulty in controlling the synthetic footballs, Balotelli is certainly one of the exceptions. The teenager is a world class free kick, corner and penalty taker. He can hit his free kicks with power and/or precision, from long, medium and short distance – although the further out the better he is. Balotelli has more control and consistency with his free kicks than Ronaldo, who is very hit and miss. His corners, like his crosses, always hit the danger zone and Emmanuel Adebayor, for one, should benefit.
Creativity & passing
Balotelli has a fantastic footballing brain, and the awareness to spot situations that others can't. His decision-making is generally good, and his delivery cannot be faulted.
Mario will regularly open up defences with a clever pass, and will tally up a high number of assists over the course of a season (in 2009-10 he had eight), although there is the occasional criticism that he is greedy, too casual and over-ambitious with his attempted moves. These three negative scenarios usually occur when Balotelli is having one of his off days psychologically. Again, there are similarities with Ronaldo, although Balotelli is perhaps more of a team player even if teamwork is certainly an area he could also improve upon.
Aerial ability
At 6ft 3in, and boasting agility and a decent spring, Balotelli should be more of a threat in the air than he is currently. His main problem up until now has been an unwillingness to get into the box in areas where he can score with his head. The starlet prefers to do his damage outside the area, so this is something that will need to be worked upon to make him more complete. Ronaldo is one of the world's best at heading, but it was only in 2006-07 where he really developed this side of his game so this can be an example to 'Super Mario'.
Physical Attributes
Strength
Balotelli is blessed with an incredible, naturally muscular physique and he will never be pushed off the ball. This is a key attribute to have in the blood and thunder battle-field of the Premier League. Coupled with a scarily Wayne Rooney-like aggressive streak, and the fact that he only turns 20 in August, 'Super Mario' is only going to get stronger and stronger – making him a terrifying physical proposition for years to come. Ronaldo has a powerful upper body himself, but Balotelli is a beast.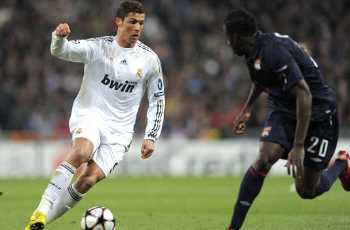 Speed
Balotelli has those explosive qualities that most of the top modern attackers such as David Villa, Fernando Torres, Lionel Messi and Ronaldo possess. He is not as quick out of the blocks as Ronaldo acceleration-wise, but once he gets in full stride few defenders will match him. Once Balotelli is ahead of his man, he won't be caught.
Fitness
Balotelli has suffered very few injuries since bursting onto the scene in 2008, certainly none that have kept him out for any serious amount of time. The teenager has played 86 games for Inter in the last two-and-a-half years, and on 16 occasions for the Italy Under-21s, which is an impressive number when you consider not only his age but the disciplinary problems that often saw him frozen out of the Nerazzurri squad. Ronaldo also missed few games during his time at Manchester United.
Mental Attributes
Temperament & discipline
It will come as no surprise to anyone reading this feature that Balotelli's weakness is his temperament. The 19-year-old is a firework waiting to explode and during his short career has fallen out and argued with numerous coaches, team-mates, referees, opponents and supporters. It's worth remembering, though, that he has been subject to, on more than one occasion, sickening racial abuse from fans.
He was frozen out of the Inter squad by Jose Mourinho on countless occasions, he fought with Marco Materazzi, and was even booed, jeered and asked to leave by his own fans last season after he threw the Inter shirt onto the floor in disgust following the 3-1 Champions League semi-final first leg win over Barcelona at San Siro. Something of a PR disaster, Balotelli has openly admitted he is a Milan fan, even going to watch the Rossoneri and wearing the city rival's shirt on television.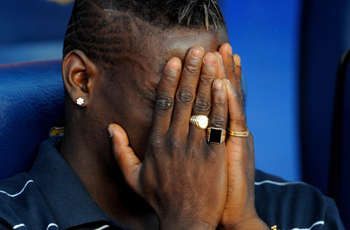 Balotelli possesses a truly appalling attitude, far worse than Ronaldo ever has. While the Portuguese has a petulance that irritates the public, Balotelli presents a 'whole world is against me' attitude that wins him no sympathisers. It will be interesting to see if this changes in the Premier League where he has the opportunity to turn over a new leaf and show the English people that he is not the troublemaker everyone labels him as. If he doesn't change, expect a lot of controversy and red cards, and potential problems in the Manchester City dressing room.
Tactical qualities
Balotelli's preferred position is as a support striker, but he is very flexible and has the tactical ability to interpret a number of different roles. These include as a first striker, on the right or left of a three-pronged attack, as a trequartista, a winger, or even as a wide midfielder. The youngster has a fine tactical understanding of the game, but the issue he has had in the past is a tendency to sulk if he isn't played in his favoured role and a reluctance to track back. The latter often infuriated Mourinho, much like it did Sir Alex Ferguson with Ronaldo in his early United days.
Consistency & big match occasion
Balotelli has no fear, and isn't fazed by any defender or team. If anything, he is often too pumped up for the big games and this has led to yellow and red cards. His consistency could do with improving, but he is young and he never really had a long starting run in the first team under Mourinho in order to maintain his rhythm. Ronaldo's consistency during league seasons is second to none, but he has often frozen and gone missing during some of the bigger matches for club and country. This seems unlikely to happen to Balotelli once he fully develops as he never hides. Both Balotelli and Ronaldo possess a winning mentality, and they are never satisfied with second best.