On Monday, one of the longest running transfer sagas of the summer came to a close as Maicon's potential move to Real Madrid collapsed when
Inter president Massimo Moratti claimed that their galloping defender was 'going nowhere.'
Considered to be the best right-back in the world by a majority of football pundits, holding on to him could be considered a coup, but there are two sides to every coin and
Goal.com
's Milan-based expert Kris Voakes discusses the implications of Moratti's announcement that 'if Real Madrid really wanted him, they should have tried harder.'
"Maicon had a marvellous last few months to the 2009-10 season, and deservedly received countless accolades for his contribution to Inter's historic run, but around the turn of the year he had been showing signs of fatigue and disinterest," he said of the 29-year-old, who was believed to be eager to move to Spain to re-link with coach Jose Mourinho.
"It wasn't really until the first-leg against Chelsea in the Champions League that his form picked up once more. For all his amazing attributes, he also has a thirst for the party life, and at his age, the figures being spoken about with Real Madrid are very attractive to Inter."
Those figures, reportedly in the region of €28 million, would have seen the Merengues prise Maicon at the height of his powers and perhaps be an initial blow to new coach Rafael Benitez, but both Real Madrid and Inter could rue their inability to reach a consensus. The Nerazzurri have other options in skipper Javier Zanetti and starlet Davide Santon as ready-available cover.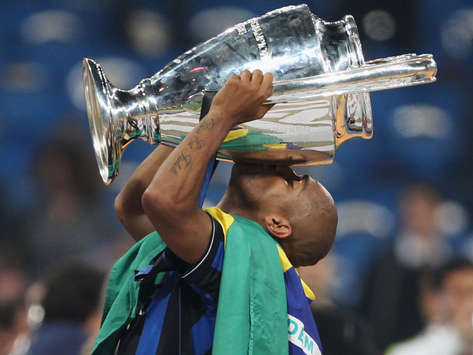 Whilst his sale will undoubtedly weaken the squad, the money involved is just too tempting, and will give the Nerazzurri the opportunity to seek a cheaper and younger replacement who could become the next great Serie A right-back. Add to that the continued development of Santon and they are pretty well set already. And so long as Real Madrid are not expecting a long-term return on their investment, this could be one of those few transfers that suits everybody involved.
If there was ever a time to cash in on Maicon, it would be now. Perhaps the former Monaco man cannot be directly replaced since he is the cream of the crop, but the issue must become one of adaptation for the Beneamata, rather than substitution.
Was it the right decision to hold on to 2010 World Cup participant? Only time will tell – if the player picks up where he left off at the end of last season, then all is well, but should his displays waver then questions will be raised as to why he remained when Inter were seemingly in the perfect position to sell.