"Shocking match, got soaked, hair all frizzy, and now on a three-hour mission home - what a worthwhile night out!"
That was one text message this writer received just after full time of Italy's 1-0 loss to Ivory Coast at Upton Park, London last night. The weather really was nasty, if you're a female you probably panicked about Marco Borriello noticing your wiry locks, the queues at the tube station were longer than those at the dole office in post-Wall Street Crash Germany, but considering all the circumstances the football really wasn't
that
bad.
Not too much should be read into Cesare Prandelli's debut defeat last night. As has been well documented, the Azzurri have an atrocious record in August friendlies over the years. They are without a win in August for five seasons, and have obtained just a single victory in the last seven attempts during which they have lost on four occasions.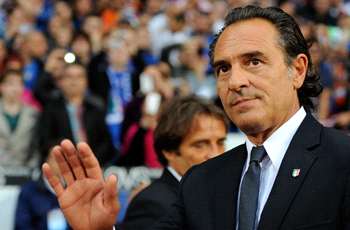 As Serie A is one of the last major European leagues to begin, Italian players always arrive in pre-season with inadequate fitness levels and no proper match practice. Some of Prandelli's men only resumed training a week ago, while Mario Balotelli has barely kicked a ball all summer at Inter due to his imminent transfer to Manchester City. Such is the Italian mentality that, despite this being Prandelli's first game, few stars would risk injury in a friendly with a new season - including Champions League playoffs - just around the corner.
Italy's Awful August Record
| | |
| --- | --- |
| 2010 | Italy 0-1 Ivory Coast |
| 2009 | Italy 0-0 Switzerland |
| 2008 | Italy 2-2 Austria |
| 2007 | Hungary 3-1 Italy |
| 2006 | Italy 0-2 Croatia |
| 2005 | Ireland 1-2 Italy |
| 2004 | Iceland 2-0 Italy |
In addition to this August agony, the statistics also demonstrate that new Italy coaches rarely start with a bang. The last Azzurri boss to taste success on his debut was Dino Zoff back in 1998 - and even that was in a competitive game against Wales in a Euro 2000 opening qualifier.
Only three of the last 11 Italy coaches (including both of Marcello Lippi's spells) have won their first match in charge. Three of the most recent four debuts have ended in defeats. When you also consider that Prandelli only had a few days with his new squad, most of whom were not part of the Lippi era, a defeat against The Elephants should not come as a huge surprise.
Italy Coaching Debuts
Cesare Prandelli



LOST vs Ivory Coast 0-1 in London


Marcello Lippi (2)

DREW vs Austria 2-2 in Nice


Roberto Donadoni

LOST vs Croatia 0-2 in Livorno


Marcello Lippi (1)

LOST vs Iceland 0-2 in Reykjavik


Giovanni Trapattoni

DREW vs Hungary 2-2 in Budapest


Dino Zoff

WON vs Wales 2-0 in Liverpool


Cesare Maldini

WON vs Northern Ireland 2-0 in Palermo


Arrigo Sacchi

DREW vs Norway 1-1 in Genova


Azeglio
Vicini
WON vs Greece 2-0 in Bologna


Enzo Bearzot

DREW vs Finland 0-0 in Rome


Fulvio Bernardini

LOST vs Yugoslavia 0-1

Despite the additional worry of Italy having still not won a game in 2010, many positives can be drawn from the exercise in London. Unlike Lippi during his second reign, Prandelli picked a squad with the potential to do well. Granted, the Azzurri have weaknesses and problems they need to work on, but at least the window is open to do something about it.
Mario Balotelli and Antonio Cassano showed glimpses of the kind of damage they are capable of inflicting. For someone not even 50 per cent fit, Super Mario generally did well. He will develop into a guaranteed superstar providing he tames his troubled temperament. Talentino's control and build-up play was immaculate, but was hindered by a lack of forward movement in front of him. Perhaps, Prandelli could consider trying Balotelli as the lone frontman as you can already see the beginnings of a telepathic link between the pair.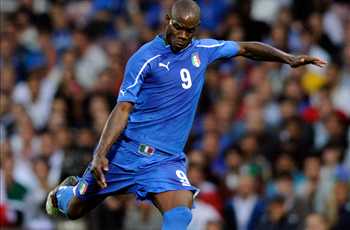 This is not to suggest that Amauri was poor - he has certainly re-found himself after last season's horror-show - but Cassano excels playing off someone with movement and penalty-box intelligence. This player isn't second half substitute Marco Borriello, who is far too cumbersome and moves like a World War I tank - the only time he turned around quickly was when a cheeky fan shouted out 'I love Belen Rodriguez' while he warmed up near the corner flag. Sampdoria colleague Giampaolo Pazzini is an obvious possibility, but this could be risky in games where Italy don't enjoy territorial advantage as 'Pazzo' struggles in counter-attacking scenarios.
Stand-in captain Daniele De Rossi was comfortable, but needs to do much more. The 27-year-old must take games by the scruff of the neck like he does for Roma, and be a driving force in midfield. In the second half, Yaya Toure was this man for the Ivory Coast and looked a class act. De Rossi has the ability to do the same, but for many years now he has been to Italy what Steven Gerrard has to England - a flatterer. Midfield partner Angelo Palombo is an excellent club player, but he lacks something for the international arena and should be a squad member at most.
The defence was far more secure than during the World Cup. Cristian Molinaro was surprisingly steady at left back, which comes as no surprise to Bundesliga fans due to his exceptional form in Germany. Those who remember 'The Back-heel' at Juventus will have grave concerns over the Stuttgart man's long-term suitability. Aside from a few shaky moments - including the goal - Giorgio Chiellini and Leonardo Bonucci were solid at centre back. Gone it seems though, sadly, are the days of the elegant libero who reads the game, so Italy will have to adapt.
The one real negative from a defensive point of view was Marco Motta. The new Juventus right back is among the best in Europe going forward, and he slammed against the post in the second half after a fine solo run, but he must improve going backwards. Motta needs to get tighter to his men as he offers them far too much space in dangerous areas. But the ex-Roma and Udinese man has the raw attributes to improve, and with good coaching he will. Goalkeeper Salvatore Sirigu did well enough to keep the gloves in Gianluigi Buffon's absence, and inspires much more confidence than the error-prone Federico Marchetti.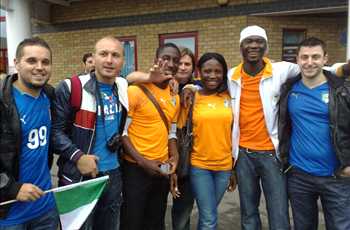 Friendly fan atmosphere at Upton Park
Overall, it was a decent test for Italy. The younger players who will form the nucleus of the Euro 2012 and World Cup 2014 generation obtained some much-required experience, Cassano and Balotelli suggested they can become a top-class pair, while - despite defeat - the Azzurri fans got behind their team and for the first time in two years appeared enthusiastic about the future.