Eager fans flocking to Upton Park tomorrow evening for the first game of new Italy coach Cesare Prandelli's reign should not expect miracles. The Azzurri are historically bad in August, pre-season is just a few weeks old, Prandelli has had little time to train his new charges, and superstar debutant Mario Balotelli will be someway short of match fitness.
But despite all these handicaps, the Italy on show in East London will likely do more to impress in 90 minutes than Marcello Lippi's masons did during the entirety of their humiliating 2010 World Cup campaign.
Prandelli has confirmed that attackers Balotelli, Antonio Cassano and Amauri will all start in an offensive formation expected to be either a 4-2-3-1 or 4-3-2-1.
Probable Italy team against Ivory Coast

Sirigu

Motta – Bonucci – Chiellini – Molinaro

De Rossi – Palombo

Pepe – Cassano – Balotelli

Amauri
While eyebrows will be raised over the inclusion of Cristian Molinaro, Amauri, and perhaps Simone Pepe, the remainder of the outfield starters form the nucleus of a young, exciting team ready to challenge for honours at Euro 2012.
Prandelli's 23-man squad
includes just one player over the age of 30, with all the veterans from South Africa axed – including Gianluca Zambrotta, Mauro Camoranesi, Antonio Di Natale and the albeit injured Andrea Pirlo and Vincenzo Iaquinta.
Prandelli has made it abundantly clear that he has a progressive project in mind. While qualification for Euro 2012 is the primary objective, and it can be dangerous to look too far past your next game, a coach must always think two or four years ahead. For example, Brazil's centre back pair Juan (31) and Lucio (32) are both among the top five defenders in the world today, but it would have been brainless for new Brazil coach Mano Menezes to retain them as he is planning for the 2014 World Cup when they will be 35 and 36 respectively.
This was one of Lippi's major failures during his second spell in charge. The Azzurri were in such a weak World Cup qualifying group that they had the perfect opportunity to shed the oldies from 2006. The Confederations Cup experience was completely wasted as Lippi took with him a group of 30-year-olds who unsurprisingly flopped, and in the 12 months following only a few newboys were invited into the group.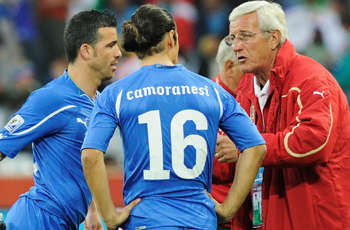 These include Domenico Criscito, who prior to June had just five caps, Leonardo Bonucci (1 cap before June), Christian Maggio (3 caps), Mattia Cassani (2 caps), Claudio Marchisio (3 caps) and Giampaolo Pazzini (6 caps). If these six players, among others, had been part of a project beginning in August 2008 when Lippi returned, they would have won more than 20 caps each by the time the catastrophic World Cup arrived.
Without this experience you risk what occurred at Euro 2008 with a 24-year-old Alberto Aquilani, who was totally overawed by the occasion during the Spain quarter-final because he possessed only a handful of caps to his name. Throw a mentally unprepared player into the deep end of a big tournament and the results can be disastrous. Prandelli won't commit the same mistake, and he has signalled his intent right away with his choices ahead of Ivory Coast.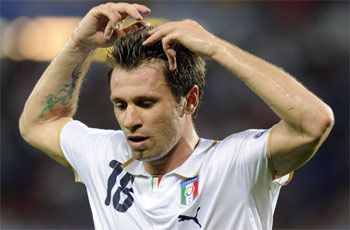 Cassano and Balotelli, handed the No.10 and No.9 shirts respectively, will be the creative forces and have already struck up a promising relationship within the national set-up, both on-and-off the pitch. Marco Motta will finally be handed the chance at right back to prove that this author who once hailed him as "potentially world class" was right all along, while Juventus team-mate Amauri has the opportunity to silence all his critics. Turning 32 in 2012, this was perhaps the one decision Prandelli made without an eye on the future. On the bench, Cagliari fantasista Andrea Lazzari – who could yet still transfer to Milan – must be given a run-out. If there is one type of player Italy need to discover, it is a creative attacking midfielder.
Whatever the result tomorrow at the Boleyn Ground, a new era has begun. While a government always stays in power, and the anonymous puppet masters behind the shadows remain whenever a new leader promising "change" is elected, rest assured there will be no such political analogy in Prandelli's new regime. It is time for Italy fans to believe in their national team once again.