15) I Told You So About Milito
How about this for irony? After controversially leaving Javier Zanetti and Esteban Cambiasso out of his original 30-man World Cup squad there were reports that Maradona would then cut another Interista, Diego Milito, from the final 23.
When the 1986-World Cup winner did indeed retain Milito, he mocked the media and public by humorously making out as if he was the only person who believed in the striker: "Milito ended up confirming I was right in including him among the 23 players I'm taking to the World Cup. I'm not surprised about what Milito has done."
Milito bagged a brace against Bayern Munich in the Champions League final, blasted home the only goal of the Coppa Italia final and scored the winner over Siena that clinched the Scudetto for Inter, scoring 30 club goals in all competitions.
14) Maradona & His Amazing Garce-Coloured Dreamcoat
There was widespread anger when Argentina's record cap holder Javier Zanetti was left at home, despite a brilliant treble-winning season with Inter. Rumour has it that virtually unknown Colon veteran Ariel Garce was called up instead because Maradona had a dream that Argentina won the tournament, and Garce was the only player he could remember!
13) We All Know What The French Are Like
In the early stages of the tournament, Maradona lashed out at UEFA president Michel Platini.
At a press conference, Dieguito called for Platini to try the controversial Adidas Jabulani match ball which had not impressed 'El Pelusa'.
"Platini, I'm not surprised with him because we've always had a distant relationship," he revealed.
"Hello, Goodbye! We all know how the French are, and Platini is French and believes he is better than the rest."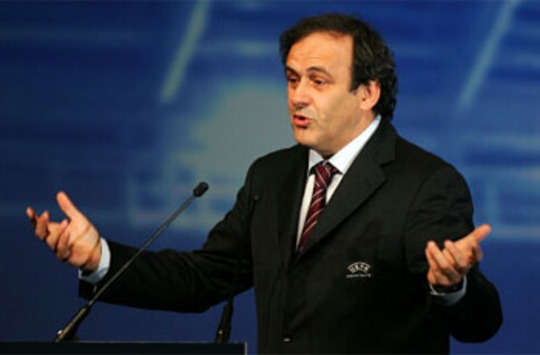 12) El Diego's German Accent

Ahead of Argentina's World's Cup quarter-final clash with Germany, Bastian Schweinsteiger had slammed the South Americans by saying:
"When one sees Argentina's games and the way in which they try to influence the referees... It is a lack of respect, but this is what the Argentines are like.
We have to be ready for it, I just hope the referee has a good day."

Maradona, of course, was not going to keep quiet and retorted:
"We don't have time to think of [Bastian] Schweinsteiger, the boys are thinking about getting on the field and playing a 2006 rematch. So it doesn't worry me what he says about penalties, kicks, that we don't know how to lose, it doesn't interest us
.
"A different game is played every match and this is going to be different, because we are coming out to attack them and play in their faces. This is what has them nervous."
All good, until this: 'El Pelusa' turned his face, directed into the camera and in an imitation of the German accent said: "What's the matter Schweinsteiger? Are you nervoushh?"
No, he was not nervous as the match eventually proved...

11) Maradona Runs Over Cameraman & Curses The Man
Maradona had enough to worry about on the day he formally announced his 23-man World Cup squad for South Africa, however the announcement turned into a farce after the coach ran over a cameraman.
Driving a Mini to a news conference, Diego was surrounded by newsmen as he made his way to the venue before hitting one poor guy with his car. According to reports, Maradona drove his car over the cameraman's foot and then began blaming and hurling insults at his victim for causing the accident in the first place.
Witnesses were quoted as having heard Maradona saying: "What an a**hole you are. How can you put your leg there where it can get run over, man?"
10) Maradona Encourages Players To Have Sex
Maradona is like the cool teacher at high school who lets you eat and drink in class, answer your mobile during lessons, and not wear proper uniform. When quizzed whether he permitted his players to have sex during the World Cup, Dieguito is reported to have responded: "Of course, as long as the women do all the work."
Team doctor Donato Villani added: "Sex is a normal part of social life and is not a problem. The disadvantages are when it is with someone who is not a stable partner or when the player should be resting.
"It is important the action should not reverberate in the legs of the players. Sex isn't a problem. It's only a problem if they're doing it at two in the morning with a bottle of champagne on the go."
9) Naked In Buenos Aires
Picture the scene: Argentina have been in fantastic form in South Africa so far, and are looking like a real potential winner. Maradona has promised that if the Albiceleste lift the trophy in South Africa after the World Cup final on July 11 he'll run naked through the streets of Buenos Aires.
"If we win the World Cup, I'll get naked and run around the Obelisk in the centre of the city," Dieguito smiled.
8) All The Losers, Line Up
During a training session in Pretoria, Maradona punished the losers of a mini-match by making them line up in the goal and have the ball pelted at them by the winning opponents. Diego joined the recipients - including Kun Aguero and Walter Samuel - in receiving the lashes.
7) Maradona Prefers Women
After thrashing South Korea 4-1 in Argentina's second match, Maradona was asked at the post-match press conference why he always hugs and kisses his players when celebrating, to which he replied that he was definitely straight.
"Well I still prefer women," Diego proclaimed.
"I am dating Veronica, who is blond and 31 years old. No, I have not gone limp wristed [homosexual]. But I like to acknowledge and congratulate my players when they play as well as they did today. That was a pleasing result and display. It was a job well done."

6) No One Takes Free-Kicks Like Diego
The 2010 World Cup was a disaster for long shots and free kicks, with the majority of players struggling terribly to get to grips with the Jabulani. But one person who had no problems handling the much-maligned World Cup ball is Maradona, as he fired home free-kick after free-kick into the top corner during training.
See below how Diego's God-given genius with the ball has not deserted him despite his mature age of 49.
5) Kissing His Dog

Diego grew a beard just prior to the World Cup. It wasn't exactly a fashion statement as some would have thought: the 49-year-old was bit by his Chinese shar pei, Bela, while trying to kiss it. The dog got surprised and bit him on the face. Maradona had to undergo plastic surgery and grew a beard to hide the scar. He said: "I grew it because my dog almost ate my mouth and left me a big scar."
4) Pele Should Go Back To The Museum
One thing that was guaranteed to happen this World Cup was a verbal war of words between eternal enemies Maradona and Pele.
In response to Pele's assertion that Maradona only took the Albiceleste coaching job because he needed the money, the Argentine declared that 'The Jinx' should "go back to the museum".
Maradona also earlier accused Pele of failing to support the South African World Cup and the country itself.
"When the tragedy happened to the Togolese team before the Africa Cup of Nations, a certain coloured gentleman who played number 10 didn't believe that the World Cup could be played here," he roared.
"But today South Africa answers him 'yes it can', the World Cup begins."
3) Pele 'Debuted With A Lad'
Maradona and Pele are often described by the mainstream media as the two greatest players in the history of the game, but the pair have never enjoyed a good relationship. The bad blood between the South Americans has evolved into an almost-continuous slanging match over the last few years.
In March 2009, Pele labelled Diego as a "bad role model" for children because of his history with recreational drugs. Maradona replied in an Argentina press conference by referring to rumours that Pele lost his virginity to a man: "What do you want me to say? He debuted with a lad."
2) The Dive Of Maradona
Argentina went into their penultimate 2010 World Cup qualifier against Peru in Buenos Aires in desperate need of a win. Leading 1-0 in the pouring rain, the rock-bottom Peruvians snatched an 89th minute equaliser through Hernan Rengifo. Argentina's World Cup hopes were looking dim, and Maradona's head dropped to the floor.
Astonishingly, though, deep into injury time Martin Palermo popped up at the back post to steer the ball home and leave Argentina's destiny in their own hands ahead of the following Wednesday's trip to Uruguay. This dramatic finale sent Maradona wild, and he ran up the touchline to perform a theatrical dive, sliding across the waterlogged pitch.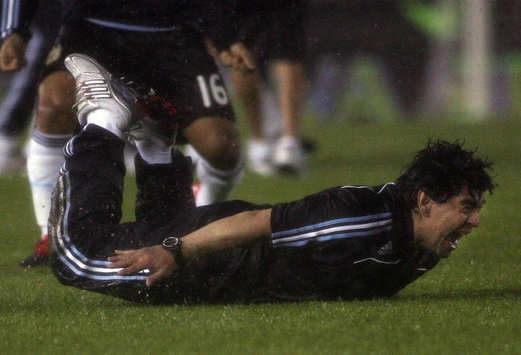 1) Suck It Up
El Diego had come under pressure during Argentina's World Cup qualifying campaign but eventually secured an automatic spot in the 2010 World Cup finals with a 1-0 win against Uruguay in October. However, the eccentric Maradona was so caught up in delirium that he made a rather offensive gesture through the window of a bus -
it can be best termed as 'chupar'
- and in the post-match press conference said:
"They can suck it and carry on sucking it. This is for all Argentines, minus the journalists."

With input from Subhankar Mondal