There was a sense of dread around Inter's offices in Corso Vittorio Emaunele earlier this year when Mario Balotelli's brother-cum-manager Corrado confirmed that he'd passed over the second part of his moniker to 'super agent' Mino Raiola. Though the European champions have been dealing with the portly transfer king over a 17-year period, they knew from recent experience that this new relationship might not be to their benefit in the longer term.
Raiola was the man behind Zlatan Ibrahimovic's switch from San Siro to Barcelona's Camp Nou last summer, and though the Nerazzurri could now look back on the deal with a glint in their eye - given the hat-trick of trophies collected since Samuel Eto'o arrived in part-exchange for the Swede - there were many fingers pointed at the agent when Ibra first showed signs of wanting out, thinking the Italian-born Dutchman was the one spoiling for a big-money exit.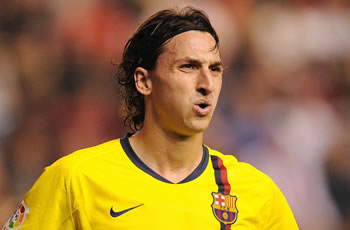 Zlatan Ibrahimovic ¦ A Raiola deal gone wrong?
So it's come as no surprise to many that Balotelli is now perched by the door, with his eviction suit no doubt already hanging up all alone in his Milan wardrobe, ready for him to collect as he heads for Eastlands amidst a galaxy of camera flashlights.
But all the time, as Balotelli rocks up to Manchester to sign a lucrative deal worth around €5 million a year, there by his side will be his right hand man Raiola, playing the role normally reserved for Max Clifford when a Big Brother contestant wants to make a buck or ten from their new-found fame. The only problem here is that football is not reality TV, and it takes real talent to succeed in the beautiful game. So will this move actually work out for all concerned?
Not 20 until August, Balotelli clearly has time on his side, but also has an impressive track record for one so young. Manchester City are not about to pay big money simply for potential: there's an element of the finished product already on display in the No. 45. His tally of 20 goals in 59 Serie A appearances in the last two and a half years and his experience racked up in the Champions League tells only part of the story of what he has done, and overcome, in his time in blue and black.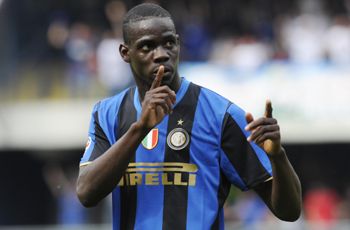 Standing tall ¦ Responding to racism in Verona...
The teenager has lived his life in the spotlight ever since being withdrawn by coach Roberto Mancini during the first half of only his fourth league start away to Torino back in 2008 in a move by the current City boss to avoid the Palermo product eventually lashing out at Toro's hatchet men and leaving his side short-handed. Since then there have been a catalogue of issues, ranging from first-team bans by Mancini's successor Jose Mourinho to his countless run-ins with fans, whether that be racist opposition supporters or his own Inter followers when he turns in one of his regular bouts of surliness.
But the names of Mourinho and Balotelli have kept Italian football in the spotlight over the past couple of years. Doubtless, this has occasionally been for the wrong reasons, but their supreme talents have been shining lights in Serie A. Now, with one already gone, the second departing can surely only be further bad news.
Or can it? After all, the extra experience 'Super Mario' will pick up could be invaluable to his maturation as an international footballer, and, after this summer's disgraceful early World Cup exit, the development of quality players in a wider context needs to be high on the agenda around the peninsula right now. Whilst Inter's only gain from the deal will be the maximum €35m transfer fee, and Serie A will be undoubtedly weakened by his loss, Cesare Prandelli will surely welcome one of his most creative talents broadening his horizons. It's a long, long time since any of Italy's most creative footballers made such a bold move.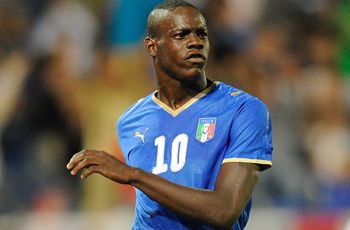 Blue moon ¦ A long international future?
For Balotelli himself the change may well bring him a greater buffer from the glare of the media, and will almost certainly alleviate the racist abuse he has been subjected to at times in Italy. Whilst it has been by no means widespread, it has occasionally been more reminiscent of 1980s Great Britain than the more tolerant 2010 Blighty. Combined, these things might help Balotelli to become a more relaxed, reflective young man than the sometimes spoilt child, often surly teenager he is now.
As for Manchester City and the Premier League in general, they can surely only benefit from the presence of Balotelli over the coming years. His talent is simply without question. With two great feet, pace, power, a box of tricks to match David Copperfield in his pomp, and the belief to run at – and beyond – even the most accomplished of the world's defenders, he has more than enough about him to suggest that he can succeed both short term and long in the world's richest league.
Twenty years ago Manchester's second most famous club was the Hacienda. Now City are on a mission to make sure that it's United who are in the shadows, and after arguably misguided splurges on the likes of Emmanuel Adebayor and Robinho, the signing of Balotelli could prove to be their biggest step in the right direction. Raiola or no Raiola, Roberto Mancini could be about to seal the move which makes, rather than breaks, his reputation as a Premier League manager.