In a way, the World Cup Final between Spain and Holland is a personal derby for Johan Cruyff. Vicente del Bosque might be a Madrid man through and through, but his side is practically Barcelona, with minor additions to replace non-Spanish players like Lionel Messi and Dani Alves. When Spain take the field at Soccer City tonight, no fewer than seven Barca players will line up for the anthems – Carles Puyol, Gerard Pique, Sergio Busquets, Xavi, Andres Iniesta, Pedro and newly-signed superstar David Villa. Del Bosque's style is not really similar to what we are used to seeing at Camp Nou, but Barcelona spirit can be felt everywhere. And with Barca spirit having been built almost exclusively by the Dutch, the duel with Holland on the biggest stage of all is very ironic and intriguing.
It all started in 1971 when the legendary Rinus Michels came to Barca from Ajax, and brought his brilliant protege Cruyff two years later to win the Catalans the league title that ended a 14-year-long drought. Another Dutchman, Johan Neeskens, followed in 1974, and Ajax foundations at Camp Nou were laid. The Barcelona faithful really fell in love with the Dutch when Cruyff himself became the coach in 1988 and built his Dream Team that won not only four La Liga titles in a row, but even more importantly the club's maiden European Cup in 1992, thanks to a goal by Ronald Koeman, another great Dutchman, in the final against Sampdoria at Wembley.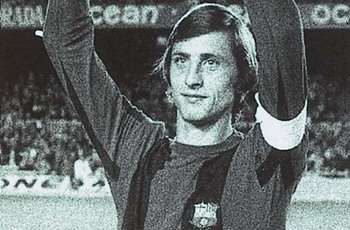 Louis van Gaal was next in the line, and he brought so many Dutch stars to Camp Nou that the team was soon nicknamed Oranje Barcelona, and even Barcajax. When his second tenure in Catalunya ended prematurely, the club gambled on another Dutchman, Frank Rijkaard, who overcame a difficult start and built a great team that won the second Champions League trophy.

Cruyff remains a very influential fugure at Camp Nou. He was a close ally of the former president Joan Laporta, and was behind Rijkaard's successful spell, as well as being the man who advised the club to promote Pep Guardiola to the helm two years ago. Pep might be Catalan, but his football ideology is very much Oranje. He imbibed it when still a young deep-lying playmaker in Cruyff's team in the early 90s, conducting the play faultlessly from the centre circle. Today Barca play a 4-3-3 very similar to that of Ajax, and even if Sandro Rosell forced Cruyff to step down as the club's honorary president, since suggesting to him the post still "doesn't exist", the great Dutchman is still very much the man in control at Camp Nou.
No less than nine out of 12 championship titles Barca took in the last four decades were won by Dutch coaches. Two out of three Champions Cups were lifted by them. Despite the fact Pep has no Oranje players on his roster these days, Barcelona are a team with an Oranje philosophy. And so, inevitably, is the current Spain selection, even if they don't play the classic Tiki-Taka.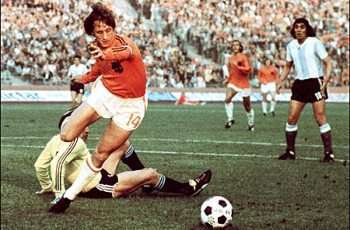 Bert van Marwijk's Holland are not playing 4-3-3 either, but they have a lot of connections to Blaugrana. The captain Giovanni van Bronckhorst enjoyed his best career spell at Barcelona and was very instrumental in the great 2006 season. Mark van Bommel also spent that year at Camp Nou, although he was eventually forced to leave for Bayern Munich. Even more importantly, both of van Marwijk's assistants, Frank de Boer and Phillip Cocu, spent many years in the Catalan capital. De Boer's best years were at Ajax, but Cocu is a Camp Nou legend, and is probably one of the most underrated players of all time. He still holds an appearances record for Barcelona for a foreign player at a whopping 292 matches. But then again, Dutch are not really foreigners in Catalunya. While this Spain have an Oranje scent about them, Holland are a little Blaugrana.

Who is Cruyff going to support this evening? This is not a straightforward issue. While he will definitely be proud if his countrymen win it, one cannot avoid thinking that he would prefer his 1974 Total Football selection to remain the greatest Holland representation ever, and rightly so. That team was infinitely more brilliant than van Marwijk's, and Cruyff could be forgiven if deep in his heart he wants Wesley Sneijder and Arjen Robben to fail. Actually, he didn't even hide his feelings, saying: "It is Spain's game to lose but I will take intense joy if they win it".
If Spain win, Cruyff will feel his very own Barcelona are crowned as world champions. However, the cup will be lifted by Iker Casillas, the biggest Real Madrid symbol left with Raul packing his suitcases for Schalke. And that is probably the biggest irony of this Oranje and Blaugrana World Cup final.