10. Mickael Landreau (click on name to watch the penalty)
What about a goalkeeper attempting a Panenka? That's exactly what happened in the French League Cup final in 2004. Nantes captain and legend Mickael Landreau could have won it for his team if he scored. Amazingly, he went for a chip but Sochaux keeper Teddy Richert was up to it. Sochaux went on to lift the trophy.
Everything went smoothly for Arsenal in their record-breaking 2003/04 season, so their French superstar was confident enough to try a Panenka in a very tight and dramatic game against Newcastle at Highbury. With the score at 2-2 with 10 minutes to go, he fooled Shay Given and gave the Gunners the win. Well, those were times when Thierry could decide games without using his hands.
How about "Panenkaing" Iker Casillas? Moody Brazilian genius Djalminha wasn't afraid to try crazy tricks when starring for Deportivo La Coruna, and he made fun of a young Casillas in a big top-of-the-table clash in February 2002. Los Blancos led 2-0 at that point, but Djalminha's brilliance paved the way for a comeback, and it finished 2-2.
The Sicilian fantasista scored some absolutely stunning goals in his career, so it was no surprise when he attempted an audacious lob against Julio Cesar, with the scores at 1-1. He scored, and Catania won 3-1 in one of the biggest sensations of last season. Maybe Mascara was the missing link in Marcello Lippi's sorry Azzurri in South Africa? It's a shame he was discarded after just one friendly in 2009.
Apparently you can beat England on penalties with your eyes closed, but why not do it in style? Helder Postinga might have been a big flop at Tottenham in 2003/2004, but it only made things worse for David James. The Portuguese striker scored a dramatic equaliser in in Euro 2004 quarter-finals, and went for a Panenka with his do-or-die kick in a shoot-out. Next up was Darius Vassell who duly missed against Ricardo.
Four years earlier, it was the great Roman who used a Panenka to beat Edwin van der Sar in the shoot-out, following 0-0 draw in Euro 2000 semi-finals. It was hardly a good day for the Dutch to take penalties, with Frank de Boer and Patrick Kluivert missing them in the regular time, with the very same de Boer, Jaap Stam and Paul Bosvelt doing the same after 120 minutes. Totti might have thought it's a good idea to rub some salt into their wounds, but later in his career he also missed some Panenkas, most notably in a league game against Lecce.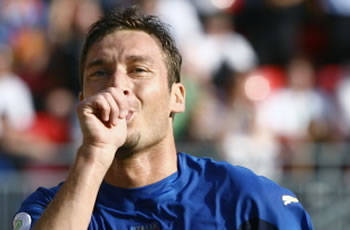 The Ukrainian scored a great Panenka in the 2006 World Cup second round game versus Switzerland, and his effort can be considered even more courageous because the goalkeeper, Pascal Zuberbuhler, didn't concede a goal during the entire tournament. The only problem was the game was so dreadfully dull, that few viewers managed to stay awake to witness Milevsky's effort.
The call him El Loco, he changed 20 clubs in his career, but 33-year-old Uruguayan striker is a born winner. His amazingly cool Panenka against Richard Kingson broke Ghana's hearts, and his coach Oscar Tavarez claimed: "It wasn't crazy. I call that class." We definitely agree, and it's not the first time he's done it for his country. Abreu scored a brilliant Panenka against Brazil in the 2007 Copa America semi-finals, with Julio Cesar the victim, but that time Uruguay eventually lost.
There is no better occasion to try a Panenka than a World Cup final, and Zizou did just that against Italian legend Gianluigi Buffon in Berlin in 2006. His shot was a bit too high, however, and he almost missed, with the ball hitting the underside of the bar and landing just over the line. Contrary to Frank Lampard's recent heroics, the referee was spot on to award the goal. France regret to this day that Zidane wasn't on the field to take part in the penalty shoot-out.
Well, the best Panenka will always belong to Panenka himself. In Euro-76 final against West Germany he was brave enough to do the trick on Sepp Maier. It was the first penalty shoot-out the Germans took part in, and it remains the only one they have ever lost. One wonders if Panenka would attempt his amazing effort these days, knowing that certain statistical record.