Sometimes, you just can't help saying: "It can't be true".. but it is! Life has a funny way of biting back at you, and what goes around comes around. Never be too happy when you are lucky, never be too sad when things go wrong. It will all even up in the long run.
10. Holland Do It The German Way
1974 should have belonged to Johan Cruijff, as his Oranje were by far the best and most attractive team in the world. However, despite taking the lead in the World Cup final through Johan Neeskens' penalty, they lost to West Germany in a classic game. Another penalty by Paul Breitner levelled the scores, and Gerd Muller made it 2-1 at the end of the first half.
Quite interestingly, 14 years later the Dutch managed to beat the Germans with exactly the same scenario, only it was taking place in the second half of their Euro 88 semi-final. Lothar Matthaus gave West Germany the lead with a penalty. Ronald Koeman equalised with a penalty of his own, and then, just before the final whistle, Marco van Basten scored the winning goal.
9. Mexico Comebacks In 1998
The Mexicans proved to be real comeback kings in the group stage at France 98. In their first game, they started slowly and trailed South Korea 1-0 at half-time, but fought back brilliantly, with Luis Hernandez scoring twice in a 3-1 win. Their next match was against Belgium, and the Europeans took a 2-0 lead with a Marc Wilmots double either side of half-time, but Alberto Garcia Aspe made sure it finished 2-2. Holland were very impressive in the beginning of their game against the Mexicans, leading 2-0 after just 19 minutes, but Manuel Lapuente's team again refused to surrender, and an amazing second half saw them equalising at 2-2 with Hernandez scoring in injury time.
But in the second round against Germany, they tasted their own medicine. Taking the lead themselves for the first time in the tournament, they saw the Germans come back to win 2-1 with Jurgen Klinsmann and Oliver Bierhoff scoring in the last 15 minutes, thus sending them home.
8. Antonio Rattin And David Beckham Go Off
In 1966, Argentina captain Antonio Rattin was extremely controversially sent off for arguing with German referee Rudolf Kreitlein. It took a long time to convince him to leave the field, and Argentina eventually lost, while England went on to win the trophy. 32 years later, David Beckham was controversially sent off against Argentina in the second round, for a somewhat innocuous flick on Diego Simeone's leg. Glenn Hoddle's team lost the game on penalties, with Beckham becoming persona non grata in England for a while.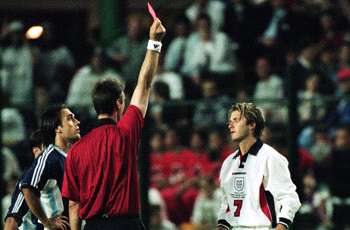 7. Madjer Takes Sweet Revenge
In the last 1982 World Cup Group B game, West Germany and Austria played out a shameful 1-0 result in Gijon that made sure both qualified at the expense of Algeria. After Horst Hrubesch gave the Germans the lead on 10 minutes neither team made any attempt to score again, and the Africans' protests not surprisingly fell on deaf ears at FIFA. Rabah Madjer, the Algerian who scored in a sensational 2-1 win over the Germans in Spain, made sure that "what goes around comes around". Five years later, while at Porto, he scored with an exquisite back-heel in the European Cup final against Bayern Munich. It's a shame only Lothar Matthaus was present both for Germany in 1982 and for Bayern in 1987.
6. Trezequet's Joy And Tears Against Italy
The finest moment of David Trezeguet's France career came in the Euro 2000 final versus Italy, when he smashed a great shot high into the roof for the second successive "golden goal" to decide a European championship final. Six years later, it was the very same Trezeguet who missed the vital penalty for France, against Italy, in the World Cup final, sending the ball onto the bar while facing his Juventus team-mate Gianluigi Buffon. It was the only failure from the spot as the Italians took their fourth world crown.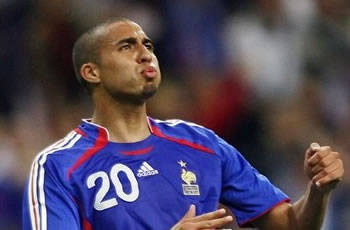 5. France And Dreadful Goalkeeping Mistakes
We all know Michel Platini scored nine goals at Euro 84, leading France to an impressive victory on home soil. However, his goal in the final should never have happened. Luis Arconada, the ever-reliable Basque goalkeeper, made a complete mess of his weak free-kick, and that terrible mistake cost Spain the game, eventually losing 2-0. Just two years later, France were hot favourites to win the World Cup after beating Brazil on penalties in the quarter-finals. But then against West Germany the brilliant Joel Bats made a horrible mishap when facing an Andreas Brehme free-kick and his "Arconada-style" error was fatal. The final score? 2-0 to the Germans. What goes around comes around.
4. Spain And "Home-team-favouring" Referees
Spain were hopeful of winning the World Cup on home soil in 1982, and the referees did their utmost to help. In the first game against brave underdogs Honduras, the Spaniards were trailing 1-0 for a long period, and kept felling in the box until the Argentinian referee decided to gift them a penalty, scored by Roberto Lopez Ufarte. In the next game against Yugoslavia even stranger things happened after the Slavs took the lead. A few minutes later, a penalty was awarded for a foul that was way outside the area. Lopez Ufarte missed this time, but the referee ordered a retake of the kick, and even enabled the Spaniards to change the shooter. The late, great Juanito made no mistake, and Spain won 2-1.
Twenty years on, and the boot was on the other foot, as Spain cried foul at the referee who helped the home team, South Korea, in a 2002 World Cup quarter-final, disallowing two legitimate goals by Ivan Helguera and Fernando Morientes. The Koreans eventually won on penalties. What goes around comes around.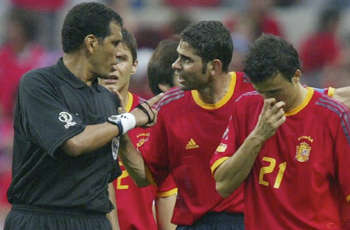 3. Real Madrid And Barcelona Exchanging 5-0 Wins
January 9, 1994, Camp Nou. Johan Cruijff's brilliant Barcelona thrashed Real Madrid 5-0, with Romario scoring an amazing hat-trick. The Catalans won the title that year, with Los Blancos in a distant fourth place.
January 7, 1995, Santiago Bernabeu. A glorious Real side swept Barca aside in an emphatic 5-0 revenge, with Ivan Zamorano bagging a hat-trick. They won the title that season, with their eternal rivals finishing third. The great Dane, Michael Laudrup, was on the winning side in both matches.
2. Bayern And Manchester United Injury Time Heroics
Bayern Munich lost that infamous 1999 Champions League final at Camp Nou, conceding two injury-time goals from David Beckham crosses, in the most dramatic finish European competition ever witnessed. Well, this March they put the record straight. Ivica Olic robbed Patrice Evra and scored with virtually the last kick of the quarter-final first leg to beat the Red Devils by the very same 2-1 scoreline. Eventually, it turned out to be the winner, as Bayern lost 3-2 in the second leg at Old Trafford and went through on away goals, Olic scoring another in the dying moments of the first half.
1. Geoff Hurst "Goal" That Was And Frank Lampard Goal That "Wasn't"
What are the chances of a ball hitting a bar, bouncing somewhere near the line, and then returning into play? Pretty slim. And it happens just a few times during any World Cup. What are the chances of that happening in a game between England and Germany? Apparently much higher. A full 44 years after the third goal in the final that didn't cross the line but was awarded by the Soviet linesman Tofik Bakhramov, England were denied a legal goal against the same opponents in similar circumstances. It is such a hilarious irony, that only a handball goal by an Englishman against Argentina, or a headbutt by an Italian on William Gallas would top it.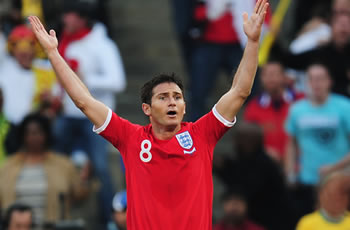 Become a fan of Goal.com International on Facebook! Just click onto Facebook.com/Goal to join the beautiful game's leading fan community...