As the song goes, we've seen it all before. Except this time, somehow, it seemed even worse.
England were awful against Algeria on Friday; turgid in attack and slack in defence, as they laboured far harder than they should have needed to in order to try and overcome an organised but ultimately limited north African side.
It is not the fact that England could only draw that will anger fans for days to come — although that in itself is far from good enough — but the manner in which that scoreless draw was attained. The Three Lions barely had a shot of note all game, and seemed to struggle with basic tenets of the game like passing and movement; Key components with which many of the players never seem to have too much trouble with at their clubs.
After a suspicious death, the immediate protocol is always to perform an autopsy on the body to ascertain the reason behind it. So what causes are there for England's tragic under-performance so far in this competition? Why did they look so good in qualifying, and yet fail to string a decent passage of play together once the show really begins?
Right now, unfortunately, the only positive to take from the opening two games seems to be that England's tournament chances have not yet been dealt a fatal blow...
THE TACTICS
Lack of adaptability
The obvious problem in evidence in Cape Town. England, utilising their trusty 4-4-2 formation that seems to have long since been disposed with by the elite sides of world football, struggled to break down a defensively-minded Algeria side that deserve some credit for their robust organisation.
While Algeria played to their strengths — or, at the least, to their limitations — England failed to make the most of the gifts they have. In Aaron Lennon, along with Ashley Cole and Glen Johnson, Capello has wide players at his disposal with the electric turn of pace that can get in behind the opposition defence and really cause problems.
Yet none of those players were given the chance to show such potency — instead frequently receiving the ball to feet, in front of the backline, and asked to produce a flash of inspiration on their own to unlock the opposition's barricades.
Likewise, in Gerrard and Lampard they have two of most threatening and potent midfielders in the world game. Yet, with one out on the left wing and the other oscillating worryingly deep for much of the 90 minutes, neither famed long-range strikers of the ball ever really got the opportunity to test the goalkeeper with the infamously swerving Jabulani.
Elsewhere, unlike other countries in the tournament England seem to have really struggled with any injury blows they have had to deal with. The loss of captain Rio Ferdinand was significant, but first Ledley King and now Jamie Carragher have struggled noticeably to form a solid partnership with Terry — who has had his own lapses in judgment.
The time Capello gave Gareth Barry to recover from his injury was indicative of how important the Manchester City man is to England these days — but Capello's lack of an alternative has been cruelly exposed so far. Lampard and Gerrard didn't work effectively as a midfield tandem in the opener (despite the latter's early goal) and on Barry's return on Friday he showed that he is still some way from full match-sharpness.
Would Scott Parker, for example, have been a better choice than Michael Carrick? The West Ham player might not be as good as the United man, but as an orthodox defensive midfielder his presence would at least have given Capello the option to play a 4-2-3-1 or something similarly fashionable, rather than scramble around for suitable replacements when his preferred midfield was missing a link.
Compared with the likes of Germany, who have drafted in the rather unheralded Sami Khedira for their talisman Michael Ballack to reasonable success, you wonder why England haven't been able to find a plan B as their plan A has slowly been sent, limping, to the medical room.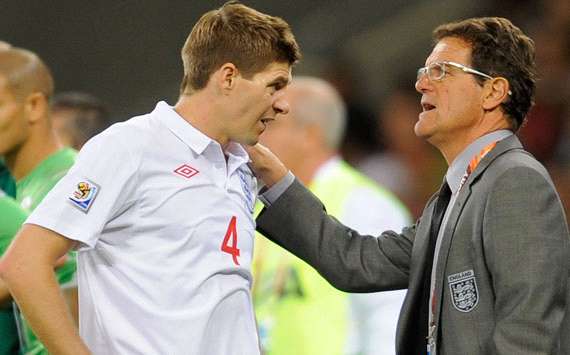 Best players aren't in their best positions
Steven Gerrard was very effective on the left wing during World Cup qualification, but this is the real deal now. Teams are better, coaching staff have had more time to get prepared, and any weakness is easier to find and expose.
The Liverpool man has been at his best this tournament — and, as any Reds fan will doubtless point out, at club level too — when bursting forward from an attacking role in the centre of midfield. That he has only filled that role fleetingly in one match is something Capello must look to rectify.
As for Rooney, he has been effectively shackled by opposition defences in both games as they have noticed his vital importance for England (an observation hardly worthy of Einstein). This has forced the Manchester United man deeper and deeper in search of the ball, and frustrated him more and more as his ineffectiveness has grown.
But why has Capello not moved more proactively to rectify this? Emile Heskey is a fine foil for Rooney under normal circumstances, whatever his detractors say, but once the young forward drops further and further away from him neither man can have an impact on the game if they continue in their normal style.
As the gap between midfield, Rooney and Heskey increased, defence have only found it easier to deal with. It was noticeable how much more threatening England became (not that such progress was hard to make) when Jermain Defoe was finally introduced late in the second half against Algeria to add an extra dimension to England's threat.
THE PRESSURE

From the fans
'England expects' is a familiar refrain, and the pressure on the Three Lions to produce at international tournaments is always intense. This has been attributed as a cause behind almost every national failing of the last 44 years, and certainly seem to be having an impact this time round.
Against Algeria the players looked scared to make mistakes, fearful of pushing forward and leaving themselves exposed rather than grabbing the game by the scruff of the neck.
Anything less than a final appearance would be considered a failure by a vocal subset of England fans — and against such lofty expectations the pressure is always going to cause issues, even if it is little different to what every other team in the tournament is having to deal with.
Wayne Rooney was caught on camera at the end of the Algeria match complaining about the fans' voicing their displeasure, sullenly remarking, "Nice to see your own fans booing you." The obvious retort from any booing fan might have been that it is 'nice to see your own players playing so badly for you,' but the 24-year-old's comments are a timely reminder that the pressure from the terraces is keenly felt by those on the pitch.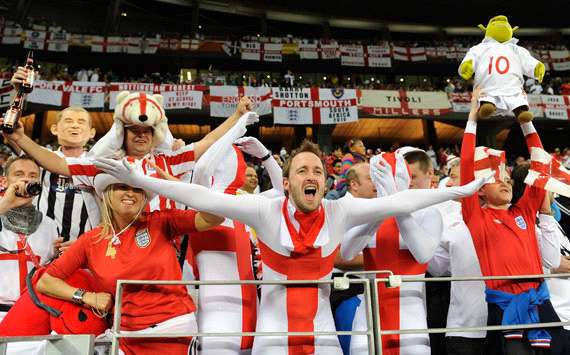 From the media

Perhaps a key problem, arguably no country has as vocal and volatile a domestic media as the English. The players will be pilloried over the coming days for the Algeria result — and rightfully so — but it is certain the Fourth Estate will hand out all the criticism the players deserve, and more.
The team's chances are built up over months, if not years, only to be demolished with something approaching glee when the fall from grace finally comes. With the expectation of such public humiliation, is it any surprise that the players suddenly become introverted when they take the field?
At club level a mistake is forgotten by the time the next game rolls around — usually less than a week — but at international level, players know a tournament-ending error will haunt them for the rest of their lives.
That has to have an effect, mentally if not physically, and players have to be find a way to alleviate that pressure in some way. But with Capello running something of a dictatorship inside the camp, perhaps the players are suffering from the scrutiny they are under from absolutely all angles.
THE SQUAD
Lack of morale
From Joe Cole's evident disappointment at not being brought on to Steven Gerrard's curt responses when interviewed after the game, it is clear that all is not well within the camp.
And who can blame them? Big players have been lost, while the manager refuses to name his team more than two hours before a kick-off. David James reportedly fell out with Capello and his staff over a dispute about his fitness during the tournament's first week, while Robert Green will hardly be buzzing now after his unceremonious dropping after what was a calamitous error (albeit one that has been subsequently repeated by other goalkeepers).
Where is the camaraderie, the togetherness and team spirit that we are so often told is crucial to all successful teams? We hear talk of golf trips, of darts tournaments and the like, but quotes about the "fantastic spirit among the lads" are infrequent and seem to ring slightly hollow when uttered.
Perhaps it is hardly surprising, with Steven Gerrard a relatively new and unfamiliar captain to the side and no obvious jester — like Paul Gascoigne in 1990 — among the 23. With so many players anxious about their form or fitness, and second-guessing whether the manager will pick them for each game, it is hard to imagine the times between training are spent too socially.
Matters on the pitch may not be as bad as for France, but there has certainly been little evidence of a collective mentality and united purpose to date.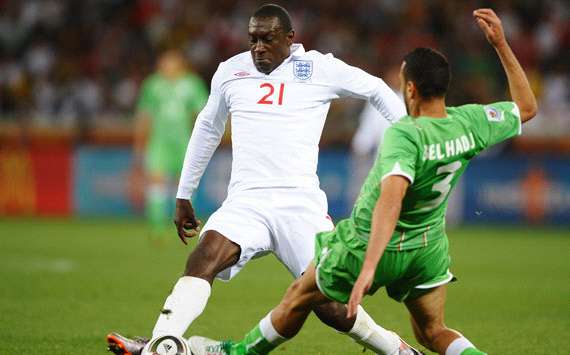 Lack of quality available
Perhaps England's biggest problem — maybe we just don't have the players required to succeed at the highest level. Fabio Capello has already made that abundantly clear, when he begged Jamie Carragher and Paul Scholes to return to the international setup despite both having long-since retired from the arena.
Despite winning nine of ten qualification matches, then, such moves made it clear the Italian didn't have full faith in the options he had available to him. Only England's eventual progress in South Africa will reveal how damaging a move that was.
Such question-marks have been extended into the tournament, with Capello creating further problems for himself with his inability to choose a first-choice goalkeeper. Many might believe Green's error against the United States was borne out of the uncertainty in his mind about the security of his starting position, but on the other hand Capello can be forgiven for taking time to assess his options if none of them stand out.
Indeed, arguably England only have two or three truly world-class players in their ranks, a number which doesn't compare favourably with the other favourites for World Cup success. But with teams with even fewer noted stars getting off to great starts to the tournament, is that really an excuse for such a poor showing?
At least there is still hope... One good win will still see us through
The light at the end of the tunnel — at least a victory against Slovenia will be enough to see us into the next round.
Although Slovenia showed fighting spirit and no little ability against both Algeria and the US, England should still be able to get the better of them over 90 minutes — if they can finally produce a worthy performance.
With the knowledge that only a win will suffice, they should have little problem getting motivated, and shouldn't struggle to adopt and offensive mindset. Gareth Barry should be back to full fitness, and Capello might well look more closely at ways he can get Rooney into dangerous areas with the ball.
With the goalkeeping situation seemingly solved, for now, the focus can switch back to the tactical issues at hand. And, after admitting twice already after matches that the pressure of the occasions have got to his players, perhaps extensive work will be done to ensure England start the game in the right frame of mind at Port Elizabeth on June 23.
England have been here before, it is worth remembering — at Mexico '86, a 0-0 draw with the unfancied Morocco (after a defeat against Portugal) meant the Three Lions were up against it if they wanted to progress from the group. But a hat-trick from Gary Lineker gave a resurgent side a vital 3-0 triumph against Poland, which saw them through.
England eventually went on to lose to Argentina, falling foul of Diego Maradona's infamous 'Hand of God'. Four years later, in Italia '90, two similarly awful performances in the group stage were followed by a scrappy win against Egypt — which propelled us on to a now famous run that was halted agonisingly short of the final.
So there is hope, on such precedents fans can cling. We still believe....