"The longer I live in Moscow," said Milos Krasic recently, "the more I'm in love with her." It's fair to say that the growth in feeling is mutual, with Krasic developing into one of the stars of the Russian Premier League during his six year spell with CSKA. Having joined the club as a relative unknown from Vojvodina in Serbia, he initially began his spell at the club as a squad player, suppressed somewhat by the creative orientation of the side revolving around the playmaker of the time, Daniel Carvalho.
However after gradually settling in Moscow, helped by the presence of Croatian striker Ivica Olic and the Bosnian Elvir Rahimic, Krasic began to grow in stature, becoming a crucial member of a squad that would go on to win two league titles and four Russian Cups in the subsequent four seasons. The extent of his development has received greater attention in the past year courtesy of CSKA's improved performance in the Champions League, as well as Krasic's increased involvement at international level with Serbia. In reality, his recent emergence is the consequence of steady but sustained progress during his spell in Moscow.
Since his arrival in Russia, Krasic has been almost exclusively deployed as a right-sided midfielder, with his powerful, forthright running typical of a classical byline winger. Whilst his trickery and ease of touch are effective tools, the Serb's real threat comes from his ability to prise open channels to run into by dropping a shoulder and using his sudden change in pace to leave defenders trailing. For a winger, there's no denying that he is uncharacteristically powerful, with his frame more synonymous with that of a penalty box striker. But that power has not diminished his pace and can allow him the luxury of out-muscling defenders in combative situations, allowing him to go either inside or outside of them.
CSKA have long employed a 4-2-3-1 system in which Krasic will form the right-sided branch of the three attacking midfielders. His powerful dribbling style and assured self-confidence have been rewarded by coaches who have allocated him greater licence to step in from wide areas and look to pick the ball up deep - often from the deep-lying midfielders or full-backs - before embarking on runs at the opposition from the middle third of the field. This trend has also been mirrored at international level where boss Radomir Antic has deployed the winger in a similar capacity in a 4-4-2 with advanced wide players. This greater creative freedom has, at times, manifest itself in an individualist streak, but those moments have tended to be intermittent at worst.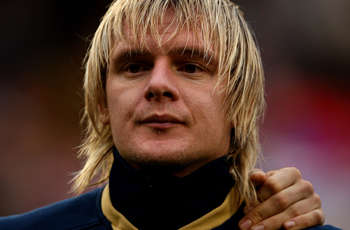 Krasic | Critical to Serbian World Cup qualification
The quality he has exhibited at the highest level for both club and country hint at a player very confident in his ability and ready to take a progressive forward step in his career. Unfortunately for Juve fans, it's hard to see Krasic replacing the influence and leadership of Pavel Nedved, who was sorely missed last season following his retirement from the game. Krasic's qualities are not as versatile as the Czech's, with his ability lying almost entirely in his powerful and direct running. Whilst he is a leader in CSKA's current side, he has tended to operate as an ancillary rather than the primary channel of their attacking play - possibly because of his tendency to spend much of the game out wide.
With the arrival of Simone Pepe at Juventus, Krasic may be required to occasionally operate in a more unfamiliar left-sided role for the Bianconeri. His style is certainly congruent with the ultra-offensive, 4-4-2 going on 4-2-4 approach that Juve's new coach Luigi Del Neri has tended to take with his wide players. It would appear, however, given his much stronger right foot, that Krasic would be strongly inclined to make a b-line for goal rather than look for the byline and cut the ball back if used on the left. Whilst not a bad striker of the ball, his shooting is not a feature that you would, as a coach, feel compelled to exploit.
The questions that will be of greatest significance will not be whether the Serb possesses the quality to justify Juve signing him - he is a strong and experienced top-level player - but more how Del Neri intends to integrate the juggernaut winger into his side's
modus operandi
. Given his spell at CSKA, it would appear more advantageous for Del Neri to keep Krasic operating out on the right side, allowing him the option of either hitting the byline or coming inside the full-back and powering directly for goal. It is in this capacity that Krasic has earned his current reputation and become one of the most coveted players in Europe.
However, regardless of what his role in Italy may be, one thing is for certain - he will be sorely missed in Moscow.
Become a fan of Goal.com International on Facebook! Just click onto
Facebook.com/Goal
to join the beautiful game's leading fan community...