The similarities between the play in last night's Champions League final and the first leg of Inter's semi-final with Barcelona are staggering. In both cases, Inter earned approximately a third of possession, but were clinically efficient with their counter-attacks and won by two goals. Against Barca, it took just four shots from inside the penalty area for Jose Mourinho's side to score three times. Similarly, Diego Milito needed just two shots in last night's final to net a brace.
As attacking teams built in a modern interpretation of the Dutch total football mould, Bayern and Barca achieved comprehensive midfield dominance, but struggled to break through Inter's stifling defence.
Inter Milan vs Barcelona, First Leg
(full stats
here
)
| Statistic | Barca | Inter |
| --- | --- | --- |
| Possession | 67% | 33% |
| Passes Attempted | 636 | 271 |
| Passes Completed | 521 | 158 |
| Pass Completion % | 82% | 58% |
| Best Individual Passer | Xavi Hernandez (93/108) | Javier Zanetti (21/29) |
Bayern Munich vs Inter Milan
(full stats
here
)
Statistic
Bayern
Inter
Possession
66%
34%
Passes Attempted
643
289
Passes Completed
536
176
Pass Completion %
83%
61%
Best Individual Passer
Bastian
Schweinsteiger (104/114)
Wesley Sneijder (25/38)
Sure enough, Bayern's troubles were markedly similar to those encountered by Barcelona just weeks earlier. Here's a look at the lessons that Bayern can take from the final:
1) A World Class Attack Needs A World Class Centre Forward
…And Ivica Olic is no such thing. It's true that Bayern's sparkplug adds plenty of enthusiasm and can be useful as a secondary forward and in transition. But, with that being said, he isn't the penalty box predator that David Villa, Didier Drogba and Fernando Torres are. Some may argue that Drogba, too, was neutralised by the Inter defence. I would counter by noting that Bayern's midfield is vastly superior to Chelsea's, and can create more chances for strikers.
In the weeks leading up to the final, Bayern coach Louis van Gaal most likely foresaw his team's attacking struggles. With a world class, but terribly out of form, Zlatan Ibrahimovic up front, Barca's play was stymied against Inter in the semi-final.
The bottom line: crosses are irrelevant if nobody is there to knock the ball in.
2) If at First You Don't Succeed…It's Wise To Have A Plan B
Barca's one substitute (Eric Abidal for Ibrahimovic) didn't add much for the Catalans in the semi-final, and Bayern substitutes Miroslav Klose and Mario Gomez did even less last night. The point of making attacking tactical substitutions is to add a new dimension — a spark — to a team's offence. If there was such a thing as an anti-spark, Klose and Gomez added it; they wandered around the penalty area and barely even touched the ball.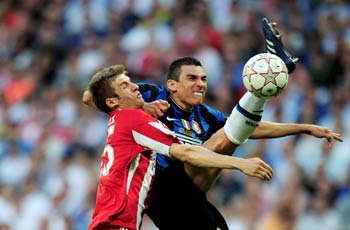 Looking forward, Bayern will likely have either Thomas Mueller or Toni Kroos coming off the bench, and in the likely event that a new striker is signed this summer, Olic will be a third option. Each of the above adds a different style of play, and will give Van Gaal a few more tools in his arsenal.
3) Half Of Creativity Is Surprise, And Surprise Cannot Come With Attacks Exclusively From the Right Wing
If Barca had had a fit Andres Iniesta in their line-up, they might have overcome Inter. If Franck Ribery had been available last night, Bayern may also have overturned their fate. Just as Leo Messi was often forced to drop back into Barca's midfield in the semis, the constantly double-teamed Arjen Robben had to do the same for Bayern in the final. The gifted attacker made several insightful passes to team-mates at the edge of the penalty area, but those recipients (namely Hamit Altintop and Mark van Bommel) were not goalscorers. Had Robben been on the receiving end of such a ball from Ribery, the Dutchman might have scored.
With the right flank shut down, Bayern spread the ball to the left, but never had enough quality in that position to make a difference. Hamit Altintop did well enough to send in a few crosses, but the Turk was no Ribery. He was also terribly lonely in attack due to Holger Badstuber's reluctance to make overlapping runs. Ribery and Diego Contento would have been much, much better.
4) To Beat A Parked Bus, Call In The Artillery
The only way to beat a defence with 10 men in the penalty area is to draw your opponents out of position. The only way to make an organised, disciplined defence come out of the box is to have a sharpshooter line up a strike from distance.
In the final, Bayern were much more willing to shoot from distance than were Barca before them, but didn't have enough players capable of scoring from 25-30 yards. Arjen Robben has such ability, but he was so heavily marked that there never was enough space for him to get a good look at goal.
Had Ribery and Kroos been in the Bayern squad last night, there would have been too many long-range threats for Inter to mark simultaneously, and the Italian side would have had to play a more conventional defence with between four and six defenders holding the back line.
5) Push The Full-Backs Forward At Your Own Risk
Philipp Lahm and Dani Alves are among the world's best full-backs and each plays an integral role in his team's attack. With that being said, they were both caught out of position against Inter. Mourinho's formation, with two wide forwards and a double pivot to anchor the back four, is perfect for absorbing pressure and counter-attacking against teams that play wide.
The formula is quite simple, and happens in three steps: 1) defensive midfielder, winger and full-back mark attacking winger and full-back; 2) defensive winger defends until he knows his team-mates are on the verge of winning the ball; and 3) defensive winger or central playmaker then bolts into an attacking position behind the opposing full-back and receives an outlet pass, thus beginning a counter-attack.
There are only two ways to combat Mourinho's style. One is to play a bit less aggressively, which is something that neither Van Gaal nor Barca coach Pep Guardiola would ever consider. The other is to never, ever lose the ball. Bayern and Barca both tried to use such a strategy, but ultimately came short. It's tough to win a Champions League final, and even harder to do it with flair…
Become a fan of Goal.com International on Facebook! Just click onto Facebook.com/Goal to join the beautiful game's leading fan community...