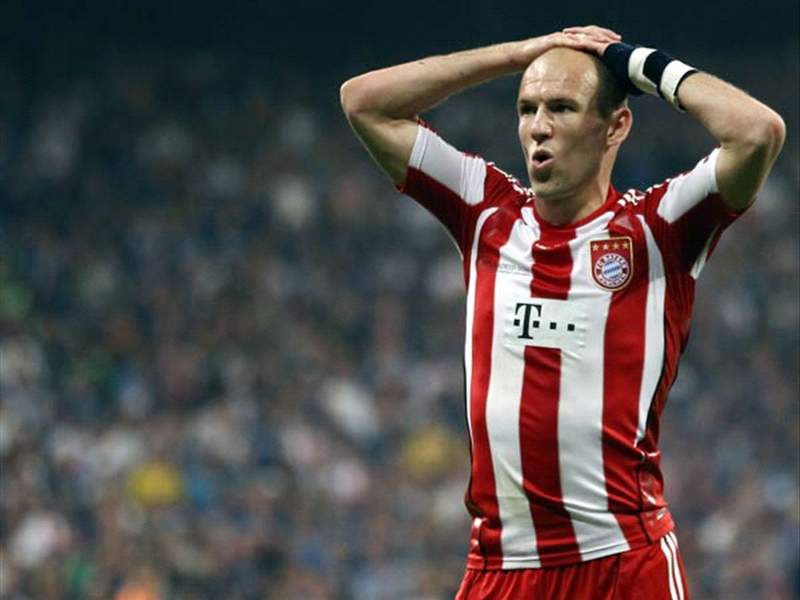 If, in November, you had predicted that Bayern Munich would have made the Champions League final, you might have been shipped off to a psychiatric ward. Bayern were struggling domestically, and had been all but eliminated from the Champions League. In Munich, the outlook was bleaker than the impending Bavarian winter.
What came in the second half of the season was an improbable, but memorable, run. Following a stunning string of results,
die Roten
were crowned Bundesliga champions, and lifted the DFB Pokal. Bayern were playing so well that today's Champions League final defeat was truly a disappointment, rather than an expected result. Contrast today's disappointment with the reaction to last year's 5-1 aggregate loss to Barcelona, and it's easy to tell how far Bayern have progressed.
In the end, though, today's result all made sense. Yes, F.C. Hollywood were denied a legitimate penalty claim in the first half, but as Bayern fans have been saying for months now, you can't blame the ref. You have to make your own luck.
The fact remains that Inter were rock solid at the back and Bayern simply weren't. For the first goal, Martin Demichelis allowed Diego Milito to win a header and was then beaten in a footrace, despite having an initial advantage. For the second, the Argentine striker left Daniel van Buyten for dead. It was a good bit of dribbling, but the Belgian defender was far too slow to recover, and gave Milito much more space than necessary.
Bayern's deficiency at the offensive end was also vividly apparent. Inter needed hardly more than two chances to score twice, but Bayern needed many more just to net a first. The Bavarians, as strong as they were in midfield, were unable to match the physicality of the Inter centre backs, and were unable to put away their chances.
Full credit should be given to Walter Samuel, Lucio, and Julio Cesar in particular, but their efforts may have been undone had Bayern employed the services of a world class, physical striker: a Drogba, Torres, or Dzeko.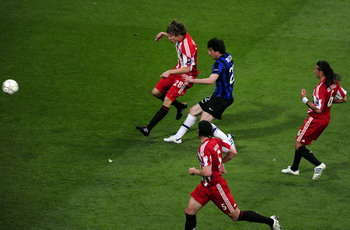 To every coin, however, there are two sides. For Bayern, the silver lining from today's defeat is that they are no longer in a transition phase, and will be motivated to move for players capable of winning not only the Bundesliga, but Europe's greatest tournament. Having gotten a sniff of glory, their appetites will be whetted even more ahead of next season.
This summer, expect some big moves, starting at the back and ending on the forward line. Ivica Olic for all his hard work, never had the strength or poacher's qualities to beat a defence like Inter's. He's great in transition and outside the box, but in games like today's, his shortcomings are revealed. At nearly 31 years of age, is likely to play the role of 'super sub' next year. In his stead, and in a likely swap with Mario Gomez, enter Edin Dzeko. The Bosnian striker is fully capable of matching any defender's physicality, and with his aptitude for controlling the ball, fully fits into coach Louis van Gaal's philosophy.
Before today's match, the Bayern management may have been able to justify holding off on a move for top class striking talent. However, after Olic was able to do nothing in the box and Gomez and Miroslav Klose were equally incompetent, there is no excuse. Bayern came too far to settle on 'good enough' talent ahead of the upcoming campaign. Rumours of a Gomez plus cash for Dzeko deal have been mulled in recent weeks, and in the wake of recent events, seems highly probable.
At the back, and certainly in the centre of defence, there may be an even greater need for overhaul. Van Buyten's poor marking of Milito was the second time in as many games that the defender has been skinned. He had an excellent run of form in the fall, but since then, has left much to be desired. Demichelis is a technically superior defender, but has concentration issues and is known to be an accident waiting to happen.
Due to the Bundesliga's relative lack of proven, contractually available central defenders, it may be a difficult thing to find an adequate replacement. One thing is for sure, though: tomorrow morning, the Bayern management will scour Europe for top class centre halves.
Of course, there were other problems that Bayern had. Klose and Gomez's ineptitude highlighted
die Roten's
lack of a secondary game plan. Arjen Robben often found himself playing the kinds of passes that he would like to receive, with targets including Hamit Altintop and Mark van Bommel. Had Robben been on the opposite end of his defence-slicing balls, he may have scored from the edge of the penalty area. In that regard, Franck Ribery's creativity was sorely missed today. The good news for Bayern fans is that the mercurial Frenchman recently signed a contract extension, and will light up the flanks with his Dutch counterpart for years to come.
Sepp Herbeger once famously said "
Nach dem spiel ist vor dem spiel
" (after the game is before the game). At the end of an incredible run has come defeat, but what has happened today is done. It's time to move on and look at the bright side of things: this year's run wasn't the end of an era - it was a taste of what's to come.
Become a fan of Goal.com International on Facebook! Just click onto Facebook.com/Goal to join the beautiful game's leading fan community...