Luis Perea v Bobby Zamora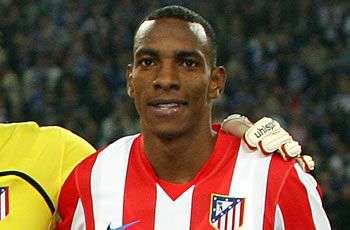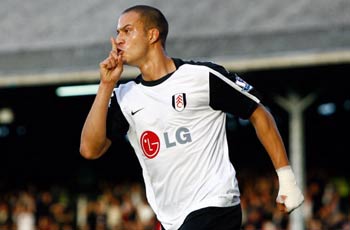 Colombia
Nationality
England
31
Age
29
Centre Back
Position
Centre Forward
7
Matches
13
0
Goals
6
857
Castrol Ranking
588
Luis Perea
was solid as a rock on most occasions against Valencia and Liverpool in the quarter-finals and semi-finals respectively of the Europa League this campaign. The Colombian international centre-back played an important part in stopping Liverpool score at the Calderon.
Atleti's major defect is their defence, and although Perea cannot be ranked as one of the best defenders in Spain, the 31-year-old has proven in the knockout stages of Europe's second most prestigious club competition that he can be relied upon for the most part. Along with his central defensive partner Alvaro Dominguez, Perea will be looking to maintain a solid front at the heart of the Atleti defence on Wednesday evening.
Bobby Zamora
has had a breakthrough season with Fulham this campaign and has been a very important player for the Cottagers in the Europa League. Zamora, who has been struggling with an Achilles problem, has struck six times and completed two assists in 13 matches in Europe and scored against both Juventus and Wolfsburg.
The Fulham striker has been so good that he is expected to be named in Fabio Capello's provisional 30-man squad for the World Cup finals. Zamora's movements and eye for goal will give Atletico Madrid's defence a huge problem, but he will have to encounter tough challenges from Luis Perea and Alvaro Dominguez. Atleti custodian David De Gea has acknowledged the threat posed by the former West Ham United and Tottenham Hotspur striker when he defined Zamora as a "great player".
Paulo Assuncao v Danny Murphy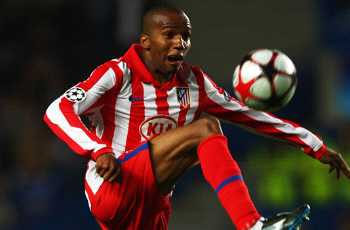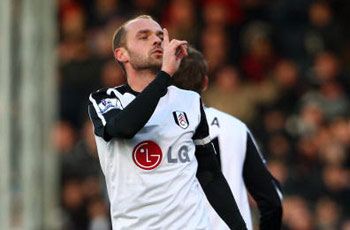 Brazil
Nationality
England
30
Age
33
Midfielder
Position
Midfielder
8
Matches
9
0
Goals
1
512
Castrol Ranking
476
Paulo Assuncao
has been a consistent figure in the Atletico Madrid midfield since arriving from FC Porto at the start of the 2008-09 season. The Brazilian defensive midfielder might not always get recognition for his battling qualities in the middle of the park but he will be a key player for Atleti on Wednesday night.
Atleti's notoriously porous backline will depend on how Assuncao works in the midfield and protects it. Assuncao was recently nominated for the
Atleti player of the season award
by
Goal.com
and he should be looking to justify it.
Danny Murphy
has rejuvenated himself since joining Fulham in 2007 and has had an effective and successful season this term. The 33-year-old has scored once and made another in nine appearances in the Europa League for the London side.
The former Liverpool midfielder's best days may have been at Anfield but this campaign the ex-Charlton Athletic medio has shown that he still has fuel in his tank. Murphy will be featuring in central midfield for Fulham and will be looking to push the Cottagers into the opposition half. Murphy's experience in big games will be an asset in combating the Atletico midfield.
Simao Sabrosa v Damien Duff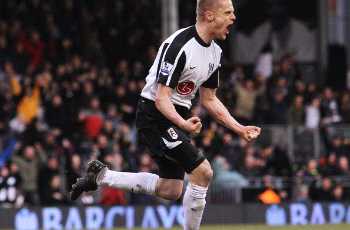 Portugal
Nationality
Ireland
30
Age
31
Winger
Position
Winger
8
Matches
11
1
Goals
1
291
Castrol Ranking
297
Simao will start on the left side of the midfield for Atletico Madrid and will be a huge threat. A winger by description, Simao is best as a wide midfielder who has the ability and propensity to drift inside.

The former Barcelona winger, who can also feature as a forward on occasion, will have Jose Antonio Reyes across the pitch at the other end and he and the Spaniard will be looking to create havoc on the flanks. Moreover, Simao's free-kick skills could come in handy.

Damien Duff will start on the right for Fulham, which implies that the Irishman will be facing Simao, at least initially. Duff is a tricky winger whose dribbling, shooting and passing abilities are markedly brilliant.

Duff is more direct and faster than Simao and it will be interesting to see how the duo battle with each other when they come face to face.

Sergio Aguero v Brede Hangeland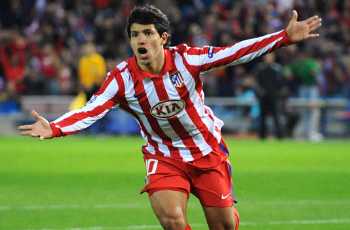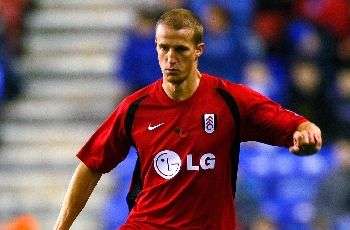 Argentina
Nationality
Norway
21
Age
28
Centre Forward
Position
Centre Back
7
Matches
11
2
Goals
2
64
Castrol Ranking
632
Sergio Aguero
hasn't been as prolific in Europe as one would have expected him to be but the Argentine international striker will be a key threat to the Fulham citadel. With Diego Forlan, Aguero forges one of the most dangerous strike partnerships in the whole of Europe.
The 21-year-old's runs, movement, dribbling skills and link-up play with Forlan will keep the Fulham defenders on their toes throughout. It will be interesting to see what plan Fulham manager Roy Hodgson hatches to cope with this diminutive, world class striker.
Brede Hangeland
's physical presence and aerial prowess at the heart of the Fulham defence will be hugely important. The Norwegian international centre-back is also known for his technique and he will be keen to see that his side do not buckle under the threat of Aguero and Forlan.
Aguero needs the ball to be at his feet to weave his magic and if Hangeland can intercept the passes threaded through for the Argentinian, then he will win this individual duel.
Become a fan of Goal.com International on Facebook! Just click onto Facebook.com/Goal to join the beautiful game's leading fan community...