After an epic 94 minutes at the Camp Nou, in a match that pitted Industry against Beauty, Industry prevailed. Barcelona failed to become the first team in Champions League history to defend their European crown, Real Madrid fans heaved a sigh of relief as their bitter rivals were ensured of not celebrating club football's most coveted trophy in their stadium, and Jose Mourinho's Inter put in a Herculean effort to hold Barca's multi-headed attacking Hydra at bay.
For those who have kept close eyes on La Liga football this season, last night's match revealed something many of us are not used to seeing: a frustrated Barca team that, despite an astonishing 78% possession, was only able to generate a handful of chances.
Inter's defence was remarkably organised, as in the wake of Thiago Motta's red card, Mourinho shuffled his team into a perfectly coordinated and disciplined back four preceded by a tightly-knit Sneijder-Cambiasso-Chivu triangle that refused to give the normally incisive Barca midfield a moment's comfort. The notoriously egotistical Samuel Eto'o selflessly devoted himself to what amounted to a left-back position while Diego Milito followed suit in a slightly more advanced role on the right.
Unable to find a way through the compact walls of the Nerazzurri fortress, Barca were forced to search for a way around it as they filtered the ball out to the wings with the hope of breaking down the Italian defence by way of runs in from the flanks or crosses into the box. As the match waned, the Blaugrana players even began to take uncharacteristically desperate pot-shots at Julio Cesar's goal from outside the box - which begs the question: if Andres Iniesta, currently suffering a month-long absence due to injury, had been fit for his side, would Barca have been able to crack the Inter blockade?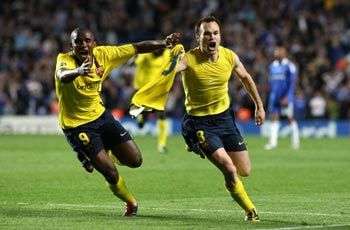 Was Don Andres the missing link for Barca?
A left-sided midfielder, Iniesta customarily pairs with Xavi in the attacking midfield - the yin to Xavi's yang - creating a nearly unstoppable two-pronged passing attack. With his deft control and darting runs, ability to shield off and weasel past multiple defenders (despite his diminutive stature), and clairvoyant passing, it is certainly conceivable, if not probable, that had Iniesta been able to play in last night's match, Barca would have been able to find the two goals they so desperately needed to progress to the final. Instead, Xavi was left far too isolated, Messi was forced to withdraw out to midfield, and the onus of scoring was placed on players like Bojan, Pedro, and Jeffren.
Of course, when one opens up such speculative debate, one opens up a Pandora's box of "what ifs". What if Goran Pandev had not succumbed to injury moments before the match? Would Inter then have had the offensive skill to score the crucial away goal to put the match out of reach? Oddly enough, Chivu's insertion into the starting line-up in Pander's stead saved Mourinho a valuable substitution when Motta was sent off. What if Busquets had been shown a yellow card for simulation instead of Motta seeing red? What if Bojan had been able to head home Messi's sublime chip? What if Gerard Pique had been rightfully called offside? What if Bojan's goal had stood instead of being disallowed by a mistaken handball call on Yaya Toure?
The point is that it serves no purpose to speculate what might have been. With or without Iniesta, Barca outplayed Inter last night and in his post-match comments, even Mourinho acknowledged that Barcelona are the best team in the world. But as the result indicates, over the course of this particular two-legged semi-final tie, Inter were the meritorious winners and Mourinho deserves his ostentatious celebration.