The transfer system is a strange bedfellow. It seems that for every superb signing, there can be three or four nightmares, especially in the notoriously impatient Italian market.
Any coach, player or owner will try to put a positive spin on their bad buys, but when they can't even get in the team, fail to live up to their price tag, don't fit into the tactical set-up or even end up lasting less than a season, it's time for one and all to hold their hands up.
But they don't - so
Goal.com
will do it for them.
10) Sergio Floccari and Hernan Crespo (Genoa) - For a club which has largely excelled again this season, there was a surprising double-fault in the transfer market when it came to strikers last summer. Having reportedly cost the Grifoni €12m, the former Atalanta man could do little more than convert the odd penalty when donning red and blue, whilst the Argentine started to wilt whenever asked to play more than 20 minutes. They were both promptly dispatched to more modest Serie A surroundings in the winter window.
9) Klaas Jan Huntelaar (Milan) - Huntelaar has certainly begun to find his feet a little more since the turn of the year, but his performances have remained short of the mark expected of somebody who arrived with such a huge fanfare and matching price tag in August. His €15m, five-year contract was clearly signed off by someone other than coach Leonardo, who has seemingly never seen the Dutchman as the kind of target man he needs in his new attack-minded Milan side. His troubles finding the target against Manchester United at San Siro helped to push the Rossoneri towards an early exit from Europe.
8) Eliseu (Lazio) - So his €1m transfer fee wasn't such a gamble, but the move certainly did not pay off. Brought in from Malaga, the midfielder featured for a grand total of 15 minutes in Serie A and took part in some of Lazio's more forgettable European evenings - the 2-1 home defeat to Red Bull Salzburg and 4-1 humiliation at Villarreal spring to mind - before both parties cut their losses. The Portuguese was passed on to Real Zaragoza in January and has since seen more than 70 times as much league football as he did for the Biancoceleste.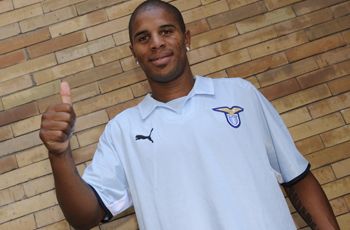 Thumbs down: Eliseu had little to smile about in Lazio colours
7) Ricardo Quaresma (Inter) - Not strictly a new signing, but he returned from his loan spell with Chelsea's reserves to be given the vote of confidence by Jose Mourinho and Luis Figo's number seven shirt. But neither have been able to kick the Portuguese into action, and he has since produced a string of awful showings. Inter must now find a club ready to take responsibility for the remaining three years of the €70,000 a week deal signed with the man whose introductions as a substitute often lead to a mass exodus from large sections of the home crowd at San Siro.
6) Cristiano Lucarelli (Livorno) - Fan favourite? Definitely. Club legend? Undoubtedly. Good signing? No way. The 34-year-old was given a three-year deal worth twice as much as every other player in the club barring Francesco Tavano and has been picked virtually without question all season. But whilst he did score a memorable hat-trick against Roma, Lucarelli 2.0 is a poorer model than its earlier counterpart, and the Amaranto's over-reliance on the former Italian international has been to their detriment as they've ambled ignominiously back towards Serie B.
5) Marco Amelia (Genoa) - Motormouth Maurizio Zamparini must have been laughing into his sleeve when Genoa took the former Italy understudy off Palermo's hands in exchange for Rubinho. For whilst the move never really came off for the Brazilian, Amelia has been a veritable disaster to follow on from his New Zealand horror-show when last he wore an Azzurri jersey. He can now be found picking splinters from the Grifoni bench after helping to turn the Ligurians into one of the more kamikaze defensive outfits in the league. And if ever you meet Marco, beware not to mention Dejan Stankovic…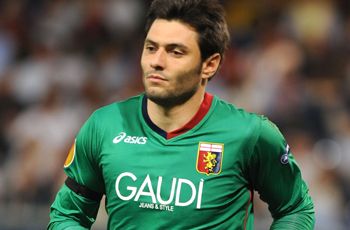 Amelia: Altogether now... "Dejan from the halfway line"
4) Oguchi Onyewu (Milan) - Having racked up nearly 140 games in eight years with Standard Liege, the huge American clinched a surprise move to Milan on a three-year deal. There was less surprise when 'Gooch' didn't get a sniff of the first team to begin with amid rumours over his fitness. When he finally got a look-in, playing the last half-hour of Zurich's legendary Champions League win at San Siro, it was to be his last act of the season. Knee surgery followed for a man who many Rossoneri fans are quick to forget even exists.
3) Fabio Grosso (Juventus) - It is perhaps symbolic of the Italian national team's decline over the past four years that their hero back then has become such a large-scale flop. Awful at Inter and poor at Lyon following his moment of fame in Germany, he was nonetheless signed on by the Bianconeri for €3.5m on transfer deadline day. But the hoped for rejuvenation has been nowhere to be seen, with Grosso proving to no longer be a threat going forward as well as being a liability defensively. Usurped of late by Paolo De Ceglie, it's amazing that he's still in Marcello Lippi's World Cup plans.
2) Felipe Melo (Juventus) - A dismal series of performances and a number of subsequent run-ins with the Bianconeri faithful pushed the Brazilian very close to the top spot, but he is perhaps saved by the sell-on value he still seems to command around Europe. His €25m transfer fee and €13m five-year contract have made his dip in form all the more difficult for the Juventus paymasters to take. But despite his dreadful passing and rash tackling, he retains the hope that a good showing at the World Cup might spark a move to Arsenal before the summer is out.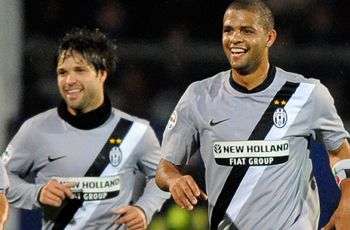 Diego and Melo: Rare smiles from the €81.5m pair.
1) Diego (Juventus) - Rounding out a Juventus 1-2-3, Diego's form has been symptomatic of Juventus' season. Brilliant in the opening trio of games which had administrators arguing over whether the Bianconeri should or shouldn't wear a third star come the season's end, he has since been among the instigators of the Old Lady's fall. Juve don't play to his strengths, and he's proven he's not good enough to adapt to theirs. The Brazilian's €24.5m fee and €19m pay deal was not spent with the Europa League – or worse – in mind, and it would take a brave president to offer a similar fee in order to end his Turin nightmare.
Become a fan of Goal.com International on Facebook. Just click onto Facebook.com/Goal to join the beautiful game's leading fan community...