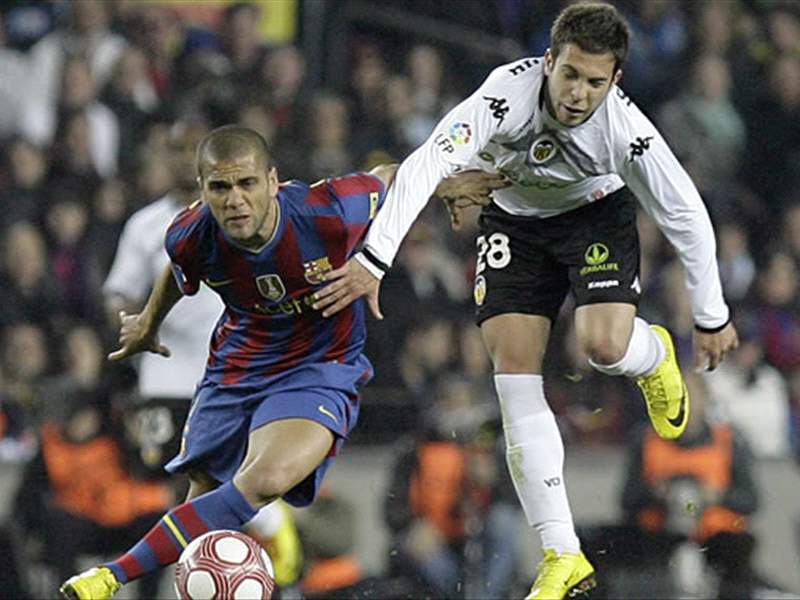 Lionel Messi received the ball about 25 yards out from the Valencia goal and decided to go solo. He could have asked for help from a team-mate but the natural heir to Diego Maradona's throne as the world's greatest ever footballer felt himself to be in the mood and decided to take on Los Che alone. He waltzed past three players, leaving them as much bemused as a kid on the verge of puberty, and slotted past Cesar. 1-0.
Messi controlled an exquisite cross-field pass from Thierry Henry and with one touch left his marker as far behind as he himself now is from his problematic growth-less years, neatly crafted room for himself and curled the ball home. 2-0.
Messi again demonstrated at how good he is in controlling a football when he smartly took possession of a sublime pass from Henry, charged towards goal, closed his eyes and flicked the cheekiest of shots past his opposition goalkeeper. 3-0.
Three superb goals - the first easily a top contender for the goal of the season in Europe - and Barcelona went top of La Liga, for a couple of hours at least. That Real Madrid would do better (or worse, depending on whether you count Los Blancos' conceding a goal) than Barca that same night by thumping Real Valladolid 4-1 away from home should not detract from the fact that indeed Barca's victory was the more gallant, given that they had defeated a truly quality-laden side in Valencia.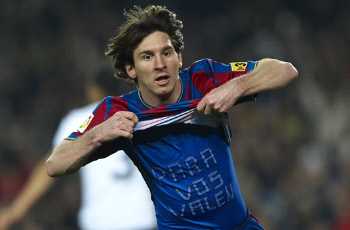 The Saviour of Catalunya and La Liga
But Barcelona's victory should not stray one away from the observation that they could have easily lost the match, and it's not the first time one has uttered that this season. Because Valencia had chance after chance after chance in the first 45 minutes. Because Pablo half-ate Maxwell alive on the right. Because Ever Banega, David Silva and Chor Dominguez all combined to give the Barcelona backline a terrible time in the first period. Because it was Valencia and not Barcelona who looked the more potent side in the opening 45 minutes of the game.
This was not the first time that the Blaugrana had looked second best in a match, or rather in the opening exchanges of a match. Against Real Madrid, who admittedly were on par with Barcelona in terms of individual quality and talent, Barca's best player was their marauding central defender Carles Puyol.
Against
third-from-bottom Tenerife in January, Barca were outsmarted and outplayed in the opening 30 minutes
. Against Stuttgart in the first leg of their Round of 16 tie at the Mercedes-Benz Arena, the Catalans could easily have gone 3-0 down at half time had Cacau and Christian Trasch not wasted their chances.
Now, even in their treble winning campaign in 2008-2009 Barcelona had not boasted a particularly world class backline. True, the Catalans had the best defensive record in the Spanish top flight but it was the way in which their attackers and midfielders combine to hang on to the ball like a child hanging on to innocent beliefs that Santa Claus exists that bailed out the defenders.
Barca's footballing philosophy of playing obsessively and compulsively possessive football combined with coach Pep Guardiola's policy of making his Dream Team work hard to chase every ball after they have lost made it a perfect mix of poetry and prose. Steel and silk.
Indeed, Barcelona might have won the Champions League final against Manchester United in Rome teaching the Premier League giants - and English football - that bullish bulldozing and 40-yard screamers are not the only components of the beautiful game, but it was Sir Alex Ferguson's side who made the better start and could have easily gone 2-0 up inside the first 10 minutes had Cristiano Ronaldo not gone for a doomed solo performance in what was eventually his last match for the Red Devils and Park Ji-Sung not missed a five-yard sitter.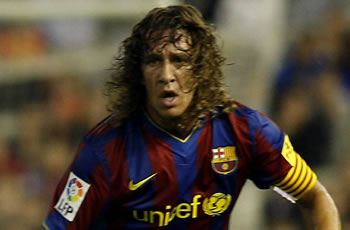 Will Carles Be Able To Stop Cacau And Co?
This season as most observers would admit, Barcelona haven't looked as potent upfront as they had last season. 64 goals in La Liga are great but not when Madrid have scored seven more while in the Champions League, they have netted just eight times in seven matches. Their attack remains the best and the most galactically feared - and more consistent and, to a reasonable degree, more reliable - but their midfield hasn't always performed.
Xavi and Andres Iniesta haven't looked like last year's version and they have appeared a bit tired too, Thierry Henry has gone off the boil and has performed intermittently, Barca's attacks down the left have looked slow, Bojan Krkic hasn't progressed as expected and Zlatan Ibrahimovic's goals seem to have dried up. True, Messi has performed consistently and has bailed his team out on numerous occasions and still remains the best and most talented footballer on the planet, but relying too much on their frontline might prove to be detrimental for the Catalans.
Which is why Pep Guardiola would have to take care that Barcelona's defensive unit stays alert against Stuttgart on Wednesday evening at the Camp Nou. Pinocchio might have been saved and rescued by the Blue Fairy but Barcelona must learn on their own. Stuttgart have improved radically since
Christian Gross
took over and are
ninth in the German Bundesliga with 35 points from 26 matches.
The Germans are organised in their defence and have a good team balance as they exhibited in the first leg. Indeed, Die
Schwaben
would still be kicking themselves for not killing off the match in the first half of the first leg itself.
The away goal for Barcelona puts the Blaugrana fimly in the driving seat and indeed anything other than a Barcelona win will come as a huge surprise. Last season at a similar stage Barca drew 1-1 with Lyon away and crushed them 5-2 at home in the return leg.
But relying on the attack to bail out the defence is one thing, over-relying on the attack to bail out the defence is quite another. If the Germans get an early goal, then they do have the capability of shutting out Barca; and then there would be blackout in Catalunya.
Just as there was a 'Whiteout' in Madrid last week.