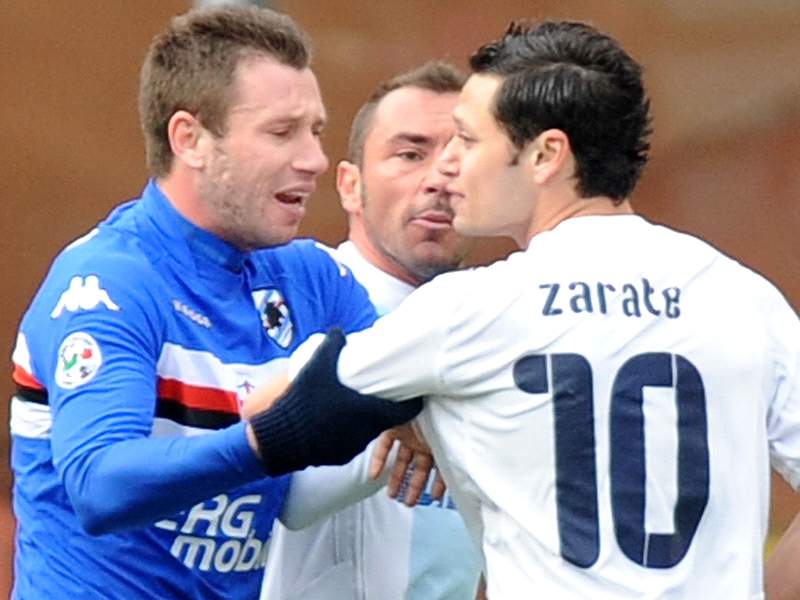 WORST XI
Formation: 3-4-1-2
Goalkeeper

Morgan De Sanctis (Napoli):
The Italian international stood frozen as Adailton's curling cross went in at the far post. This mistake from the keeper cost his team dearly at the Renato Dall'Ara as they succumbed to a 2-1 defeat.
Defence
Michele Canini (Cagliari):
The centre-back has two of Catania's goals on his conscience, giving away a penalty and failing to stay in line with the rest of the backline when employing the offside trap.

Felipe (Fiorentina):
The ex-Udinese man has proven to be inconsistent since joining the Viola and looked quite clumsy against the Bianconeri, also reacting too slowly to do anything about Fabio Grosso's winner.

Stefan Radu (Lazio):
The effort was there from the Romanian, but nothing would go right for him on Sunday, unfortunately his timing was frequently off and he resorted to fouling in his struggles with the Sampdoria attackers.
Midfield
Marek Hamsik (Napoli):
A performance that was well below par for the Slovakian, who failed to connect the midfield and attack as he usually does. Perhaps Walter Mazzarri should give him a short rest, as he looks burnt out and well devoid of ideas.
Fabio Simplico (Palermo):
The Brazilian has finally worked his way back into the starting XI, but his display against Livorno will not inspire confidence. The match passed him by and his coach may pass on him again next time.
Sulley Muntari (Inter):
Everything the Ghana player tried seemed to go awry. As usual his passes were off, but his 'dirty work' in the centre of the pitch was also sub-par. To make matters worse, he displayed an angry reaction when being substituted and odds are his time remaining at Inter is limited.
Paolo De Ceglie (Juventus)
: The Bianconeri player simply had a nightmare against Marco Marchionni in the first half and lost his man on Fiorentina's goal. It was no surprise when he was replaced by a much better Fabio Grosso.
Cristiano Doni (Atalanta):
The 'symbol of Atalanta' was rather obscure on Sunday, with his most notable contributions being angry reactions following some fouls. A frustrating performance by a player who has shown he is capable of more in the past.
Attack

Mauro Zarate (Lazio):
It's clear that the Argentine is not the saviour Lazio fans are looking for. He lacks the grace necessary to be a true leader as shown by his petulant sending off and then further outbursts, nearly refusing to leave the field. When Antonio Cassano is the one trying to calm you down you should really pause for reflection.

Marco Borriello (Milan):
The former Genoa star wasted too many promising opportunities for the Rossoneri at the Stadio Olimpico and is partly responsible for his team not cutting the gap behind league leaders Inter this week.
De Sanctis

Canini – Felipe – Radu

Hamsik – Simplico – Muntari – De Ceglie

Doni

Zarate - Borriello