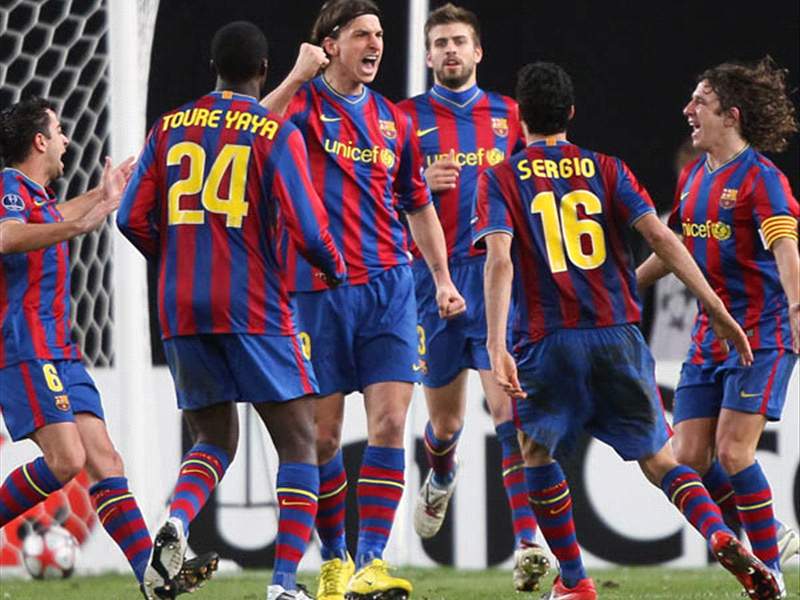 Chelsea came, parked 10 men, the coach and their driver in front of their goal and went home with a priceless away scoreless draw. The football purists vilified Chelsea and labelled Guus Hiddink as the arch-practitioner of anti-football while the preachers of dark art hailed Hiddink for taking Helenio Herrera's
catenaccio
to a whole new level. Eventually Barcelona scraped through over the two legs in the semi-final tie, but those 90 minutes at Camp Nou were enough for the eventual European champions to gain a victory over not only Chelsea but the entire footballing world. A moral victory.
The very act of the Premier League side playing with 11 and a half men behind the ball was an act of submission unto the all-consuming, all-conquering, swashbuckling, high-scoring, romantically poetic football played by Barcelona. It was an implicit statement that declared that Chelsea could not - and still cannot - match Barcelona with their football, that the only way to play against the Catalans was to stop them from playing, that Pep Guardiola's side were, to use a quote from a different context, a "superior being".
But that was last season.
Struggling In Stuttgart
The 1-1 draw between Barcelona and VfB Stuttgart on Tuesday night perfectly typified the difference in attitude of oppositions between last season and this season. Stuttgart dominated Barcelona and even intimidated them, forced them off the ball, took the game to them and made them struggle for large periods in the match. As Goal.com's German football expert
Clark Whitney
said after the match: "Barca really dodged a bullet. Stuttgart could have been 2 or 3 up at the half."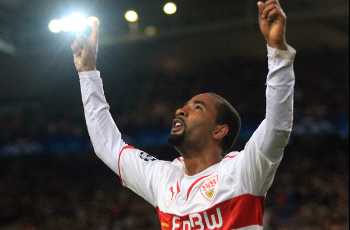 Stuttgart goal hero Cacau
Which says it all, really. True, this was an away game and the 1-1 draw actually puts the Blaugrana one foot into the quarter-finals, but for the best team in Europe to be outplayed for large periods in the game by a side currently positioned ninth in the Bundesliga is certainly a cause of worry for their coach. And a reason to rejoice for the rest of the world.
The most encouraging thing to observe on Tuesday night at the Mercedes-Benz Arena was the fact that Stuttgart didn't withdraw themselves after breaking the deadlock in the 25th minute. Between then and the half-time whistle, Die Roten could have scored at least twice more. In fact, you wouldn't be wrong to suggest that Stuttgart should have been 3-0 up by the time Pep Guardiola could reassemble his fractured team in the dressing room.
As much as Stuttgart were exceptional in taking the game to Barcelona, Matthias Sammer claiming
"passion beats quality"
at half-time, the Catalans too should take credit for contributing to the mess. Thierry Henry's absence from the starting line-up pushed Andres Iniesta up front on the left side of the three-man attack and that ate up much of the creativity from the midfield. Barcelona's game, as well as their identity both as a football club and football community, is based on possession football, but on Tuesday night effective possession went missing.
Dispossessing The Midfield
Xavi was under-par, Sergio Busquets looked lightweight and Yaya Toure seemed the most submissive defensive midfielder in the world. Iniesta's 'absence' led to a hole in the middle of the park, and Stuttgart took advantage of this, picked up the loose balls and played them with pace and to the Barca backline.
Even last season Barcelona's backline wasn't the best in Europe and not really defensively world class - saved on many occasions by their midfield and attack controlling possession. But on Tuesday, with their midfield unable to contain the opposition, Barca's defence was left wide open, reflected by the 13 shots taken by Stuttgart.
In the end Barcelona ended up with 72% of the possession but had eight shots in comparison to Stuttgart's 13; Victor Valdes made four saves whereas Jens Lehmann made three. For a side that had been so dominant in terms of keeping the ball tied to their feet last campaign that at times you would have been pardoned for letting the opposition have a ball of their own, such statistics do not look encouraging, especially as Barca were clearly outplayed in the first half.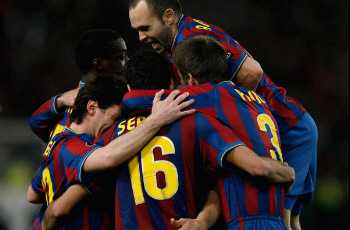 Barca celebrate Ibra's equaliser
And this is not the first time that Barca have looked vulnerable in Europe either. Rubin Kazan defeated them 2-1 in Camp Nou on Matchday 3 and stopped them from scoring on Matchday 4. Even in the league Pep's team have realised that the opponents are not as intimidated as they were last season.
Against second-from-bottom Tenerife in January, Barca were outsmarted and outplayed in the opening 30 minutes while in
el clasico
Real Madrid matched them player-for-player, had the best chances and actually forced Carles Puyol - a central defender - to be Barca's best player. Admittedly, Madrid have as much quality as Barca (at least on paper), but it was the way that they attacked them, and to an extent intimidated them, that knocked out Barca's supreme confidence.
Greatness Remains Still
But knocking out confidence is one thing, killing it altogether is quite another. Barcelona still lead the league table and are in a better position than Madrid to qualify for the quarter-finals of the Champions League. Barca eventually walloped Tenerife 5-0 and defeated Madrid 1-0.
On Tuesday, even though Stuttgart had more and better chances than Barca, that they couldn't take them shows both their impotence in front of goal and Barca's clinical prowess in taking their chances when presented. Barca hit the post in the first half, gained three more corner kicks than the Germans and had four shots on goal out of eight shots taken in comparison to Stuttgart's five shots on target out of 13 attempts.
Barcelona still remain the team to beat in Europe, the best club side in the world and the firm favourites to win the Champions League for the second year in a row, but it cannot be denied that they have lost their sheen. Perhaps this is made prominent because their relatively small squad has been stretched by injuries; or perhaps the rest of Europe have realised that Barcelona are fallible after all.
Once bitten, twice shy? Once bitten, twice brave, more like.