He may only have spent just over three years coaching on English shores so far, but
Jose Mourinho
has nevertheless managed to stake a strong case for making the biggest managerial impression in
Premier League
history.
In his successful spell as Chelsea boss, the popular former Porto man became known as much for his way with words and desire to court controversy as for his enviable ability to win trophies.
Some hated him for it — but the Stamford Bridge faithful adored him.
His name was sung from the terraces and, at other grounds, rival managers often found themselves compared to the young foreign upstart with a taste for wet-look hair gel and expensive overcoats.
So as Chelsea prepare to face off against Mourinho's Inter this week, who would bet against him causing a stir with a cheeky quip or outrageous act of arrogance?
With Jose, then, there were few bad memories of his time at Stamford Bridge. Below are the best, and the most memorable, of Mourinho's moments:

10. The accusation
Arsene Wenger might be one man who can genuinely claim not to be a Mourinho fan, especially after one famous taunt from the Portuguese tactician that won't be forgotten any time soon.
"I think he is one of these people who is a voyeur," Mourinho famously said of the Arsenal boss in October 2005.
"He likes to watch other people. There are some guys who, when they are at home, have a big telescope to see what happens in other families. He speaks, speaks, speaks about Chelsea."
9. The unexpected intervention
Enthusiasm sometimes (okay, often) got the better of Mourinho, but perhaps never more obviously than in his reaction to a late equaliser at Camp Nou that saw his side earn a 1-1 draw in the group stages of the 2005-06 Champions League.
Mourinho had announced his emergence in the collective British conscious with a similar run down the touchline at Old Trafford after a late equaliser clinched an aggregate victory for his Porto side, and this sprint was similarly impressive.
The finish — which saw him slide on his knees — only earned extra points with the style judges (though not the Barca faithful).

8. The quarantined dog
Okay, so technically this had little to do with football, let alone Chelsea. But it was still memorable. In May 2007, Mourinho was arrested and cautioned after allegedly refusing to allow police to quarantine his pet dog, Leya.

War on terrier | Mourinho's dog Leya caused controversy
Having reportedly rushed home from an awards ceremony after being tipped off about what was going on by his wife, the Chelsea coach (eyewitnesses revealed) then freed the animal from the clutches of health officials, took it out into the street and encouraged it to run off, before telling them triumphantly, "I've sent my dog to St Tropez".

7. The wordsmith
Perhaps in 500 years people will quote Mourinho rather than Shakespeare when they want to get across their point in the most poetic manner possible.
The man has shown a remarkable way with words throughout his career — although how Sir Bobby Robson coped with it while the two were at Barcelona will forever remain a mystery — perhaps no better demonstrated by this gem:
"It is omelettes and eggs. No eggs - no omelettes! It depends on the quality of the eggs," Mourinho enlightened the press during one of his more memorable Chelsea press conferences.
"In the supermarket you have class one, two or class three eggs and some are more expensive than others and some give you better omelettes. So when the class one eggs are in Waitrose and you cannot go there, you have a problem."
Mourinho — for those who might not immediately have caught his drift — was apparently complaining about the gradual reduction in financial backing he was receiving from Roman Abramovich.
That was to prove one factor behind Mourinho's eventual departure, but the quote — along with many others — continues to form a major part of the man's mystique.

Cracking idea | Mourinho talked eggs and Waitrose

6. The debut victory
Most managers would curse their luck for starting their managerial careers against Manchester United — although it has become an intriguingly frequent occurrence in recent times — but few were surprised at the way Mourinho embraced such a challenge.
The manager oversaw a tense 1-0 win, with Eidur Gudjohnsen scoring the decisive goal. If Sir Alex Ferguson wasn't already aware that he was going to be tested to the maximum by the young upstart from the Iberian Penisula, he was now.

5. The tactician
This list is as full of off-field incidents and jibes as it is actual acts of management, but it would be wrong to overlook the fact that Mourinho has consistently proven himself to have an astute football brain.
Never was that more evident than in the 2007 FA Cup clash against rivals Tottenham Hotspur. When the visitors took a 3-1 lead at Stamford Bridge, things looked bleak for the Blues.
Mourinho acted decisively, however — right-back Paulo Ferreira was withdrawn for Shaun Wright-Phillips immediately, and when Ashley Cole was replaced with half an hour remaining, Mourinho was fielding a side with just two specialist defenders.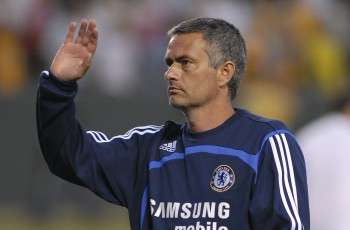 Talk the talk | But Mourinho always walked the walk
Michael Essien was asked to become a particularly progressive left-sided defender, and the unorthodox approach worked as Chelsea — thanks to a stunning goal from Andriy Shevchenko — recovered to draw 3-3.
Chelsea would go on to win the replay and the competition, and such bold substitutions became the hallmark of Mourinho's management. They didn't always work — but the success rate was enviably high.

4. The laundry basket
Okay, so there is some debate whether this actually happened. But when it comes to Mourinho, it is always best to believe the story — regardless of how outlandish it is.
Having been banned by UEFA from having any contact with his players during their two matches against Bayern Munich in the quarter-finals of the 2005 Champions League (after making some unsavoury comments in the previous round against Barcelona) Mourinho reportedly arrived at the ground early, watched the entire game from the dressing room (while apparently sending instructions to his assistant Rui Faria, who was suggested to have been wearing an earpiece under a suspiciously large hat).
Having delivered both the pre-game and half-time teamtalks, Mourinho was then wheeled out of the stadium in a laundry basket to the Stamford Bridge gym, from where it was then claimed to suspicious officials he had watched the whole game.
Lacking any evidence to back up these reports, UEFA took no action.

3. The first trophy
The Carling Cup triumph at the Millennium Stadium — an extra-time 3-2 victory over Liverpool — was a landmark for Mourinho and the Abramovich-era Blues, but the Portuguese manager wasn't even there to savour victory at the final whistle.
In celebrating Steven Gerrard's late own-goal that sent the game to extra-time, Mourinho turned to the Liverpool crowd behind the dugout that had been barracking him all game, and brought his index finger to his lips to make the universal sign for "be quiet".
After the game Mourinho would claim it was a gesture meant for the press, after some criticism he had received in the build-up to the game. Nobody bought it, but with his first trophy as Chelsea manager in the bag, Mourinho couldn't care less.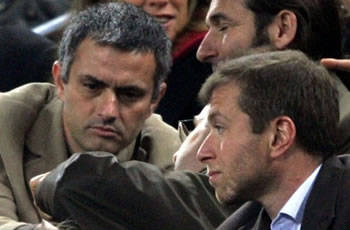 End-game | Abramovich lost patience with Mourinho
2. The title
At the beginning of the season he predicted that his side would win the 2004-05 title at the Reebok Stadium against Bolton Wanderers, and that proved to be the case as two goals from Frank Lampard clinched the Blues' first league title for 50 years.
The club would go on to retain their title the next year — although that time Mourinho's follow-up prediction proved to be two weeks' premature.
1. The announcement
"Please don't call me arrogant, but I'm European champion and I think I'm a special one," Mourinho said during his first press conference as Chelsea manager.
In an instant, a legend was born.
Most managers in English football have to bring laudable success to their club before they get a respectable moniker — Ol' Big Head, for example, or Le Professeur — but Mourinho went out and picked his own from day one; and no-one ever even questioned it.
From that point on, success seemed almost pre-ordained.
On his first day on the job, Mourinho defined his legacy.