In November 2005, Barcelona romped to a 3-0 victory in el Clasico against Real Madrid in the Santiago Bernabeu, with Ronaldinho scoring two fabulous goals and receiving a standing ovation by the fans of the Blaugrana's fiercest rivals. The Brazilian was at the peak of his powers in the mid-noughties, but he was deemed to be surplus to requirements in 2008 and was sent packing to AC Milan.
Joan Laporta had rejected a €60m bid from the Rossoneri for his prized asset in the summer of 2007, but 12 months on he was willing to accept a third of that as the Italians offered €21m. The transfer was successfully completed despite Manchester City's attempt to hijack the deal, and Milan coach Carlo Ancelotti was delighted with the signing as he told
La Gazzetta dello Sport
, "the important thing is to have quality players and Ronaldinho is without doubt one of those". Ancelotti put 'Dinho' alongside Kaka in attack behind lone striker Alexandre Pato, leaving Rossoneri fans drooling over the potential potency of the Brazilian trident.
It appeared as though Berlusconi had pulled off a major coup when Ronaldinho scored the only goal against Inter in the Derby della Madonnina with a perfect header before firing another two goals against Sampdoria in October. It wasn't to last, however, as his party lifestyle and lack of fitness caught up with him. He managed the entire 90 minutes on just 10 occasions all season, beginning the majority of the Rossoneri's games on the bench in the latter stages of the campaign.
Even Selecao legend Socrates, who was no saint off the pitch himself during his playing days, lamented that Ronaldinho "has lost his path in the football world" and that he was "too distracted with the rest of the things going on in his overloaded life". It was a thinly-veiled comment – his physical condition had been at "between 20 and 50 per cent" when he arrived at Milanello, according to fitness coach Daniele Tognaccini, and a life of excess off the pitch was doing little to improve it.
It was even mooted in the English media that Manchester City would make another move for 'Ronnie' in the summer of 2009, but the sale of Kaka to Real Madrid soon quashed the notion. While the move created uproar among Rossoneri fans, it was to be the turning point in Ronaldinho's Milan career.
Leonardo employed a radically-offensive 4-3-3 formation, with Alexandre Pato and Ronaldinho flanking the central striker. It took some time for his system to bear fruit, but chief among his tactical priorities was to hand a freedom to 'Dinho' that he had not been afforded while playing alongside Kaka. As the season progressed, his impact on matches increased to such an extent that it led Carlo Garganese to
wax lyrical over Ronaldinho after his almost single-handed demolition of Siena.
He was not the only one, as
Estado de Sao Paulo
newspaper proclaimed "Ronaldinho revives his golden years" after the game.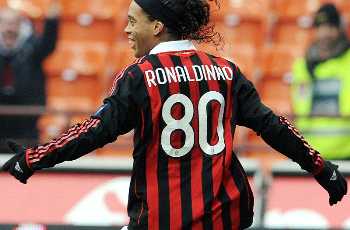 The game that provoked these statements was arguably Ronaldinho's finest game in a Milan shirt. The Rossoneri thrashed the relegation candidates 4-0, and the Brazilian scored a superb hat-trick. The man-of-the-match performance was capped with a stunning strike from 30 yards for his third goal, and his innumerable dribbles and tricks made him simply unplayable.
Ronaldinho's improvements on the field have not only come about through a change of tactics. The lavish lifestyle off the pitch has also been less of a problem recently. There were claims within the Italian media recently that suggested the player had organised a grandiose party just days before the recent derby with Inter. Ronaldinho subsequently missed a penalty in the game, adding further fuel to the flames as critics claimed that he was not fully focused on the match, but both the player and his coach strenuously denied the "unfounded" claims.
Team-mate Massimo Oddo recently told
Milan Channel
that Ronaldinho is welcome to go out and enjoy himself on a Saturday night as long as he still performs on the pitch. Another outstanding display against Manchester United would intimate that the player's priority remains his performances on the pitch for the Rossoneri, rather than indulging himself in luxuries off it.
While his greater degree of professionalism continues to reward his showings at club level, one man seems to remain unconvinced. After missing out on the 2007 Copa America, Ronaldinho was selected for the 2008 Olympics in Beijing by Dunga. Some lacklustre performances at the tournament resulted in his continuing place in the international squad being put into jeopardy.
Ronaldinho has missed out on Dunga's squad for the friendly against the Republic of Ireland after also being overlooked for friendlies against England and Oman. Instead, Robinho will line up on the left hand side of the Selecao attack, while Ronaldinho's chances of a plane ticket to South Africa will rest on his domestic performances.
Dunga's mantra for his Brazil squad is substance over style, endeavour over skill, commitment over flair. It may not be the most 'Brazilian' method of playing – in fact, Milan are arguably more 'Brazilian' than Brazil – but the tactician has moulded his side into a cohesive, efficient unit. Unless injuries should strike, Ronaldinho's recent burst of has come too late for him to claim a starting berth in Brazil's World Cup side. Dunga's tried and tested team won last year's Confederations Cup and qualified comfortably for the World Cup, and it is unlikely that the pragmatic coach will make major changes to his starting XI unless absolutely necessary.
However, Ronaldinho's place in the World Cup squad is becoming increasingly more likely. His performances for the Rossoneri cannot continue to go unnoticed, particularly now that he has shown his qualities on the continental stage against Manchester United.
Goal.com's
South American expert Tim Sturtridge feels that "Ronaldinho is still in the reckoning and a continuation of his current club form can only help his chances to play in his third World Cup", and it would certainly seem impossible for Dunga to continue to consider the likes of Julio Baptista or Kleberson for a World Cup spot while 'Dinho' continues to perform on the highest level.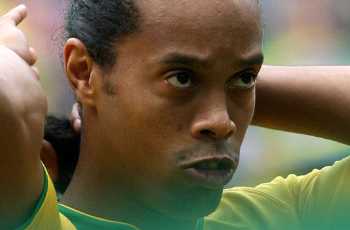 In addition, the Brazilian populace have also made up their minds. In a recent survey in
O Globo
newspaper, 73 per cent of readers voted in favour of seeing 'Ronnie' in the national team again. The idea has not passed Dunga by completely. Although Ronaldinho is not currently in vogue, the coach has insisted that "all players still have chances" of going to the World Cup.
Unfortunately, Ronaldinho will never get back to the level that he achieved while playing for Barcelona during 2005 and 2006. The standard that he set for himself during this period with the Blaugrana was simply staggering, and no other player on the planet was able to compete with him in terms of talent.
Since he won the Ballon d'Or in 2005, Fabio Cannavaro, Kaka, Cristiano Ronaldo and Lionel Messi have lifted the prize while the Brazilian maestro had almost dropped off the radar. For a time, it almost seemed as though Ronaldinho would be another faded star who looked to rejuvenate his career in Brazil, as Ronaldo, Adriano, Robinho, Vagner Love and a number of others have done.
However, he has stuck to his guns and has rediscovered his love for the game under the guidance of Leonardo. While Messi may continue to set the standards for world football, Ronaldinho is rapidly climbing back up the ladder of the sport's top players. His performance against Manchester United has kept Milan in their Champions League tie, it has given Dunga a timely reminder of his World Cup credentials and it has put a world class player back into the international limelight