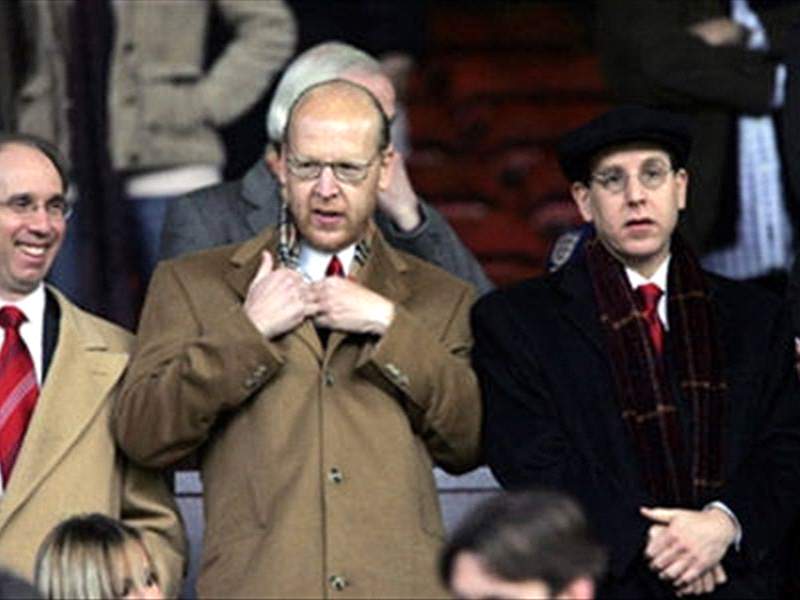 Manchester United
fans are being encouraged to wear green-and-gold scarves at the weekend to kick off a colourful protest against the Glazers.
Beginning with the visit of Hull City, the Manchester United Supporters Trust is asking disgruntled Old Trafford match-goers to show their opposition to the current owners by ditching the club's usual red and white neck wear.
The new scarves are to go on sale outside the ground and represent the kit of Newton Heath, the club United formed from in 1902.
Chief executive of the organisation, Duncan Drasdo, confirmed membership had swelled since the release of figures last week that showed that £41m of interest was paid in the financial year up to 30 June 2009. The Premier League champions' debt now stands at a colossal £716.5 million, an increase of £17 million from the previous total.
"MUST membership has grown by thousands in the last week and that growth is accelerating as supporters realise the damage the Glazer's are doing to the club. Bringing Manchester United supporter's together is crucial and the green & gold symbol of opposition is a truly inspirational idea," he said.
"It won't happen all at once or at just one game but it is growing - multiplying and spreading like an anti-Glazer virus.
"We need to embrace 21st Century campaigning techniques and while there is still a place for traditional protests the way to get really large numbers involved is to use the available technology and create a viral campaign which once unleashed becomes unstoppable."
A demonstration from hundreds of supporters outside Old Trafford in the aftermath of the American takeover had to be broken up by police in 2005. During last Saturday's 3-0 against Burnley, two people were ejected from the ground after unfurling an anti-Glazer banner.
Financial fury | Old Trafford stands will see protest
Mark Longden, chairman of the Independent Manchester United Supporters Association, said the protest is a start for the "GLAZER OUT" movement, but called on greater political action to begin.
He said: "It's the £700 million question of what to do about the Glazers. It is important to show the unity from the support against them.
"I think it [green and gold scarves] is a way for people to quite clearly show what has been done to United due to the dire financial situation without having to boycott the games. It sends a powerful message out.
"However, it is very, very difficult to see the way forward and co-ordinate now there is Facebook, Twitter and god knows what else. Diversify and rule is the old maxim.
"We feel badly let down by the government and would certainly like to see movement from them as it isn't just United. Our great rivals down the East Lancashire road [Liverpool] are in a similar situation, as well as Portsmouth and the rest.
"The scarf protest will unify supporters, but the question is; unify supporters to do what? That has yet to answered."