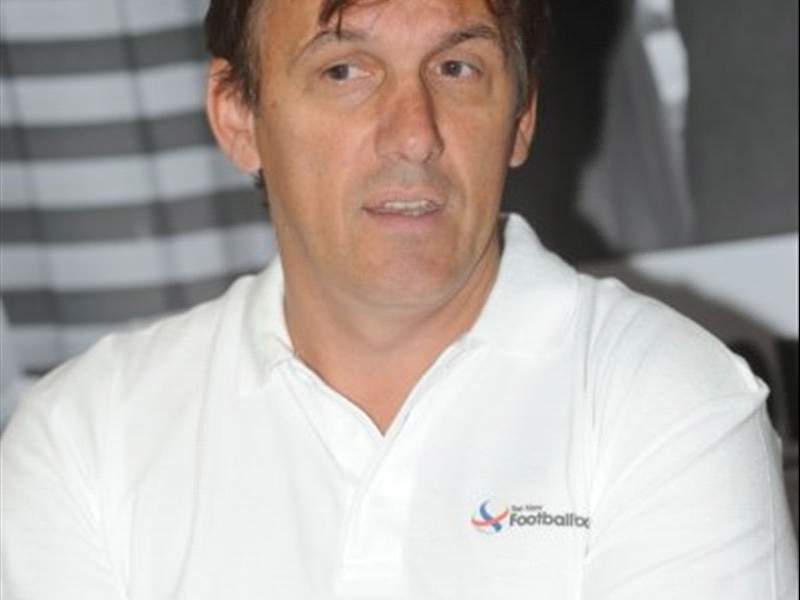 Tony Cascarino is a pundit for the New Football Pools who gives his views to Goal.com readers on the race to be crowned Premier League champions. He believes the results of the three big midweek matches have effectively resolved the battle...
Liverpool Have Played Into United's Hands By Abandoning Caution…
"Liverpool's amazing 4-4 draw with Arsenal seems to have ended the title race with Manchester United's 2-0 home win over Portsmouth," said Cascarino. "For me, the race was over before these results. Games were running out and the clock was ticking down and there was just not enough time for Liverpool to overtake Sir Alex [Ferguson]'s side.
"The simple fact of the matter is that the Liverpool squad doesn't possess as much quality as Manchester United's. After all, drawing a third of your games suggests they are missing something of a cutting edge. Rafa Benitez's side may have finally found their scoring boots but they've also suddenly gone from solid at the back to some of the worst defending in the Premier League.
"I was surprised at Benitez's decision to leave out Martin Skrtel against Arsenal in favour of Daniel Agger. In fact, I thought it was plain weird. For me, Skrtel is a far better defender than Agger though the Dane may get more goals. I don't know what's happened to Sami Hyypia but he doesn't get a look in any more - but he is a good defender and the team looked far more solid when he played alongside Skrtel with Jamie Carragher pushed over to right-back.
"I can understand why Liverpool went gung-ho against Chelsea as they obviously had to get goals to try to come back into the tie, but for a league match against Arsenal I expected them to play a bit more sensibly. To concede four goals at home shows a weakness in the team which has to be addressed.
"I have criticised Benitez in the past for an over-cautious approach but they've now gone over-attacking and it's cost them dear. A sensible approach was needed for the Gunners, who I'm afraid were gifted most of their goals."
…While Resilient Everton Ended Chelsea's Challenge
Tony also feels that Chelsea's inability to break down industrious Everton has cost them their outside chance of snatching the title. He told Goal.com:
"To be honest, even the most ardent of Chelsea fans wouldn't have thought the Premier League trophy was heading to Stamford Bridge, and after the 0-0 draw [with Everton], it certainly isn't.
"To be fair to Chelsea, Everton are an awful opponent to play against if you need to win to stay in the title race. No team works as hard as David Moyes' team in the Premier League and they are incredibly hard to break down, as they proved at Stamford Bridge.
"It doesn't seem to matter to Everton's system even if they make changes. Whoever comes into the side knows exactly what his role is and does a job. Players like [Segundo] Castillo and [Lars] Jacobsen slotted straight in at Chelsea and didn't look out of place. The 'team' ethic is so strong that it's just a case of a different number coming in rather than weakening the side."
Too Easy For Manchester United
Those two draws by their rivals have made it a straightforward task for the Red Devils to claim their third successive Premier League title and match Liverpool's 18 championships, insists Cascarino:
"Manchester United never had to get out of first gear to beat Portsmouth. Without being disrespectful to Pompey, this was by far the easiest of the week's matches for the three title chasers.
"That win for United has put them in a pretty much insurmountable position now as they can afford to lose a match and still take the title back to Old Trafford. They could lose to Arsenal at home in a few weeks and still win the trophy. That's suggesting that Liverpool and Chelsea will win all their games and I certainly don't think that's a given and didn't before the midweek games.
"I'd also expect Manchester United to beat Tottenham this weekend despite their huge Champions League clash with Arsenal looming large. The cushion they now have at the top should allow them to relax more and after a recent slump in form I think they are due a big performance.
"Spurs certainly won't be easy to beat, as they proved in the Carling Cup final, and are one of the Premier League form teams. However, despite their good form and massive improvements, I'd expect United to pick up another three points towards the title."
Tony Cascarino for Goal.comTony Cascarino is a pundit for the New Football Pools, who want to give away £20,000 this week through their Premier 10 game in which users predict whether a select list of 10 games from the Premier League will end in a Home Win, Draw or Away Win. To play Premier 10 visit www.footballpools.com.