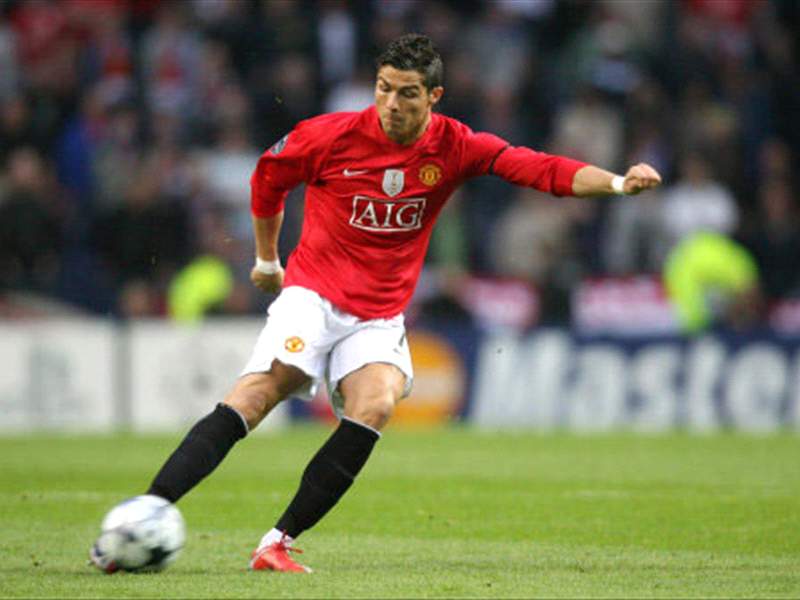 Some say
Cristiano Ronaldo
is the best player in the world right now. On paper, it's hard to argue otherwise. Since the start of the 2006-07 season, he has scored 86 goals in 147 games for
Manchester United
, picking up two Premier League titles, a Champions League crown, a League Cup and a Club World Cup along the way. Oh yes, and he's the reigning FIFA World Player of the Year - just one among a plethora of individual accolades.
But his doubters dismiss all those achievements with a single line: "He never turns up in the big games though, does he?" And it's sad to think that people will be still be singing this tiresome refrain even after the Portuguese winger's exploits at the Estadio do Dragao last night.
Having drawn 2-2 with Porto at Old Trafford the week prior, United went into the second leg of the Champions League quarter-finals needing to score to keep their campaign alive - a tough ask indeed, considering the Dragons' superb record at home against English teams. And that streak may have continued, had Ronaldo not netted early on with a 40-yard strike that must be the goal of the competition thus far.
That was all that separated the two teams, sending the Red Devils through to the semi-finals for the third year running and allowing them to continue their European defence. Was that not, Ronaldo doubters, what one would call a highly significant contribution in a big game?
What's that you say? A one-off? An anomaly in his otherwise underwhelming catalogue of outings in important games? Porto aren't even a properly good team?
Well then, consider this: since Ronaldo joined United in 2003, he has scored against every 'big' team he has ever faced. He has breached the back lines of Arsenal, Chelsea, Liverpool, Inter, Milan, Roma and Lyon, just off the top of this observer's head.
"But he didn't score against Barcelona last year," I hear the haters cry in unison.
Okay, you got me. Anti-United viewers the world over ROFL'd vigorously when Ronaldo duffed that penalty at the Camp Nou. But that was, and remains, an exception to the rule. In any case, the critics were silenced shortly afterwards when he opened the scoring against Chelsea in the final - or at least they should have been.
To some, however, mere goals are not enough to convince them that the boy from Madeira isn't a choker. Sure, he gets on the board, but that's only because he's a glory-hunter. Hardly does a thing all game except take the odd pot-shot and get lucky with one of them. In the left-back's pocket for 89 minutes, pops up with a sneaky header from a set-piece. No influence on the game at all...
Sorry to break it to you, but there is no bigger influence one can have on a game than scoring goals. That's what decides matches - heck, it's the sole purpose of football. Mazy dribbles and fantasy flicks and teasing defenders might be useful (sometimes) and entertaining (always), but rippling the ol' onion bag - to pinch a certain ESPN commentator's catchphrase - is what it's all about at the end of the day. And in that department, very few deliver the goods as emphatically as Ronaldo does.
Take last night's game. The former Sporting Lisbon starlet endured a tight tussle with the impressive Aly Cissokho - one that, in terms of direct encounters, many would say the young Frenchman edged. But Ronaldo won the game.
Then look at the remarkable victory over Aston Villa a couple of weeks back. The No. 7 was directly responsible for Gabriel Agbonlahor's strike, which put Martin O'Neill's men 2-1 up. But who was it that lifted United with the equaliser (having also netted the opener)? Federico Macheda may have grabbed the plaudits that day, but we all know the answer to this one.
So have we established, then, that Ronaldo is no more a flat-track bully than a Formula One driver? If he plays well, he wins games; if he doesn't play well, he still wins games. What else is there to pick on (apart from his ludicrously mangled Ferrari)?
"How about Portugal? Where was he at the Euros?"
Ahh, the international scene - that final frontier, and the hardest one to conquer.
The thing is, Ronaldo goes alright for A Seleccao. He doesn't score as many goals for them as he does for United (one every three games ain't bad, though), but then nor does he play in exactly the same role with exactly the same players and exactly the same tactical setup - Carlos Queiroz is as savvy a coach as they come, but even he cannot turn Nuno Gomes and Helder Postiga into Wayne Rooney and Dimitar Berbatov.
But no matter how you reason it, the incumbent Golden Boy of Portuguese football has failed to lift his nation to glory and build upon the rock-solid foundations laid by Luis Figo, Rui Costa, et al. And there's the problem right there - Figo was the best of a brilliant bunch in his age bracket, whilst Ronaldo has the laughably enigmatic Ricardo Quaresma, an aging Deco, and the still unpolished Joao Moutinho and Miguel Veloso as his supporting cast.
Ronaldo isn't the first to suffer from a nation's ludicrously high expectations. Look at David Beckham: he has carried England for the best part of a decade, his trademark free-kicks, boundless energy and from-the-front leadership papering over many a gaping crack in the Three Lions' facade. But a harmless flick at Diego Simeone here, a sub-par performance in Germany there, and crazed tabloid-readers are burning his effigy. I don't remember newspapers putting David Batty's head on a dartboard, nor do I recall anyone in the Portugal squad being criticised quite so much as Ronaldo after Euro 2008.
And then come the desperate strains of, "He's a smug, nasty, moaning, diving, conniving little pretty boy."
Yep, he certainly is - but that has no bearing on whether or not he turns up when it counts. It doesn't matter if he's playing Arsenal or Accrington Stanley, Barcelona or Barnsley - he'll always infuriate the other side and the neutrals (and sometimes his own fans) with his gamesmanship, perfectly gelled hair and rubbish tan. Again, Beckham was likewise ostracised due to his glamorous veneer (although he's a much more wholesome character - positively likeable, in fact).
So it's time to face facts, Ronaldo haters: the infuriating Portuguese is no big-game bottler. No, he hasn't excelled in every crunch clash - but even the masters of such occasions, the Steven Gerrards and Didier Drogbas, go missing from time to time. The truth is, when United are a goal down in a must-win game or playing in a cup final, there is nobody else Sir Alex Ferguson would rather see with the ball at his feet - it's as simple as that.

Mike Maguire, Goal.com