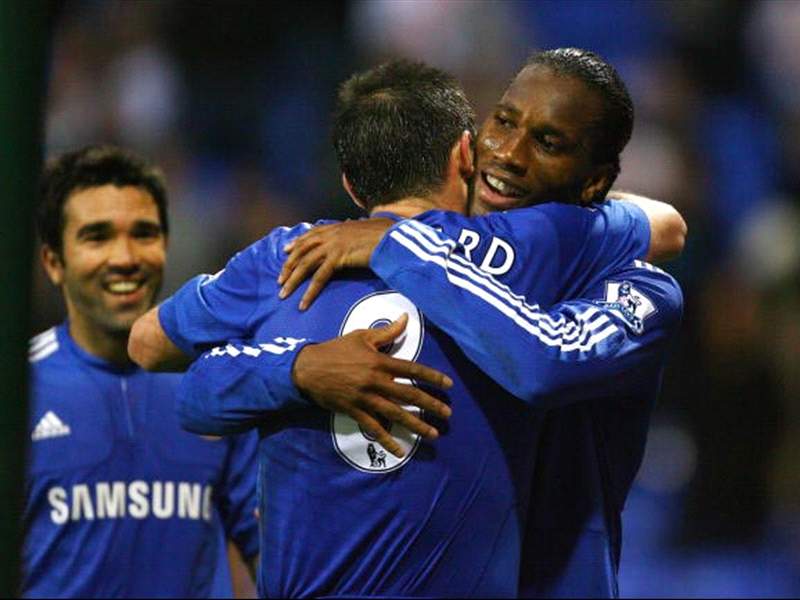 Okay, so technically
Chelsea
are now beyond the half-way stage in the
Premier League
after successfully doing the double over local rivals
Fulham
at Stamford Bridge on Monday.
And technically footballers don't have half-term report cards, as generally they haven't been in school for at least five years (unless, of course, you're Gael Kakuta).
But nevertheless, as long as you can overlook all of the above, here is a report card for all the individual members of Chelsea's first-team squad, based on their performances so far this season:
Goalkeepers:


Petr Cech
: The 27-year-old hasn't exactly enjoyed the best of campaigns so far, with a number of errors sparking (premature) questions about his future at the club. He needs to cut out such mistakes come the second half of the season, or his side will surely pay the price. It must be of concern to the club's staff that the stopper still can't rediscover the form he had before that run-in with Stephen Hunt at Reading, way back in 2006.
Grade: C
.
Other notables:
Henrique Hilario
has been generally impressive on the few occasions he has played, barring one error against Blackburn in the Carling Cup.
Ross Turnbull
was unspectacular on his solitary appearance for the club so far (against APOEL at Stamford Bridge).
Grade: B
.
Error prone |
Cech needs to regain confidence
Defenders:
Branislav Ivanovic
: One of the club's standout performers of the season, the Serbian has been imposing on his few starts at centre-back and something of a revelation at right-back — helping Ancelotti cope easier than expected with the loss of Jose Bosingwa. The 25-year-old appears to be going from strength to strength.
Grade: A.
Ashley Cole
: Started the season in blistering form, looking virtually unplayable on a number of occasions. Has failed to hit such heights in recent weeks however, which perhaps played a part in him being 'rested' last time out against Fulham, and that is something Ancelotti needs to address.
Grade: B+
.
Ricardo Carvalho
: A mixed season for the cultured Portuguese defender, who has generally performed well when the pressure has been on but has made a few uncharacteristic errors. Physically the 31-year-old doesn't look as alert as in years past, but his superior reading of the game is just about compensating for that.
Grade: B-
.
Jose Bosingwa
: Injury has blighted the Portuguese full-back's season so far, and fans will have to wait until late January to see him back in action. Looked vibrant in attack, if a little slack defensively, during the early part of the season — but he will have to be on top form when he returns to dislodge Ivanovic.
Grade: B
.
Yuri Zhirkov
: Another whose early season has been ravaged by injury concerns. The £18 million Russian has not played as much as fans would have liked since arriving in the summer, but has shown enough in recent appearances to suggest he could be a very handy player. The only question is, what is his best position?
Grade: B-
.
Paulo Ferreira
: Relegated to back-up duties under Ancelotti, the full-back has done a job when required but little more than that.
Grade: C+
.
John Terry
: Highlights for the club captain include scoring the decisive goal against Manchester United at the Bridge, a result that could yet prove decisive come the season's end. Defensively the Blues have not been perfect this season, and Terry must take some of the blame for that, but overall he has been an integral part of the side's success.
Grade: B
.
Alex
: Missed the first few months of the campaign through injury, but has looked imposing in his handful of recent appearances, dominant in the air and uncompromising in the tackle. Still takes a mean free kick, and will want to usurp Carvalho in the starting lineup in 2010.
Grade: B-
.
Juliano Belletti
: The Brazilian has been a handy utility man for Ancelotti, with the Italian seemingly playing him wherever he has a vacancy. Has not set the world alight with his form, but has contributed to the cause.
Grade: B-
.
Other notables: Both
Sam Hutchinson
and
Jeffrey Bruma
have made the odd appearance for the Blues. Both have acquited themselves well — Bruma in particular looks a great prospect —but will need a few more years to develop at the top level.
Grade: B-
.
Early riser |
But Cole's form has dipped since
Midfielders:

Michael Essien
: The Ghanaian has been imperious this season. Although initially it looked like he might struggle to get into Ancelotti's first-choice XI, the 27-year-old quickly forced himself into the reckoning and has now made the position at the base of the diamond his own. Along with Cesc Fabregas, arguably the standout midfielder of the Premier League season so far.
Grade: A
.
Frank Lampard
: Was supposed to score goals galore at the tip of Ancelotti's diamond, but so far that hasn't proven to be the case. That lack of goals has led to criticism, but the England international has been a willing worker when played deeper in midfield, and it looks like just a few tactical tweaks are needed to put him back in dangerous positions once again.
Grade: B
.
Joe Cole
: Still to fully recuperate after spending nine months out with injury, Cole has only occasionally sparkled in behind the front two. Ancelotti seems to have high hopes for him, however, so hopefully in the second half of the season — in the run up to the World Cup — we will begin to see the best of him.
Grade: B-
.
John Obi Mikel
: Must try harder. Ancelotti heaped praise on the young Nigerian at the beginning of the season, likening him to AC Milan's Andrea Pirlo. But some poor performances quickly lost the 22-year-old his starting role at the base of midfield, and he has failed to shine in his frequent appearances ever since.
Grade: C
-.
Michael Ballack
: The German has rarely hit the headlines this season, but he has been a consistent performer for his side, doing an under-appreciated job as the enforcer in midfield. His distribution and awareness has been crucial to the side's success, although it would be nice to see more attacking intent from him on occasions.
Grade: B+
.

Florent Malouda
: Started the season very strongly, building an impressive partnership with Ashley Cole down the left. Eventually lost his place as Ancelotti dropped Lampard further back — but the Frenchman has still played regularly and chipped in with a number of important goals.
Grade: B
.
Deco
: Struggled with fitness and match sharpness early in the season, and the naturalised Portuguese midfielder has been another who has failed to shine at the tip of the diamond. Infrequent flashes of genius have only frustrated fans that it doesn't happen more often. Needs to improve in 2010.
Grade: C+
.
Other notables:
Gael Kakuta
is clearly a bit special, as he has shone on his infrequent appearances in the first team despite all the controversy that surrounds him.
Nemanja Matic
has looked comfortable on his rare first-team forays, a good sign for the future.
Grade: A-
.


Drought over |
Lampard struggled for goals
Forwards:

Didier Drogba
: Has banged in the goals with reckless abandon this season, sometimes single-handedly propelling his side to victory. Not only has he scored, however, he has provided too. It is no coincidence that when Drogba is sub-par, so are Chelsea. Absence for African Cup of Nations will be felt.
Grade: A
.
Salomon Kalou
: A mixed bag for the other Ivorian striker at Stamford Bridge. Has scored a brace in the Champions League this season, but has yet to get on the scoresheet in the league and has generally failed to successfully deputise for Anelka or Drogba. Poor.
Grade: C-
.
Daniel Sturridge
: Injury and concerns about his attitude have blighted his early career in west London, but recently the England Under-21 striker seems to have turned the corner and has had on impact on the games he is involved in. The absence of Drogba and Kalou throughout January should give him the chance to shine.
Grade: C+
.

Nicolas Anelka
: It's no coincidence that Chelsea have struggled in the last two games — they have struggled all season in games without Anelka. The Frenchman doesn't score as many as strike partner Drogba (although he has notched his fair share) but his incisive runs and vision have been vital in opening up opposing defences. Outstanding.
Grade: A
.
Other notables:
Fabio Borini
looks lively, if a little undersized at the minute for the Premier League. A first senior goal will do him the world of good, but perhaps he isn't quite ready at this level yet.
Grade: B-
.
Double trouble |
Anelka and Drogba impress

The manager:

Carlo Ancelotti: To sum up — outstanding up to November, abject since then. The Italian should be praised for his willingness to blood young players, but even he has admitted that in general he is basically just continuing the good work started by Guus Hiddink.

With the team now struggling for form, he still has to fully show that he can successfully implement his own effective tactical ideas. Still, top of the league at Christmas would have been taken by both him and the club's fans at the beginning of the season, so it is hard to criticise too much at this stage. Grade: B+.
Alex Dimond, Goal.com UK