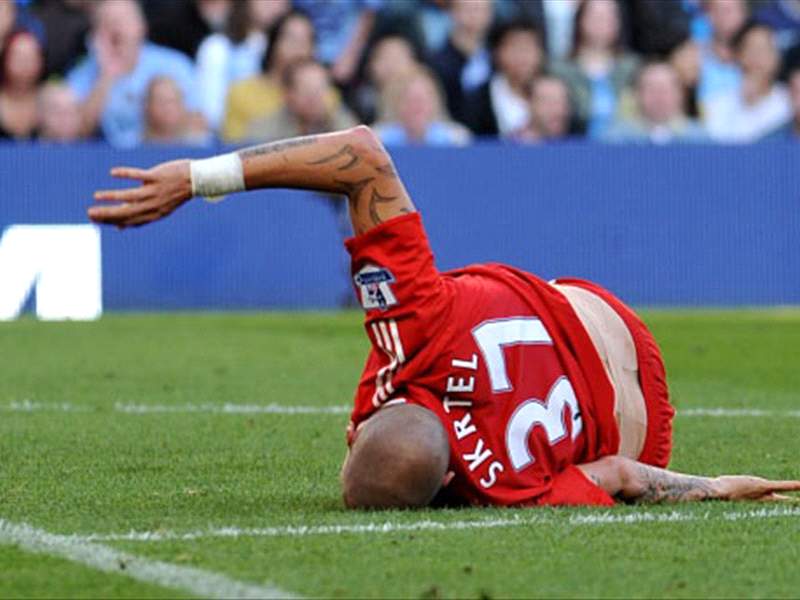 FORMATION: 3-4-3GK: Petr Cech (Chelsea)
He mightn't be the worst goalkeeper in the Premier League, but the man once regarded as the world's top stopper has been, all too often, an indecisive liability this season.
The west London club sit atop of the Premier League in spite of their No.1's inept performances. Chelsea have conceded goals this season often as a result of Cech finding himself stranded in no man's land or flapping helplessly at crosses.
RCB: Julien Faubert (West Ham)
Most West Ham fans were at a loss for words when their team's under-achieving flanker went on loan to the mighty Real Madrid last season. But few were surprised when his time at the Bernabeu was deemed a disappointment.
The former Bordeaux man gets forward and puts in his fair share of crosses but struggles to track back and stay in line with the rest of the Hammers' defence, and his distribution has been poor thus far.
CB: Martin Skrtel (Liverpool)
The Slovakian centre-back was a commanding presence at the heart of the Liverpool defence last season. But the 25-year-old has found himself relegated to the bench for much of this campaign due to several shaky displays when given the nod ahead of Daniel Agger or Jamie Carragher.
His crisis of confidence has typified his team's poor first half of the season.
LCB: Joleon Lescott (Manchester City)
A price tag of £24 million was always far too high for this young English defender, but considering the colossal displays Lescott put in at Everton over the past two seasons, it is hard to deny that he has been a major disappointment at Manchester City.
The fact that Lescott has had to undergo knee surgery, which will see him out of the team until February, suggests his dip in form may have been temporary.
RW: Nani (Manchester United)
Following Cristiano Ronaldo's departure, the stage was set for this precocious Portuguese understudy to realise his potential. But Nani has fluffed his lines and continues to frustrate the Manchester United fans with his erratic displays.
Unsurprisingly, this has led to wide speculation that Sir Alex Ferguson could flog him to the highest bidder in January.
CM: Aaron Mokoena (Portsmouth)
The South Africa captain has struggled to assert himself at the heart of the Portsmouth midfield this season. The former Blackburn Rovers player has been booed by his own fans after a series of indifferent displays and is in danger of losing the captain's armband to the impressive Michael Brown.
CM: Tim Cahill (Everton)
The all-action Australian has been a shadow of his usual self this season. The goals from set-pieces and crunching tackles have made way for a spate of bookings and rash tackles.
For an attacking midfielder with his goalscoring record, a return of just three goals from 22 appearances shows Cahill is way below par. It appears, conspicuously, he is missing his injured pal Mikel Arteta.
LW: Robinho (Manchester City)
Costing Manchester City a British transfer record of £32.5 million, Robinho has been a massive disappointment. Through a string of unremarkable displays, the 25-year-old has helped reinforce the stereotypical view that South American flair players struggle to perform in colder climes, go missing in away games and suffer from indiscipline.
Though he has had a few unfortunate injuries, rarely has the terrace chant 'what a waste of money' seemed more appropriate.
CF: Jason Scotland (Wigan Athletic)
The 30-year-old Trinidadian hit-man was brought to Wigan by Roberto Martinez from Swansea where he scored goals for fun. But Scotland has failed to find the back of the net in 17 league games for his new club. Has been guilty of several shocking misses including hitting the crossbar at Anfield from close range.
CF: Jo (Everton)
The 22-year-old striker who cost Manchester City £18 million last year was brought in on loan by David Moyes this season to add some much needed firepower to his injury ravaged front line.
But Jo has missed the target too often this season and the former CSKA striker is looking like another talented player struggling to realise his potential in the Premier League.

CF: Andriy Voronin (Liverpool)

The Ukranian striker has cut a sullen and sulky figure on Merseyside this season and looks set for the exit door this January. Despite having a decent scoring record in the Bundesliga, Voronin has struggled to adapt to the Premier League.

The pony-tailed forward was given several opportunities by Rafa Benitez earlier in the season when Fernando Torres was injured but has since found himself further down the pecking order behind David Ngog and youngster Daniel Pacheco.

IN NUMBERS . . .

England: 1 (Lescott)
Australia: 1 (Cahill)
Brazil: 2 (Robinho, Jo)
Czech Republic: 1 (Cech)
France: 1 (Faubert)
Portugal: 1 (Nani)
Slovakia: 1 (Skrtel)
South Africa: 1 (Mokoena)
Trinidad and Tobago: 1 (Scotland)
Ukraine: 1 (Voronin)

Based on the selection, and despite the general consensus that the Premier League is very much foreign dominated, it can be seen that many of the biggest flops are also from overseas. It's noteworthy that the XI includes just the one Englishman, the rest foreigners, all of whom have spent over a season in the league. Brazil - universally regarded as the home of the best footballers in the world - have the dubious honour of being the only nation with two players in the XI.

Chelsea: 1 (Cech)
Everton: 2 (Cahill, Jo)
Liverpool: 2 (Skrtel, Voronin)
Manchester City: 2 (Lescott, Robinho)
Manchester United: 1 (Nani)
Portsmouth: 1 (Mokoena)
West Ham: 1 (Faubert)
Wigan Athletic: 1 (Scotland)

Of the Big Four, only Arsenal are not represented in the worst XI. Liverpool provide two players (along with neighbours Everton, in what has been a miserable first half of the season on Merseyside), while Manchester United and Chelsea contributed a name apiece, though they have been able to work well around their minor weaknesses. The other clubs are all struggling near the bottom of the table. But for each player, it is a case of them failing to meet expectations, whatever those may have been.

The average age of the worst XI falls just below that of the best, at 26.73 (both rounding to the closest figure of 27). The story is told differently here, however, as what is more apparent is that there are more underachieving players in their prime, while the best XI had players who were in their early 20s, and indeed more who were 30 or over. Jo is the team's youngest at 22, while Jason Scotland is the oldest of three 30-year-olds.
Amar Singh, Goal.com UK