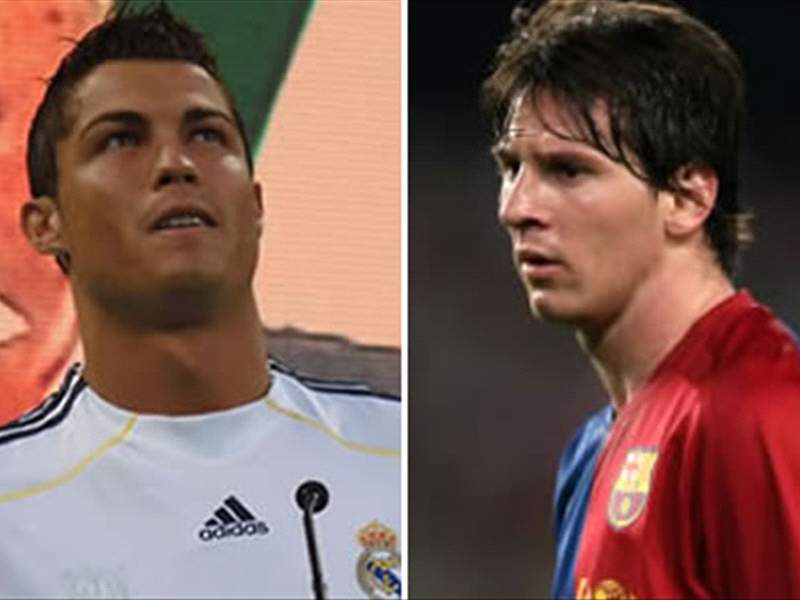 It's the debate that will never end. And it's one of the great arguments that will probably be revisited every decade until football is killed off by play-at-home gaming consoles. Who is the better player? Cristiano Ronaldo or Lionel Messi?
Comparing the greatness of football superstars is about as primitive yet fascinating as the game itself. The tussle could end in a stalemate, but it will still keep everyone entertained from start to finish. But unlike a football match, the result can never be determined irrefutably. There are just too many factors to consider and while one player may be regarded as the best by one fan, another supporter will invariably disagree.
But Marca recently came up with an ingenious way of counter-acting Messi's crowning as the best footballer of 2009 by suggesting that Ronaldo is a more complete player.
Is the Madrid-friendly paper simply trying to stroke Ronaldo's ego after the Portuguese surrendered his Ballon d'Or and FIFA World Player throne? Or does the paper really have a valid argument, keeping in mind that being the most complete player doesn't necessarily mean being the best player of the moment.
While Marca's statement is no surprise, the results of the ten categories analysed was. Ronaldo didn't only beat Messi in six departments, but the Argentine only dominated a measly two categories, leaving the other two in a tie. Here, we have another look at all the ten characteristics mentioned and give it a re-assessment.
COLLECTIVE GAME
Messi 8
Cristiano Ronaldo 7
Nothing surprising here. Ronaldo has long been panned for being too individualistic and too self-absorbed in trying to do everything and win games on his own as well as earn all the applause for himself.
Messi, on the other hand, who although has become world renowned because of his majestic dribbling skills, does rely on teamwork, often playing one-twos with the likes of Dani Alves, Xavi or Zlatan Ibrahimovic, or drawing out defenders off the ball for his colleagues to run into space. To be fair, Ronaldo has become more of a team player since his move to Madrid, which explains why the final mark is so close.
Goal.com verdict: Messi
INDIVIDUAL TECHNIQUE
Cristiano Ronaldo 9
Messi 9
There's no doubting that both players have outstanding technique, whether it's ball control, dribbling, shooting, or even showboating. This was perhaps the one category that's the most difficult to split the two and there's nothing to indicate, performance-wise, that one player has better technique than the other.
Goal.com verdict: Tie
PHYSICALITY
Cristiano Ronaldo 10
Messi 7
Cristiano is clearly much taller, stronger, muscular and robust, although some would poke fun at him for going to ground more often than a "flea" nicknamed 'Little Lionel'.
Messi has shown, however, that size really doesn't matter. The Argentine has been known to use his slight physical stature to hound opposition players to rob possession off them while his low centre of gravity gives him a massive advantage when he's running with the ball and squeezing past opponents. And despite being just 1.69 metres tall, the Argentine tries to stay on his feet as long as possible and keep charging forward even when defenders are attempting to hack him down.
From appearance alone, Ronaldo certainly wins this one, although he doesn't necessarily uses his physical presence to his advantage the same way Messi does his.
Goal.com verdict: Messi
PACE
Cristiano Ronaldo 9
Messi 8
Another difficult category to separate as both players are incredibly quick, has tremendous bursts of speed and excellent balance when making sharp changes in direction. Ofcourse, we will never know conclusively who is the fastest until they go head to head in a foot race.
Messi's gift is his immaculate close control of the ball when he's on his familiar marauding sprints. The Barca prodigy also has a very distinguishable way of running, taking quick-fire small, shuffling steps. In contrast, Ronaldo uses his long legs to take big steps and stride forward like a gazelle, not unlike his good friend Usain Bolt. But the Portuguese is more recognised for his pace for the simple reason that he uses his raw speed to take on and beat defenders, while Messi relies more on his close control and dribbling skills.
Goal.com verdict: Ronaldo
DRIBBLING
Messi 10
Cristiano Ronaldo 8
As flashy as Ronaldo is, he's not much of a dribbler, not in the conventional Maradona-esque sense, at least.
His tricky footwork, shimmies, step-overs, flicks and backheels make it easy for him to beat an opponent one-on-one and he can effortlessly breeze past a rival with his pace, but he's not the kind of dribbler who can glide past five or six defenders in a crowded area, which is something that Leo can do in his sleep. And as mentioned above in the 'Pace' category, Messi rightly wins this battle.
Goal.com verdict: Messi
SHOOTING
Cristiano Ronaldo 9
Messi 8
Messi is not a forward who depends on the power of his shot. Even when he's right infront of goal, he prefers to caress the ball past the goalkeeper rather than try to take the poor shot-stopper's head off. 'CR9', meanwhile, is always trying to score the outrageous 30-yard piledriver and demonstrating the lethal, brute force of his right foot is part of his game.
But shooting doesn't mean just power. Accuracy is also part of the calculation and both players can be deadly accurate from the 20-yard mark. But Ronaldo rightly edges this category thanks to his sheer power.
Goal.com verdict: Ronaldo
PASSING
Cristiano Ronaldo 9
Messi 9
This was perhaps the most surprising and contentious. Ronaldo has never been known to be much of a passer of the ball during his Manchester United days, let alone a great passer. However, with Los Blancos, he has learned to collaborate with his team-mates but even then, it's usually nothing more than a square pass or a touch-on in a tiki-taka move.
But Messi has started to pick up some extra-terrestrial passing qualities from Xavi and Iniesta and he has been seen to play some cleverly disguised piercing through balls.
'El Mesias' has five assists in the league compared to Ronaldo's one and although simply having more assists does not necessarily mean being a better passer of the ball, it's difficult to acknowledge that both players are on the same level.
Goal.com verdict: Messi
HEADING
Cristiano Ronaldo 9
Messi 7
If the previous category drew some fierce debates, then this one certainly is a no contest.
Messi is working to improve on his aerial threat, something that he used to great effect to twist the dagger into the Devils' heart in last season's Champions League final against Ronaldo and his former club, Manchester United.
But Cristiano is one of the best headers of the ball, at least for a non-conventional target striker. He has the ability to outjump even the tallest of defenders and he is one of those players who seem to defy gravity in that Matrixy-style by simply hanging in the air longer than is humanly possible. And his headers do pack quite a punch.
Goal.com verdict: Ronaldo
LEADERSHIP
Cristiano Ronaldo 9
Messi 7
This one, ofcourse, drew quite a lot of criticism. Ronaldo, the one who regularly throws temper tantrums and sulks on the pitch (or used to, at least), boast great leadership attributes? Disagree as much as you want, but the Portuguese is the captain of his national team and he can often be seen rallying his Madrid team-mates.
Messi, on the other hand, seems like the kind of player who just wants to have fun with the ball out on the pitch and can't be bothered concerning himself with leading ten other men. Not to suggest that he's a sheep, but when you have a player like him, you would certainly want him to focus more on this football than on anything else.
Goal.com verdict: Ronaldo
FREEKICKS & PENALTIES
Cristiano Ronaldo 9
Messi 7
Both players are excellent freekick takers. They have certainly scored their fair share of them. But there's a reason why Ronaldo has the edge here. The recent research by a physics professor that Ronaldo's thunderbolts behave like a baseball pitch – something that you just feel may have sparked Marca's own study of who is the more complete player in the first place – has ofcourse made CR9's freekicks more glorified and feared than Messi's.
Somehow, someone has determined that it's easier the curl the ball over the ball into the back of the net than it is to make it dip, swerve, bend and U-turn. Which is probably true. To hit the ball the way Ronaldo does require immense precision in technique and the slightest of miscalculations could send the ball flying towards the team bus out in the stadium parking lot.
The two of them are also near flawless when it comes to penalties, not just in terms of executing them but also the psychology and the art behind it, although Ronaldo recently failed to convert one. But the €94 million man has made taking freekicks one of his trademarks.
Goal.com verdict: Ronaldo
In the final analysis, Ronaldo does emerge as the more complete player, but it's a much closer contest than you would think with the Portuguese winning five of the 10 categories and the Argentine winning four. Which is hardly surprising. Cristiano and Leo have become the two best players in the world over the past two years or so and their supremacy has been unchallenged, according to FIFA and France Football magazine, anyway, and it only makes sense that they are neck and neck. But who between the two is better?
It's an argument that will one day overtake the Pele-Maradona debate and in a way, the two Real Madrid and Barcelona stars have already become the updated, modern day, 21st century version of the most widely discussed topic in football. I say let there be no conclusive answer and let the debate rage on for another century.
What do you agree with the analysis? Do you believe 'CR9' is the more complete player? Let us know what you think and rate both players in the ten categories.
KS Leong, Goal.com