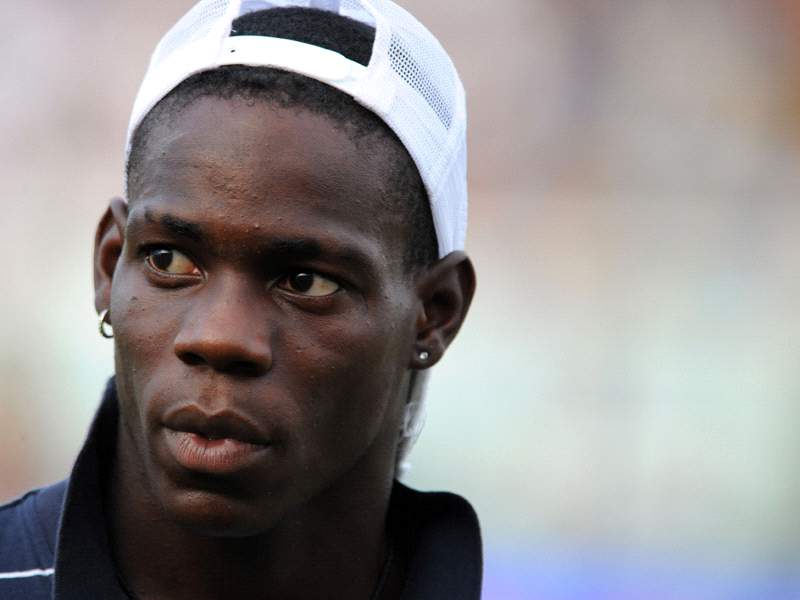 Let's make something very clear right from the start of this editorial – Juventus fans who jeer Mario Balotelli are not racist. And nor are the large majority of supporters throughout Italy who abuse the 19-year-old.
The foreign media, and particularly England's notorious
SKY Sports
, have been quick to pick up on this ongoing drama and I don't need to tell you how they have presented it. The simple truth, though, is that Balotelli is targeted because of his repulsive attitude problem.
You will all remember the Champions League last 16 clash between Inter and Manchester United last season at Old Trafford where Balotelli spent the entire game goading Cristiano Ronaldo and behaving like a complete moron. During the match a well respected
RAI
journalist, Enrico Varriale, claimed that Balotelli had been racially abused by home fans as he was substituted. Video evidence posted on Youtube suggested that some of the chants may have been monkey noises, although it is just as possible that these were merely boos and that the placement of microphones may have caused some distortion in the sound.
The incident, unsurprisingly, was never mentioned in England but racism or not it proves that wherever Balotelli goes he will be hated unless he changes his ways.
As Milan's immensely sophisticated Clarence Seedorf explained several days ago: "Balotelli is not being insulted for the colour of his skin, but for his behaviour.
"That's not racism. Italy is not a racist country. So, if I have never had problems and Balotelli does, racism is not an issue, but he must learn how to behave."
During Saturday night's explosive Derby d'Italia against Juventus, Balotelli again displayed his nasty side after his introduction as a substitute. A huge banner was erected in the Stadio Olimpico of Turin which read: 'Don't kid yourself Balotelli, you'd annoy us even if you were white.'
Balotelli should turn his back on Jose & Inter
It has now reached the point where Balotelli is so detested that a move abroad to the Premier League must surely be the best option for him. A few years in England, where he will hopefully be able to turn over a new leaf and learn how to live with respect, could do his life and career wonders.
At the moment there is nothing keeping him in Italy. Balotelli is not first choice at Inter, he has barely improved as a player since Jose Mourinho took over in the summer of 2008 and the relationship between the pair is fractious at best.
This is a player who possesses all the attributes to be a superstar – pace, skill, strength, height, flair, creativity, confidence, awareness, shooting, two feet, set-pieces. Balotelli could soon be the most complete forward in the world if only he sorted out his head.
The best move for the son of Ghanaian immigrants would certainly be to Arsenal. Arsene Wenger has never hidden his admiration for the youngster, although a few days ago he categorically rejected reports that he was set to table a bid. 'The Professor' would be the perfect mentor – the Frenchman has proven over the last decade that he is the best scout and youth developer in the world. Especially with youngsters who contain African blood.
Wenger would be perfect for Balotelli
Not only would this move do Balotelli good, but also Italy. Wenger would mould a world class forward ahead of Euro 2012 and World Cup 2014. Sebastian Giovinco would already be a big star had he left Juventus for Arsenal 18 months ago. 'The Atomic Ant' should serve as a lesson to Balotelli that he also risks stalling by remaining at Inter amid all this commotion.
The style of the Premier League will also suit Balotelli. The teenager's best features are his pace, power and explosiveness – he would feel right at home in England. And after a few years, once he has grown up as a player and a person, he can return to Italy as a changed man. Perhaps then he will be accepted by fans and the media.
The equally-troubled and talented Eric Cantona faced a similar dilemma when he left France for England in the early-1990s and, although he would never return to his homeland, he would go on to become a Manchester United and Premier League legend.
The choice is Balotelli's – does he want to become Super Mario or remain Super Brat?

What are your views on this topic? Do you agree that Balotelli should leave Italy and move to the Premier League? Are Arsenal his ideal team? Goal.com wants to know what YOU think…

Carlo Garganese, Goal.com