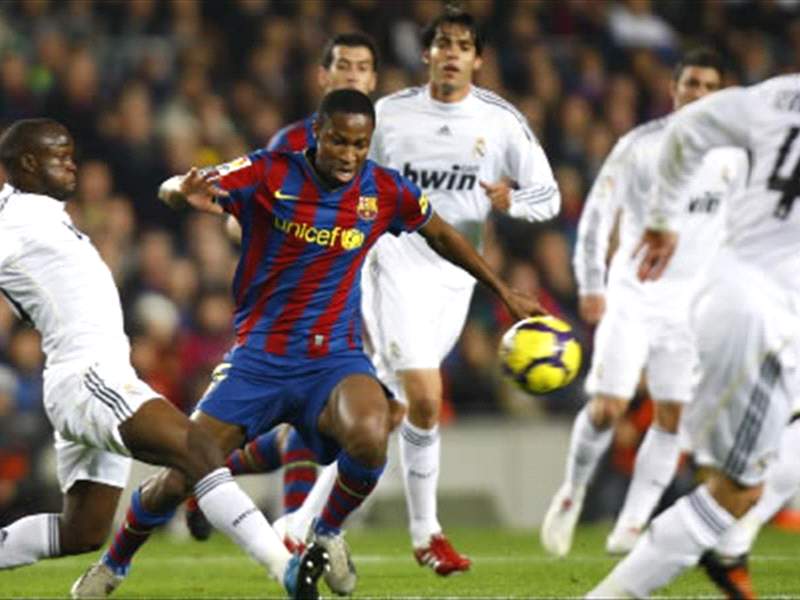 It is rare for a positivistic note to be taken from a Clasico defeat. The Real Madrid-Barcelona rivalry is such that typically, after having played in a match that is weighted by so much history it is nothing short of epic, the victor emerges as the lauded superior while the loser is cast to the media hounds that, in the case of the Spanish press, tend to cannibalistically dismember their team for failing to live up to the lofty expectations demanded in the top tier of La Liga.
But somewhat paradoxically, this was not the case after Sunday's Gran Clasico. Facing their first 'final exam' of the Liga semester, there was a sense of anxiety brewing in the Spanish capital in the days preceding the big game. After being throttled 6-2 at the Santiago Bernabeu last season by a Barcelona team who stole the envy of even the most fervent Madridistas (exhibiting the kind of beautiful football for which the Bernabeu faithful have been yearning for years), there was a vague tentativeness as Los Blancos headed into the Camp Nou... for good reason too.
Madrid have made something of a theme out of failure over the past year. They were eliminated from the Copa del Rey last season by Segunda B side Real Union, easily lost both of their most competitive Champions League matches in the group stage to Juventus (who claimed the top spot in the section), were defeated at the Camp Nou in a largely defensive first Clasico (which left them 12 points adrift of Barcelona by the winter break), were unceremoniously dumped out the Champions League by Liverpool with a 5-0 aggregate score, had their hopes of challenging for a late Liga title embarrassingly shattered by Barca at the Bernabeu, and - €254 million in signings notwithstanding - were once again humiliated by an early exit from the Copa del Rey, again at the hands of a Segunda B team in Alcorcon.
When one tallies up the year's failures and disappointments for one of the world's richest and most historic football clubs (and one with fans as notoriously demanding as Madridistas no less), it really is no wonder why the team was being whistled and jeered so mercilessly in home matches, although it must be said there is a certain irritating fickleness about the Bernabeu boo-birds.
Yet in the wake of last Sunday's Clasico, there is a sense of optimism in the Spanish capital, perhaps even accomplishment, reflected in the player attitudes, tone of the press, and demeanour of the fans. Why the sea change?
During much of the current season, Madrid have played, at best, passable football. They have been strong in defence, which, for Madrid is a serious improvement and have scored a number of goals (three, four and five goals in a match are not uncommon occurrences when browsing their results), but for the most part, Los Blancos have played unimpressively. Their play during the campaign has been marked by an inability to link a series of passes, failing to control matches, not creating many chances (only providing glimpses of glamour that bring on a salvo of goals), and looking wholly grey rather than the crisp, attractive, play traditionally characterised by the Whites.
Despite the return of Cristiano Ronaldo to the starting line-up, there was a sense that Madrid would struggle to challenge a Barca team who are one of the best that modern football has ever seen (the Ballon d'Or final results are a testament to that).

CR9 after missing a game-changing goal
But on Sunday in the Camp Nou, Madrid showcased the kind of zeal they have not demonstrated since Fabio Capello was ousted as coach in 2006 along with the refined, precise football they have not demonstrated since Bernd Schuster's first season as the 'mister' in 2007.
With Manuel Pellegrini utilising a midfield of Lassana Diarra, Xabi Alonso, and Marcelo to harass and contain Iniesta, Xavi Hernandez, and Dani Alves, Madrid were able to disrupt Barca's widely-thought insuperable midfield. Featuring just three attackers (albeit two consecutive Ballon d'Or winners) in Kaka and Cristiano Ronaldo, along with the clever Gonzalo Higuain, Madrid's offence was able to exploit the holes left in Barca's back line with pace, incisive dribbling, and threatening counterattacks.
Had Los Blancos been able to capitalise on just a few of the many chances they created (ironically, the same ones that were so rare but had been put away in other matches during the course of the season), Zlatan Ibrahimovic's solitary goal would have made the scoreline read more along the lines of 1-2 or 1-3 rather than 1-0; even if Messi's clear-cut chance had not been miraculously saved by Casillas, the Whites could still have taken the full three points with some cleaner finishing.

Lass doing a real man's work
If there is one thing that is valued in the Spanish capital it is hard work and from the effort, attractive play, and the will exhibited by Real Madrid in Sunday's Clasico, it was very clear that had luck been a bit more flirtatious that night, the Merengues could very well have beaten a Barca side that is widely considered as the best team in Europe and even the world.
Now, despite a loss in El Clasico, Madrid seem to have turned a corner. The team know what they are capable of and what work needs to be done to realise their potential, the fans believe in a team who are finally beginning to show the fruits of Pellegrini's labour, and the club officials finally can stop back-pedalling in order to buy more time.
Overall, there is a renewed feeling of hope—which if properly exploited can be a very powerful thing. If Real Madrid use their match against Barcelona as a stepping stone and build upon what was a commendable performance on all accounts except finishing, this is a team who will put up a real challenge to the Blaugrana for the Liga title and could very well find themselves playing in the Santiago Bernabeu in May's Champions League final.
They say only a fool repeats his folly; Florentino Perez may just have gotten it right this time after all.
Cyrus C. Malek, Goal.com