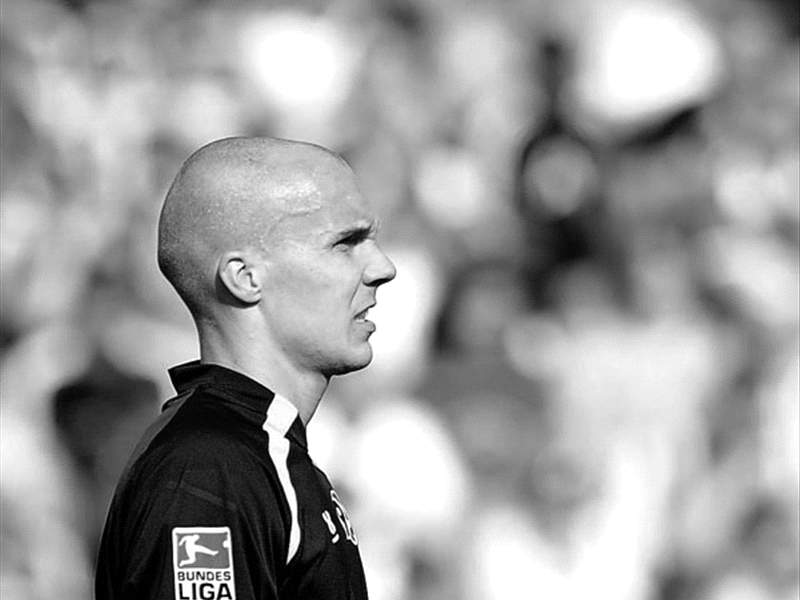 The news of the distressing suicide of Hannover and Germany goalkeeper Robert Enke was yet another example that footballers, for all their wealth and fame, do not live in a bubble of utopia.
While it may be wrong to speculate less than 24 hours after Enke's passing, the early signs undoubtedly are that the 32-year-old's grief over the death of his two-year-old daughter Lara from a birth defect in 2006 was the main contributing factor in him apparently "throwing himself under a train at Neustadt am Rübenberge". The location of his death was reportedly less than 200 metres from the grave of Lara.
Enke in Hannover colours
Former Barcelona man Enke, who was Bundesliga Goalkeeper of the Year for 2008-09 and was in the running to be Germany No.1 at the World Cup, is not the first high profile footballer to have committed suicide.
Indeed, by tragic coincidence, this is a fate endured by a host of ex-Blaugrana players. Swiss footballing pioneer, Joan Gamper, who founded Barcelona in 1899 and would later be president on five occasions, overseeing the club's first golden age of Ricardo Zamora, Josep Samitier and Paulino Alcanatra, committed suicide in 1930 at the age of 52 after being expelled from Spain for allegedly promoting Catalan nationalism.
Legendary Hungarian forward Sandor Kocsis, who was part of the Magical Magyars team with Ferenc Puskas that revolutionised international football in the 1950s and famously thrashed England 6-3 at Wembley, enjoyed an excellent seven-year career in Catalonia. After his playing days ended he struggled with leukaemia and stomach cancer, and fell to his death from the fourth floor of a Barcelona hospital where he was being treated in 1979. While this may have been accidental, it is more likely it was suicide. Kocsis was also 52.
More recently, another ex-Barca player to take his own life was Sergi López Segú. Sergio, as he was also known, donned the Blaugrana shirt from 1987-91 and was part of Johan Cruyff's European Cup Winners' Cup-winning squad from 1989 when Sampdoria were defeated in the final. After further spells at Mallorca and Zaragoza, Sergio was forced to retire early from a knee injury. He fell into clinical depression after the failure of his marriage and was eventually taken into psychiatric care. The Spaniard threw himself under a train in 2006 at the age of 39. He was the older brother of ex-Valencia and Barcelona midfielder Gerard López Segú.
The deaths of some footballers have been shrouded in uncertainty. One example is Austrian legend Matthias Sindelar. In the interwar years Austria were for a while considered as the best team in the world. The 'Wunderteam', as they were known, went on a 14-match unbeaten streak that lasted 20 months in 1931 and 1932. They possessed among their ranks the brilliant Sindelar, 'The Mozart of football', who defied the Nazis following the Anschluss, refusing to play for Germany. He tragically died in 1939 in disputed circumstances from carbon monoxide poisoning along with his girlfriend in his Vienna apartment in 1939. Some believe the 35-year-old's death was suicide, others say it was an accident, while there are those who claim that the Nazis killed him for snubbing them.
The grave of Sindelar
Although the coroner called it an "accidental death", some say Arsenal striker Paul Vaessen committed suicide in 2001. At 18, Vaessen scored the winner against Juventus (and Dino Zoff) in the Cup Winners Cup semis in 1980 - a goal that sent the Gunners into the final. His career was pretty much finished within a few years due to a series of injuries and he (re)turned to drugs. He died from an alleged heroin overdose in the bath-tub. He led quite a fascinating life. A professional footballer who sealed an English club's first win at Juve, an alcoholic, a thief, a drug addict, a kind man, a violent man, a wife/girlfriend-abuser, a man who was stabbed six times, in-and-out-of-court more often than a judge, clobbered a policeman, a born-again Christian. Vaessen was 39.
There was nothing uncertain about the death of Roma legend Agostino Di Bartolomei, also at the age of 39. Before Francesco Totti and Giuseppe Giannini, the pride of Rome was Agostino Di Bartolomei. In 15 years at the club, 'Ago' played 308 games, scored 66 goals, and captained the team 146 times. He led Roma to the 1983 Scudetto, and was man-of-the-match as they lost on penalties to Liverpool in the European Cup final the following year. Di Bartolomei fatally shot himself through the heart on the tenth anniversary of the defeat to Liverpool after apparently running into financial trouble. For a detailed biography on the midfielder,
please click on this link.
Roma legend Di Bartolomei
The most high-profile footballer to commit suicide in England was undoubtedly Justin Fashanu in 1998 at the age of 37. Fashanu is still more famous today for being the first, and only, top-level professional footballer to come out publicly and declare himself gay. The ex-striker had been an extremely promising young striker in the late 1970s and early 80s with Norwich City, and became Britain's first £1m black footballer in 1981 when he joined Nottingham Forest. His career then started to stall after Forest manager Brian Clough discovered he was homosexual, and he spectacularly failed to fulfil his potential. In 1998 he was accused of sexually assaulting a 17-year-old boy, and Fashanu hung himself after leaving a suicide note in which he stated that he had already been presumed guilty.
Fashanu had been tipped as a future World Cup star before his demise. Others that did actually appear at the FIFA tournament have tragically committed suicide. These include Costa Rica goalkeeper Lester Morgan from Korea/Japan 2002, Bolivian midfielder Ramiro Castillo from USA '94, Scotland's Eric Schaedler from West Germany '74, and most notably Brazilian shot-stopper Carlos José Castilho, who featured in four World Cups between 1950 and 1962, picking up two winners medals.
Robert Enke was due to play in the 2010 World Cup in South Africa, until yesterday's tragic turn of events. Germany fans, and many neutrals, will be hoping that Die Mannschaft can bond together now and win the cup for Enke and his family.
Fans pay tribute to Enke on Tuesday night
Carlo Garganese, Goal.com