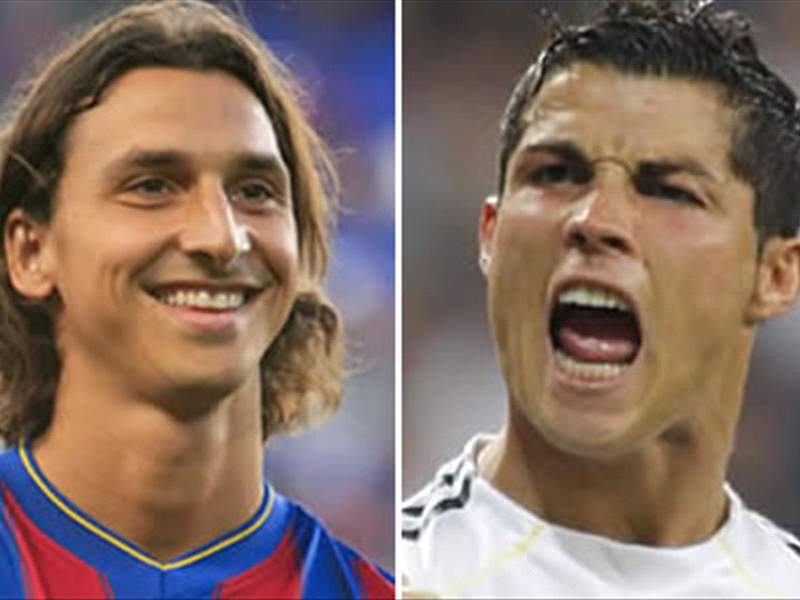 They are two of the highest paid, highest profile footballers in the world today. They play for two of the grandest, most demanding and ambitious clubs anywhere on the planet, and they generated unparalleled commotion during the summer transfer market.
They are, of course, Cristiano Ronaldo and Zlatan Ibrahimovic, superstar signings for Real Madrid and Barcelona respectively.
Both clubs had cautiously advised fans and media alike not to expect too much from the pair in the early stages of the season, to allow them to settle into their new environs and to grant them some breathing space before they are judged, or even worse, compared. We're barely a month into the new season and, yes, the honeymoon period is over.
While most new arrivals are afforded a handsome amount of time to adjust, it's not a luxury you can have when there's a ludicrous price tag hanging around your neck. But in truth, the €94 million Portuguese and the €66m Swede have wasted little time in delivering the goods and making their presence felt in La Liga.
At the weekend, Ibrahimovic found the back of the net again. Three goals in three games, and it was his best strike yet in the Blaugrana shirt. Running on to a through ball from Sergio Busquets, the big former Inter hitman ghosted in between two defenders like a sneaky little mouse before dinking the ball over Atletico Madrid goalkeeper Roberto with the outside of his right foot.
His setup for Seydou Keita's goal was equally outrageous. Sandwiched by two defenders, he lifted the ball in between the Atelti duo to set Lionel Messi on his merry little way. That subtle flick alone would have won him rave reviews had it led directly to a goal, but it was completely eclipsed by 'El Mesias's' actual assist.
But there's still a question mark over 'Ibra's' work rate. While it's evident that he has no problems replicating Samuel Eto'o's goalscoring ratio, it's clear to see that he is unlikely to reproduce the Cameroonian's contributions outside of the opposing penalty area.

But it would be unfair to compare them in that department. Everyone knew well beforehand, including coach Pep Guardiola, that Zlatan is not the kind of striker who drops deep to fight for the ball or apply pressure on defenders, and anyone who insists that he does, well… they'll just have to wait.

Big Guns | Ibra shows that he has plenty of muscle
Ronaldo, meanwhile, the most under-pressure footballer in the world, has made an even more spectacular start to his Blancos career. Four league goals in three La Liga games, and two in the Champions League. That's six goals in four competitive outings in total. Nerves? What nerves?
He has already exhibited almost all his old Manchester United virtues in front of goal. He scored a stunning free kick in midweek against FC Zurich, rattled in a solo effort against Xerez on Sunday evening after just 45 seconds, and he followed that up with a trademark towering header later in the contest.
Some would say that he got lucky with his free kick strikes against the Swiss in midweek, and that a better shot-stopper would have repelled them, but you still need to hit the ball with the right technique to force the goalkeeper into making an error.

There's also been a decent dose of showboating, something that his detractors will continue to pan but will undoubtedly delight the Santiago Bernabeu faithful, provided he doesn't give the ball away too cheaply too often.

Hands Off | CR9 is in virtually untouchable form

Like Ibra, however, 'CR9' does very little tracking back to help out his defensive team-mates. But does that even really matter?
Madrid and Barca spent a fortune to bring these two entertainers to their respective clubs, and they parted with all that cash in exchange for goals and flashes of genius, not for muscles or Swiss-precision tackling.
Of course, a time will come when things are going sour and the pair will be asked to do more than shimmies and step-overs. But for now, let boys be boys.
In terms of expectations, both Cristiano and Zlatan are still a long way away from what they are capable of producing. But considering the extra-ordinary circumstances – Ibrahimovic being thrown into a team surrounded by otherworldly talent and Ronaldo having to assimilate into a side full of newcomers – they have performed admirably well, especially when you take into account how the likes of Zinedine Zidane, David Beckham, Thierry Henry and even Ronaldinho took their own sweet time to hit the ground running in La Liga.
But who between the two has impressed you the most so far?
KS Leong, Goal.com