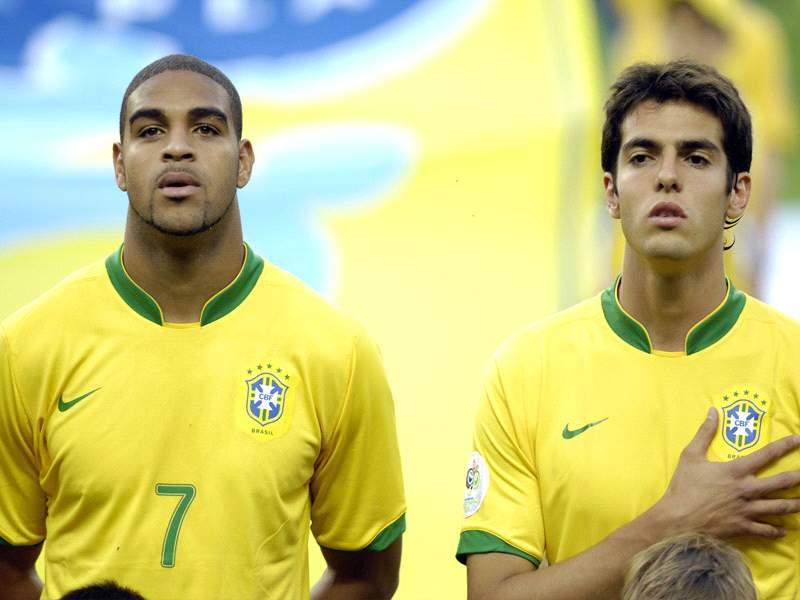 There is a strong belief that in all the good rivalries and derbies in world football, two fierce enemies can never co-exist. If one team is on the ascendancy, the other will invariably be on a downward spiral. When one is riding high, the other is struggling. And it was no different on Saturday in the South American World Cup qualifiers when arch nemesis Brazil and Argentina were both in action.
The Selecao pulled off one of their most impressive results in the qualifying campaign, and certainly one of Dunga's best. It wasn't his biggest victory, or the most dazzling, but to win 4-0 at Uruguay, one of their other fierce adversaries, is an astonishing result.
Brazil are now finally hitting their stride. They've gone almost a full calendar year without losing (ten games in all), including friendly triumphs over Italy and Portugal.
Their style of football is still not fully accepted back home, especially by the overbearingly demanding media. They still lack the joga bonito and the samba spirit, but they have now scored 16 goals in their last five outings and collectively as a football team, they are looking like a harmonious unit more than they ever have in the last five years or so.
What's bizarre is that this particular Brazilian side is by no means the best or the strongest they've assembled in recent times. Players like Luis Fabiano, Elano, Felipe Melo and Kleber are all fantastic footballers, but they are not quite Adriano, Ronaldinho, Ronaldo or even Diego. So what is it that makes this side tick?
Dunga has always made it crystal clear that he will not crumble under media pressure to select the country's high-profile players if they are not fit and in form. And it is this stance that appears to have rejuvenated the team, as he selects the best possible combination of players to accommodate his game plan, rather than tailor-suit a strategy to fit in all the superstars and their egos.
It's a sharp contrast to The 'Magic Quartet' of Ronaldinho, Kaka, Adriano and Ronaldo that flopped so terribly at the World Cup in Germany 2006. Four otherworldly players who looked as though they would steamroll their way to legendary and mythical status, but somehow, the heavens never really aligned for them.
It's the same thing that seems to be happening with Argentina and their Holy Trinity of Lionel Messi, Carlos Tevez and Sergio Aguero. Like Brazil's four wizards, these three look as though they would form the most devastating attacking alliance seen in football today. But it hasn't quite worked out that way yet, and it normally never does.
Argentina stammered to a 1-0 win at home to Colombia on Saturday evening and it was the kind of nervous victory that brought a huge sigh of relief in Diego Maradona's bench after the final whistle.
Despite having Messi, Tevez and Aguero, who granted, only played the first 40 minutes before limping out with an injury, as well as a back-in-form Juan Sebastian Veron, Los Albicelestes were actually outgunned by Colombia, who not only had four shots on target to Argentina's two, but they also had the better clear-cut chances.
Messi, however, did not perform badly, contrary to the belief by his detractors who insists that he can't perform at the same level with the national set-up as he does at club level. In fact, he and Tevez were the side's two best players on the night. It was 'El Apache's' brilliance that gave Argentina the three points when he turned and spun around three defenders to win a corner that led to the winner.
'El Mesias', meanwhile, struck a sumptuous free kick against the bar and he was a livewire throughout the match, showing some glorious touches to beat his opponents with effortless ease. But as a partnership, the duo displayed almost no chemistry and they barely exchanged a single meaningful pass.
Along with 'El Kun', the attacking trident have only started a match together a handful of times, be it under Maradona or his predecessor, Alfio Basile, and rarely have they looked like a majestic spectacle. Of course, they have helped the team win and they have scored their fair share of goals.
All three got on the score sheet during the 4-0 win over Venezuela back in March, for instance, but they just don't seem to be able to gel alongside each other, not in that outlandishly mesmerising way you and I would imagine them to. Perhaps all the excessive hype, buzz and phantasm surrounding their collaboration are making people heighten their expectations. Or perhaps they just need more time.
There were two other crucial results in Saturday's round of games. Bolivia, still on a high after their 6-1 demolition job on Argentina, came back down to earth – pardon the puns – when they were beaten 1-0 at home to tiny Venezuela. Who says you can't win at altitude?
The Venezuelans and their coach, Cesar Farias, were simply smarter than Maradona and the Albicelestes. Firstly, they began training above sea level a week prior to the clash in La Paz. Argentina, on the other hand, reportedly only stepped onto Bolivian earth two hours before kick-off.
In addition, ten of the eleven starters in the Venezuela side all play their football in South America (the other in Mexico), and although elevation would still have been a problem, it would have made it easier for them to acclimatise. Argentina, in contrast, started ten Europe-based players on that fateful April Fools' Day. The travel fatigue along with the taxing European league season alone would have left them huffing and puffing, nevermind the lack of oxygen.
The shock result, however, was in Asuncion when surprise leaders prior to the round, Paraguay, stumbled to a 2-0 defeat at home to Chile. They have now lost two of their last three qualifying games, while drawing the other, and the wheels are slowing starting to come off. They travel to Brazil next, this Wednesday to be exact, in a top of the table clash, and they still have to entertain Argentina later in September. Will we see a different Argentina by then? Will Maradona still be at the helm?
If he makes it to South Africa 2010, he would enter the World Cup with just a little over a year's experience under his belt, compared to Dunga who would have had a full four years to prepare his side.
But that's not an excuse for failure the Argentine media or fans will accept from their favourite son. He simply has to deliver, even if that means scratching the Messi-Tevez-Aguero triumvirate.
KS Leong, Goal.com