COMMENT
By Ben Hayward
One of the teams had been proclaimed world champions just a year ago, winning their second major tournament in a row. And that same side is very much regarded as the future of international football, having claimed two titles at youth level this summer.
The other team flopped in South Africa and, affected by off-the-field problems and stunted by a lack of new talent, had appeared to be on the wane after ruling the world in 2006. For anybody emerging from a time capsule or watching their first ever game of football on Wednesday night, however, it would have been very hard to tell which was which as Italy beat Spain 2-1 in their friendly in Bari.
Spain played their part in an entertaining encounter and could argue that, in the end, a loss was actually too severe a punishment given their performance in Puglia. Italy had been the better side in the first half, while La Roja dominated the second until Alberto Aquilani's deflected strike gave the hosts victory. Spain coach Vicente del Bosque praised his men, but he will have been concerned with some aspects of his side's showing - most of all the Xavi-shaped hole in his midfield.
Spain, like Barcelona, are not the same side when Xavi is out. The 31-year-old is the chief component of La Roja's neat passing style. He defines and dictates, setting his side's attacks in motion, receiving and recycling - turning glitter into gold. Naturally then, his absence was felt on Wednesday.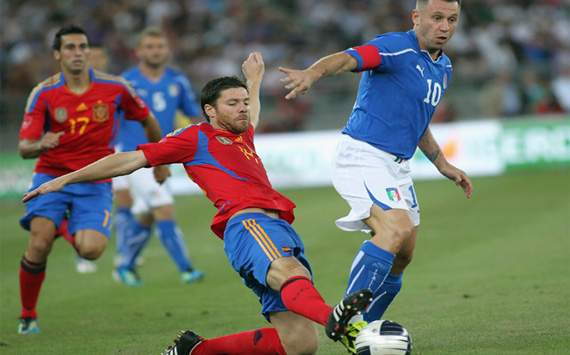 The 'X' factor | Xabi Alonso levelled, but Spain badly missed Xavi against Italy


With Xavi out through injury, Del Bosque started with David Silva, Andres Iniesta and Santi Cazorla behind lone striker Fernando Torres and ahead of Xabi Alonso and Javi Martinez in a 4-2-3-1 formation. Fresh from his starring role in Spain's Under-21 European Championship triumph, however, Martinez failed to shine, while Silva, Iniesta and Cazorla - all wonderfully talented, technical talents - were unable to gel, let alone keep the ball. Xavi's presence would have ensured both.
Having gone behind early on to a Riccardo Montolivo chip, Spain somehow went in on level terms at the break after Xabi Alonso converted a rather fortuitous penalty. The visitors markedly improved in the second period, however, and much of that was down to the industry and imagination of substitute Thiago Alcantara, making his debut in the city of his birth and staking a claim as Xavi's long-term replacement for La Roja.
On this summer's showing, he may well be that man. Thiago was sensational as Spain's Under-21 side claimed their continental crown in Denmark, and has been the stand-out performer for Barcelona in pre-season, scoring four goals and thriving in the added responsibility afforded to him.
Nevertheless, Thiago is still making his way for both club and country. Currently he is a high-quality deputy to the far-from-finished Xavi. As a replacement, however, it is a case of too much, too young; just as Xavi wasn't ready to fill in for former team-mate and current coach at Barca, Pep Guardiola, at a similar age.

"I have known Xavi since we were 16 and he has become everything we expected him to be. H
e fascinates us all with his movement of the ball."

- Spain captain Iker Casillas
With Xavi beginning to feel the affects of a long and gruelling career, Spain need someone to step in right now. And so do Barcelona. That explains Guardiola's tireless pursuit of Arsenal captain Cesc Fabregas, which looks as if it may finally be bearing fruit. So should Cesc arrive after all at Camp Nou, Barca won't be the only beneficiary; Del Bosque will be rather pleased as well.
Cesc, like Xavi and Thiago, was raised the Barca way, and can count on something invaluable still missing from the young Alcantara: experience. Fabregas, recovering from injury himself, has represented La Roja on 58 occasions, often as a replacement for Xavi, scored six times and even set up Spain's World Cup-winning goal for fellow La Masia graduate Iniesta. He has also made over 300 first-team appearances for Arsenal.
Barcelona expect to produce a top-class midfielder for their first team every four years or so. It's a process which has seen Xavi, 31, followed by Iniesta, 27. But then there's a seven-year void until you reach Thiago, who is 20. It's a generation gap which can and probably should be filled by Cesc, who is 24.
Thiago, then, is part of the plan, but Fabregas is seen as Xavi's natural heir while his young team-mate learns his trade. Xavi remains the master, though, and both Fabregas and Thiago will be expected to learn as much as they can from their midfield maestro in his twilight years. Cesc's prospective move to Barca could therefore solve a dilemma for Del Bosque, too.
XAVI, CESC & THIAGO | Pulling the strings for La Roja

| | | | |
| --- | --- | --- | --- |
| | AGE | CAPS | GOALS |
| XAVI | 31 | 101 | 9 |
| FABREGAS | 24 | 58 | 6 |
| THIAGO | 20 | 1 | 0 |
The Spain coach has other worries, however. Defender Carles Puyol has still not returned from a knee problem which kept him out for much of last season and will be 34 by the time Euro 2012 kicks off next summer. There is currently no obvious replacement for the inspirational Barca skipper and it certainly isn't Raul Albiol, who was constantly exposed by the Italian defence in Bari. Barca team-mate Sergio Busquets filled in after coming on for the injured Gerard Pique, but his inclusion leaves a problem in midfield, where his defensive work is invaluable.
Then there's the striker situation. Torres left the field with concussion after 15 minutes but showed no signs of improving on his recent woeful form in that brief time. The Chelsea striker barely touched the ball and looks a shadow of the player he was two years ago. His replacement, Llorente, missed a golden opportunity and seemed to hold up Spain's play with his more direct style, seemingly unsuited to Spain's
tiki-taka
brand of fantasy football. David Villa did impress, but the Barca forward is now 29 and cannot continue forever. He needs an able partner, too - and Spain require an alternative. Del Bosque will be hoping Sevilla's Alvaro Negredo or Atletico Madrid's Under-21 star Adrian Lopez can step up, because other options remain short on the ground.
First and foremost in his mind, however, will be that Xavi-shaped void in his midfield. And as at the World Cup, when he fielded seven of Guardiola's men in the final against the Netherlands, Del Bosque will look to Barcelona for the solution as he closely monitors the Cesc situation. With Xavi approaching the end of his playing days and Thiago in waiting, Fabregas appears to be the next in line - for both club and country.
Follow Ben Hayward on