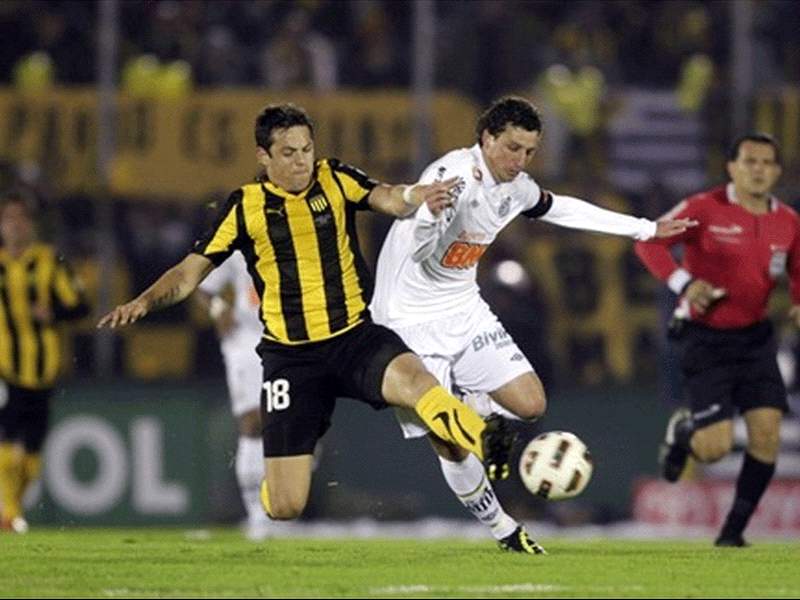 FEATURE
By Daniel Edwards in Montevideo
There are some moments in football that are not done justice by a television screen. The incredible scenes in Uruguay's legendary Estadio Centenario would most certainly fall under this category; they have to be seen, heard and felt.
Dario Rodriguez and his men came out to a thunderous ovation from the 60,000 strong crowd, expectant and hopeful of a sixth Libertadores triumph. At least, the implication was that they had left the tunnel and were on the pitch.
A tremendous quantity of fireworks, flares, smoke bombs and other incendiaries were released into the Montevideo night sky as the players entered, blocking all view of the playing surface in a haze of multi-coloured smoke. The noise though was unmistakable. A foundation-shaking roar from every corner of the stadium, accompanied by what has become the hymn of Penarol throughout this Copa campaign:
"Give me the joy, the joy in my heart, the Copa Libertadores is my obsession. You have to give all of your heart and soul, you have to leave it all for my Penarol."


Any game would struggle to live up to such a rapturous reception, not to mention the boisterous Santos fans, penned into a tiny corner of the scene of the 1930 World Cup final, but determined to make up their numerical disadvantage with plenty of their own passion. And so it proved through a tense 90 minutes for this first leg. A greasy playing surface caused by an overnight downpour did not help matters as, especially early on, several players saw their footing let them down in dangerous situations.
Despite these difficulties, there were chances throughout the encounter. Santos mobilised well from the halfway line onwards, with the midfield duo of Elano and Arouca proving formidable in hurrying the game along in Penarol territory. The Uruguayans were saved on more than one occasion by goalkeeper Sebastian Sosa, who was in terrific form to frustrate Neymar, Ze Eduardo and Co. The Manya fans' love for their No. 1 was evident from the stands, as every intervention the 24-year-old made was roundly applauded.
Speaking of Neymar, the teenage prodigy had another one of those games which make him such an infuriating figure to watch. Moments of electrifying skill are interspersed with childish acts of gamesmanship, and he is still far too happy to throw himself to the ground - proven by the yellow card for simulation he received after just 20 minutes, awarded by the aptly-named Carlos Amarilla. One player who was putting up with none of the Real Madrid target's games was veteran left-back Rodriguez. Neymar was summarily dumped back on his feet by the 36-year-old warhorse, leaving him looking rather sheepish after going down under yet another challenge.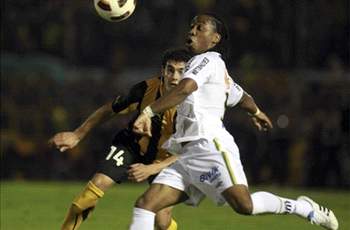 The home team, meanwhile, enjoyed their best moments late in the match, after disappointing wide-men Matias Mier and Matias Corujo were both sacrificed for club favourites 'Tony' Pacheco and Fabian Estoyanoff. A new dynamism and creativity was injected into a labouring attack, and it was Rafael's turn to show his talent with a pair of top-class stops.
The match finished with anguish for Penarol, as Diego Alonso (left) saw a late winner chalked off for the most marginal of offsides. Gloating at the disallowed goal, a section of the Santos fans would then take this as an opportunity to end the 90 minutes with a certain amount of mischief; seats, flares and firecrackers were hurled into the Carbonero stand from distance by a few bad apples, while the rest continued the madcap dancing which had started a good two hours before kick-off.
The match would therefore finish an inconclusive 0-0 in Montevideo, and the nerves which characterised a large section of the Penarol support before kick-off had by no means disappeared as the huge home following filed out of the Centenario. Everything is left to play for in the return leg in Sao Paulo; and with the Uruguayan faithful planning to swarm north in their thousands, expect a few more fireworks before this tie comes to an end.