On Thursday, Celtic were fined €10,000 by UEFA.
The punishment relates to "illicit banners", after a section of fans waved Palestine flags during the first leg of their Champions League playoff encounter against Israeli champions Hapeol Be'er Sheva.
The rules of European football's governing body state that clubs must not allow "any message that is not fit for a sports event, particularly messages that are of a political, ideological, religious, offensive or provocative nature" to be displayed within the ground.
There is little doubt that the conflict between Israel and Palestine is one of the most explosively divisive political issues of the modern age, and therefore Celtic were in breach of UEFA's legislation.
However, this does not mean that we shouldn't question the haziness and hypocrisy of this nebulous law.
Given that St Johnstone and Dundalk were fined €18,000 in 2012 for fans displaying Palestine flags during Europa League fixtures against non-Israeli opposition, context does not even appear to be important to UEFA.
Celtic have persistently fallen foul of the rule for a variety of offences, and indeed fans regularly display Palestine flags during their fixtures, but they are not the only club to be disciplined.
Barcelona were fined €150,000 as recently as June after their supporters displayed the estelada, a version of the Catalan flag, during Champions League fixtures last season. The Spanish champions reacted by stating that the decision was "totally unjust and... opposed to the exercise of the freedom of expression".
This is where the legislation starts to become extremely muddied, however.
Barca fans could not wave the flag they legitimately feel is a symbol of their 'nation', whereas Real Madrid supporters could, for example, happily goad them by flying the Spanish banner during a European Clasico. What would that be if not provocative or political? It is a ludicrous state of affairs.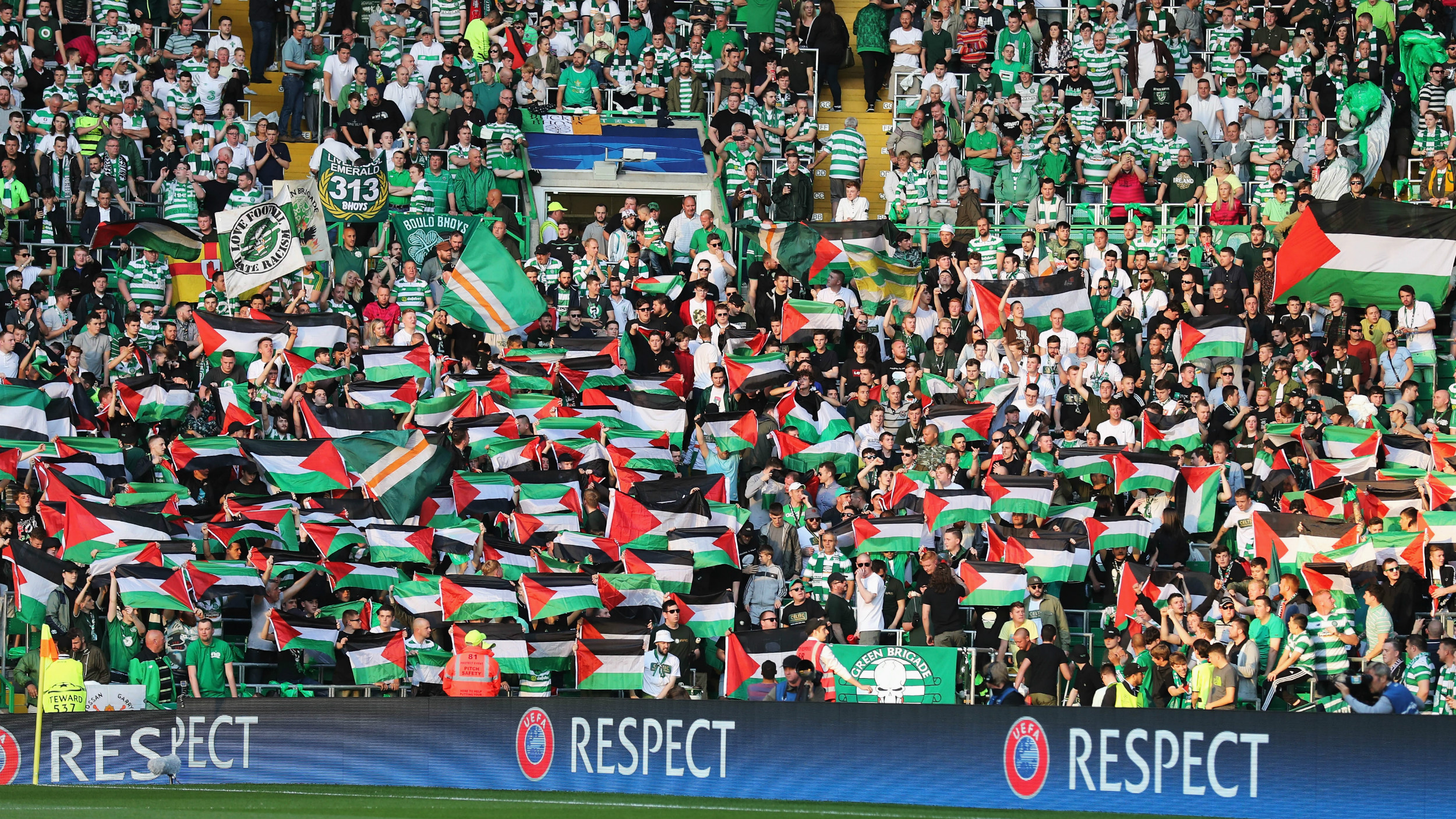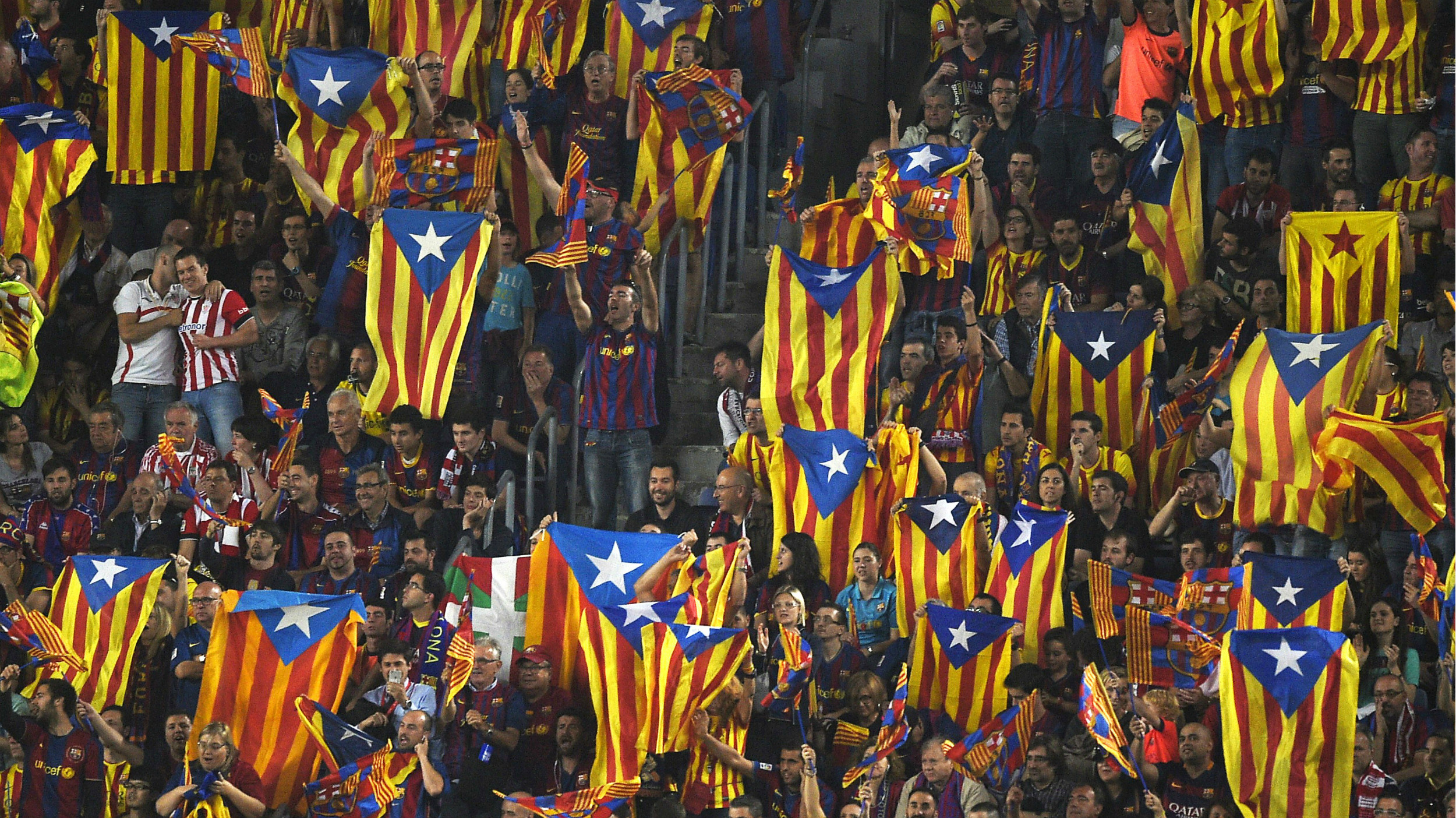 The Catalan problem is confused further by the nations of the United Kingdom. Not officially recognised as sovereign countries, much like Catalonia, they are nevertheless acknowledged by UEFA. So while Scottish teams can fly the St Andrew's Cross during their European fixtures, that luxury is not extended to their Catalan counterparts.
Should Leicester fans refrain from waving the St George's Cross during their Champions League campaign? Of course not.
It seems that UEFA picks and chooses its political beliefs based upon what happens be the political status quo in the mainstream.
It has failed to recognise that national flags are inherently expressions of political belief. Just as waving a Palestine flag may be deemed a provocative or political act by Israelis, so may waving an Israeli flag – as supporters of Ajax regularly do at their matches – be deemed provocative or political by Palestinians, even if the motive of those supporters is simply to express the Jewish identity of the club historically.
The solution to the problem is simple: either ban all flags at European club fixtures – a condition that few would wish to see – or relax what are currently draconian and hypocritical laws. It's that easy.