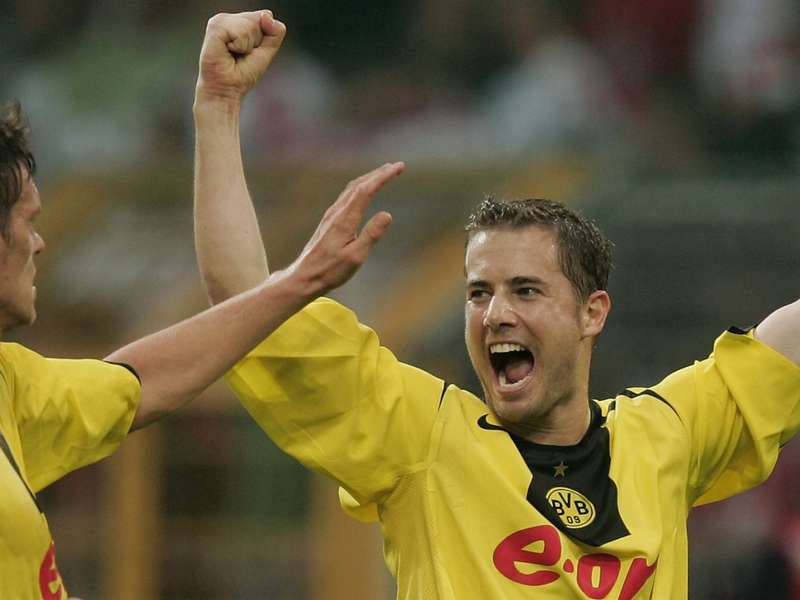 By Stefan Doring
Former Borussia Dortmund midfielders Lars Ricken and Andreas Moller believe that the Bundesliga side's Champions League last-16 clash against Juventus on Tuesday is impossible to call.
The encounter in Turin has evoked memories of the Champions League final between the teams from 1997 which ended in a shock 3-1 victory for Dortmund.
It was Ricken who grabbed the headlines that night, emerging from the bench on 70 minutes and scoring BVB's third goal just 16 seconds later with a stunning long-range lob.
"I always like to remember that final," the former Germany international told Goal. "For me to decide the match with my goal was special and incredibly nice."
It was Germany legend Andreas Moller - also a former Juventus player - who assisted Ricken's goal and he considers that moment as one of the highlights of his career.
"That was the most important pass of my life – of all my career as a football player," Moller told Goal.
"Ricken only had to shoot. Juve pressured us hard and were close to equalising. That pass and that goal were very important to our victory.
"The European title is the highest you can reach as a footballer in Europe. That title carried me over many, many years. It influences your life as a player and maybe it is the best thing you can experience."
While both sides will be confident heading into Tuesday's game, they find themselves in contrasting domestic situations. The Italians are nine points clear at the top of Serie A, but their German counterparts are having a miserable campaign and currently languish in 12th in the Bundesliga.
Nevertheless, both Ricken and Moller are eagerly awaiting the reunion between the two teams.
"It is nice to play Juventus. I expect a match between two equally-matched teams," Ricken said. "Of course we have many memories of matches against them and most of them are nice.
"In the middle of the 1990s we played Juve several times. What has been Arsenal recently was the Italians back then.
"We fought hard and thank God we won the most important game. This match has a tradition and it is something we are all looking forward to.
"Like in the 90s Juve have a very experienced, smart team with some young talents. We can't just mention Paul Pogba and Andrea Pirlo.
"I'm happy to watch Pirlo live in a stadium again as you don't know how long he will keep playing. He is an outstanding football player - one who is worth the ticket money alone."
Moller is unsure which side to count as the favourites to progress, with BVB's recent upturn in form after three straight victories making it a very unpredictable clash.
"The situation is more comfortable for Juve, as they're the leaders in Italy. They are a settled group and only the coach is new. So they know each other well. They want to reach the top of Europe again and regain their international reputation.
"Dortmund's circumstances are different as they are fighting against relegation in the Bundesliga. But they seem to have turned it around in the last few matches. It is a match where you can't name a favorite."