By Alec Fenn

Given football's unquenchable thirst for instant gratification, it is an achievement in itself that Jurgen Klopp remains in charge of Borussia Dortmund in his seventh season at Signal Iduna Park.
His beard, tree bark brown with flecks of white, gives the impression of a man readied for all seasons, but the increasing depth of the frown lines on his forehead are a telling sign of his troubled existence throughout a harsh autumn.
For Klopp, the last six years have followed a near perfect upward linear trend. Three years after his appointment, the 47-year-old lifted the Bundesliga in 2011, before repeating that feat a year later and winning the DFB Pokal in the same season.
In Europe, he guided Dortmund to the 2013 Champions League final, where they were beaten by Bayern Munich in the final, but bounced back to reach the quarter-finals last season, only to be thwarted by eventual winners Real Madrid.
Since August, however, BVB have embarked upon the steepest of descents and appear unable to apply the brakes. In their first 12 Bundesliga games, only twice have they claimed three points, leaving them third from bottom of the division and posing the question that only months ago would have seemed utterly absurd – has Klopp stayed on for too long?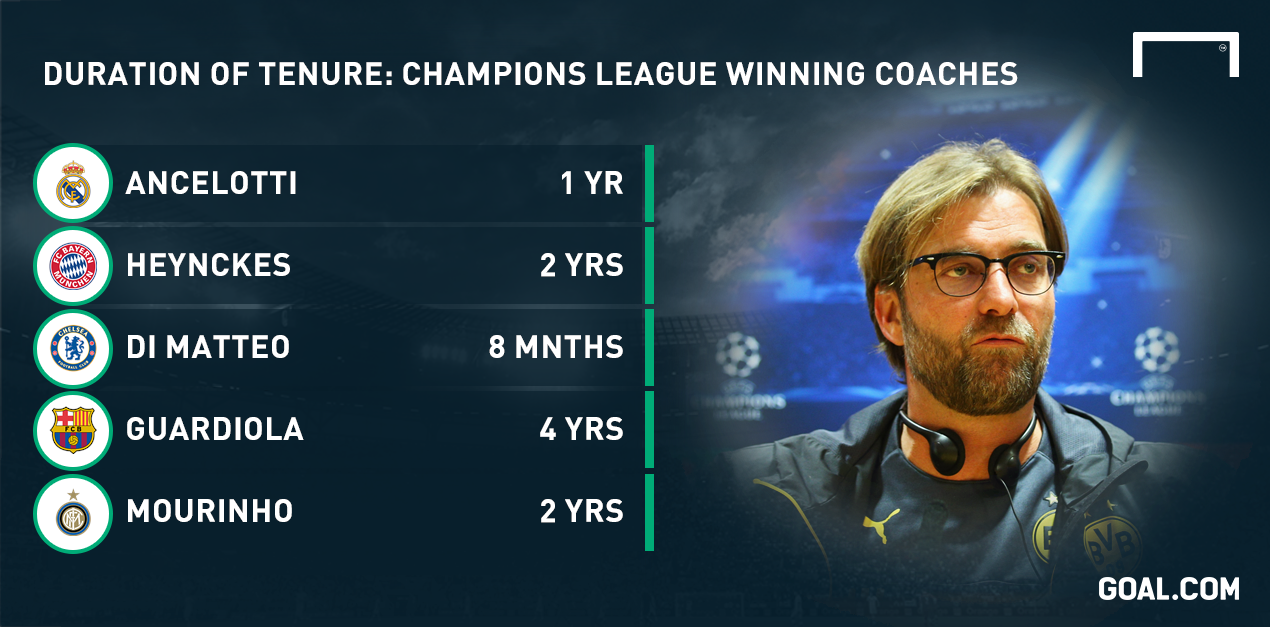 *Duration of tenure with the club at which they won the Champions League

It is a school of thought regarding the dangers of staying in power beyond the medium term that has gathered increasing pace in England. Klopp's Champions League opponent on Wednesday is Arsene Wenger. The Frenchman is into his 17th season at Arsenal and is struggling badly to replicate his achievements of the late 1990s and early-2000s when the Gunners were consistently a leading force.
Continuity, it seems, used to the key to prolonged success, with Sir Alex Ferguson winning silverware on a regular basis for over a quarter of a century at Manchester United. But society has changed beyond recognition over the past 10 years, with the demand for immediacy seeping into football and perhaps undermining Klopp and Wenger's old school values of long-termism.
Demand from hierarchical powers at clubs has never been greater, but maintaining the attention and motivation of a large squad of young men, all brought up in the mobile generation of 24/7 stimulation is an overlooked factor of equal significance.
A short term approach to management has won the backing of several credible voices from the past and present. Bela Guttmann, the Hungarian who famously led Benfica to consecutive European Cup wins in 1961 and 1962 – was a man very much ahead of his time. In a coaching career spanning 40 years, only once, with the Eagles, did he spend more than two years at any one club, as he stood steadfast to his belief that the 'third season is fatal'.
In modern times, it is a principle that has been mirrored by Jose Mourinho, who has only twice managed a club for longer than two seasons. On both occasions the adventure came to a sour end, as he departed under a cloud in his first stint at Chelsea in 2004 and likewise with Real Madrid in 2013.
Statistics are also revealing. Taking into account the managerial records of the eight coaches who have lifted the Champions League over the past 10 years, (neither Klopp nor Wenger has yet won this prize, but the measure aims to group together coaches of a similar ilk) the average stay of each man with the club at which they won the competition stands at 5.73 years, with that figure boosted somewhat by Ferguson's 27-year stint at Old Trafford.


In fact, if that measure is used over a shorter time frame, taking into account just the last five seasons, during which Jose Mourinho (Inter), Pep Guardiola (Barcelona), Roberto Di Matteo (Chelsea), Jupp Heynckes (Bayern Munich) and Carlo Ancelotti (Real Madrid) have conquered Europe with their respective sides, the average tenure drops to 1.96 years, with only the latter of that quintet still with his club.
Of course, those statistics will be of little comfort to either Klopp or Wenger. The Frenchman appears to have lost the faith of large sections of the Arsenal support. One of his former players, though, Thierry Henry, spoke out last week warning of the dangers of forgetting the job he has done over the best part of 20 years and providing a compelling argument in favour of a long term model.

"I think that we will appreciate his true value when he leaves the club, it is always like that," he told BBC Sport. "When you give a lot of things to people, they become used to it, their demands and their anticipations grow, it is logical.

"When you are at the head of a club like Arsenal, the people want to see you win, it is like that that we were educated over there. This man has changed Arsenal football club, there is no doubt about that. Did Arsenal have the same amount of success before he arrived? Yes, but not in the same way. Now, Arsenal is renowned for a certain style of football. And that, that is thanks to him."
Over in Germany, the general consensus is that the recent struggles of Dortmund are not related to Klopp and are more down to a combination of bad luck, injuries and a World Cup hangover. Klopp himself is as energetic as ever on the sidelines and is definitely not worn out physically after seven seasons at the club.
But that is perhaps exactly the trap in which Wenger originally fell into and that Klopp must avoid. An assumption of unwavering support from fans blinded by former glories can incur complacency, while the familiarity of squad members with their long time coach may also breed contempt.
Timing is key. As Mourinho has done so many times before and in the case of Guardiola at Barcelona, a sixth sense is needed to know when is the right time to walk away and a cold streak to cut through the emotional ties attached to a club and its people. Klopp may already have over-played his hand and fallen into Wenger's trap of staying for too long.