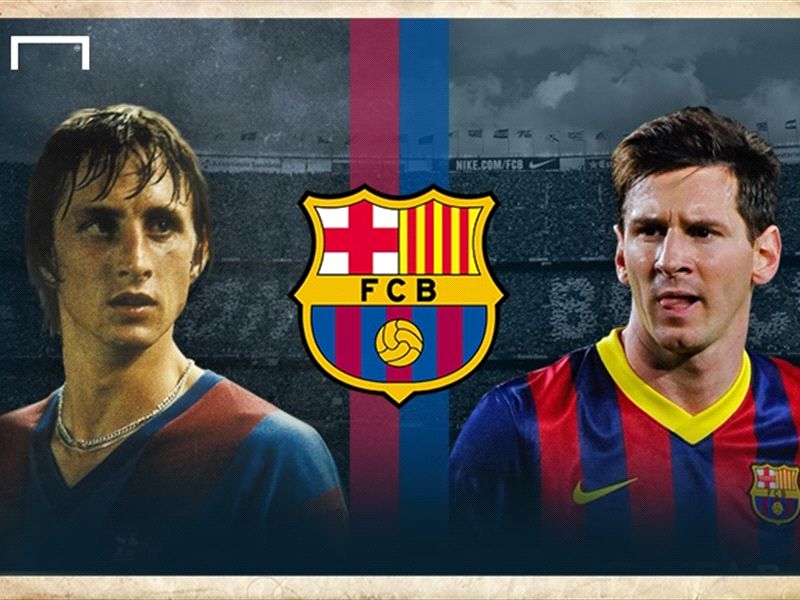 Barcelona meet Ajax in the Champions League on Tuesday in a match that sees two of Europe's most storied clubs go into battle.
One man synonymous with both clubs is former Netherlands star Johan Cruyff, a legendary figure at Camp Nou and at the Amsterdam Arena thanks to his exploits as a player and a coach.
Barcelona's star of the present day is Lionel Messi, and the Argentine is just two goals away from becoming La Liga's all-time record goalscorer at the age of just 27.
As Messi's legacy continues to be established,
Goal
asks how his impact on Barcelona compares with the club's greatest figure of a previous era. Two of our writers go head to head on the issue...
"MESSI IS AN IDOL, BUT CRUYFF IS THE ICON"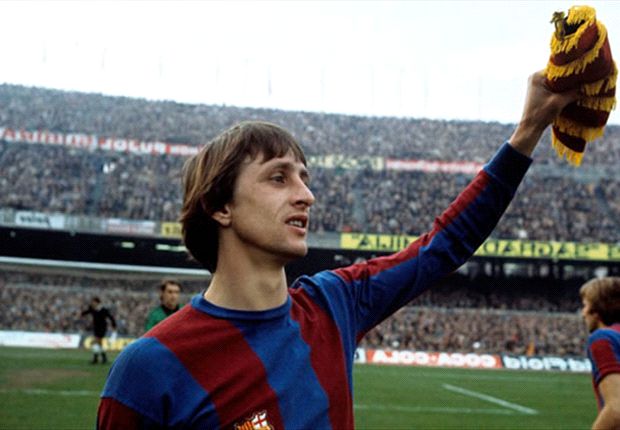 By John Baines
Lionel Messi may well be the greatest player that ever has – or ever will – pull on a Barcelona shirt, but there will always be one man whose legend and legacy surpasses him.
In 1973 Barcelona paid a then world record transfer fee to sign Johan Cruyff from Ajax in an attempt to end a 13-year title drought and remove the club from the shadows of Real Madrid.
Cruyff immediately inspired Barca to the championship, memorably leading the side to a 5-0 thrashing of the Blancos at the Santiago Bernabeu. He picked up a pair of Ballons d'Or during a dazzling five year stay at Camp Nou, but he also captured the hearts and minds of every
Cule
.
'
Mes que un club
' (more than a club) is Barcelona's famous motto, and Cruyff's influence and ideology went on to shape the club's constitution and ensure it became the footballing institution it is today.
It was Cruyff's foresight that led to La Masia housing and cultivating youngsters from Barca's academy - and it was there that Messi's natural gifts were schooled under the curriculum set by its Dutch founder.
The manager's seat always beckoned for Cruyff, and his 'Dream Team' won four successive La Liga titles and a European Cup with a beautiful style of play which created a mystique still largely unique to Barcelona.
In playing terms alone there is no debate between the two. Messi's seemingly endless list of team and individual honours and records dwarfs everyone else and will probably never be bettered.
But Messi would never have developed into the force of nature he is now without the man that started it all.
Cruyff had dreams and visions and his cult of personality allowed him to impart them on one of the world's biggest and most powerful football clubs.
Messi is the idol, Cruyff is the icon.
"MESSI HAS SEALED BARCA'S PLACE AT FOOTBALL'S TOP TABLE"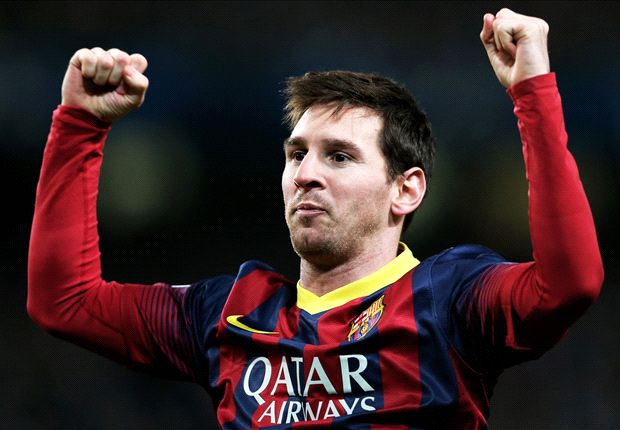 By Chris Myson
No one can doubt the iconic status of Johan Cruyff at Barcelona following his exploits as a player, coach and executive.
On the pitch he gave the club a massive lift at a time in their history when they badly needed it - even though he was arguably only at a world-class level for two of his playing seasons at Camp Nou.
From the touchline he brought the team an array of trophies, a fantastic style of play and laid the foundations for a magnificent youth setup that continues to set the standard in world football.
However, Lionel Messi is on course to be the world's greatest-ever footballer and could well spend his whole career at Barcelona.
He has broken every significant individual record in the process - from most goals in a game, year and season to most Ballons d'Or and most strikes for the club itself.
These records will be in the history books forever, while memories such as his four-goal haul against Arsenal and his Champions League final heroics at Wembley versus Manchester United will also never be forgotten.
His impact is not only influential to the current team's success but it will also inspire future generations of players and fans to choose Barcelona. Which player does every youngster want to emulate?
The stakes in the modern game are significantly higher than they were in Cruyff's era, which means Messi's impact has been and will continue to be more vital to the club's sustainability.
Messi's stunning displays have ensured Barca's place at football's top table for the best part of a decade and most likely the next 10 years, too. His commercial impact is almost impossible to measure.
And the Argentine is far from finished yet. At just 27, he could play for Barca for another six to eight years - after which it is unlikely his affiliation with the club will end. Messi is incomparable.
Follow Chris Myson on